Ingenious Ideas for Patio Swings
While talking about some patio furniture items, we have always been very excited regarding these patio specific ideas. They are obviously meant to beautify our patio, but this time we have a different idea. We want to make some beautiful patio swings that would not only beautify your patio but would also render some of the best moments in the hectic routine of yours. A swing is always something exciting for the kids and adults as well. We always seem ready to go to the park to enjoy the swings, but if you bring them home your very own place would turn to be a fun area.
Ok, starting with this splendid patio idea would certainly be a great idea. These tall wooden pillars erected on ground are four supports of the inner thick fabric sheet that is supposed to carry you. This would also make an ideal garden décor idea as well.

This is another classic presentation of the home or patio swing. The room seems to be specified solely for the wooden swing. Made with a proper heavy wooden couch lifted up with the ropes, this makes an elegant optic for the room interior as well.

The reason behind this entire project is you ease and luxury. We could have a number of stylish wooden furniture items, but despite all of them, you still need something as a fun and entertaining activity. Swing is directly related to your moods, that is why all of us love to enjoy the swings.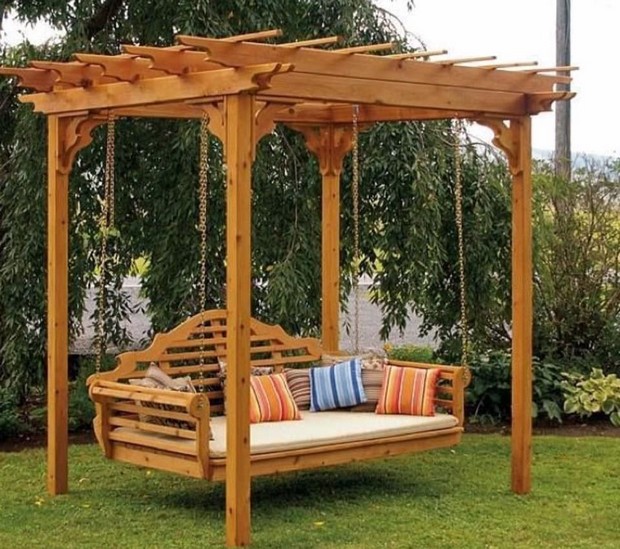 This one is again an exquisite patio swing made with some of the finest materials. The perfection in every aspect is made sure. Finest wood timber is used in the lower frame of the swing, while the comforter or the mattress is covered with a shocking colored fine fabric.

This is the common swing that is usually made on the picnic spots temporarily without any supports on both sides. In the patio we have installed it with all necessary arrangements, like it has netting fabric all around to save you from nightly bugs and worms.

And the next one seems to be inspired from the gymnastic class. This sort of round set up is made for the gymnasts, but here we have made it purely with intent to use it as a swing. Tied up with ropes all around, this can carry the heavier weights as well.

Wow, this again is something beyond casual stuff. This seems like a proper tent usually erected in outdoors especially on some hilly picnic spots. The design is inspired from that very tent, but actually this is a swing made with ultra luxurious mattresses and cushions.

Do you remember the character Aladdin? This patio swing seems to be belonging to that character as it would make you feel like flying in the sky. Made with the simplest available stuff, this patio swing in no way is any lesser than the rest of the patio swings that we have seen so far.