I don't know why I have a strange feeling affiliated with the crochet craft. whenever I see some of the art crafts made using the crochet, it reminds me of my grandmother. Because in childhood, she was the one who gave me all of her unconditional love and affection. She showed her concern by making crochet sweaters and caps for me and my brother. So just in the continuation of crochet projects we have presented earlier, today we are bringing some crazy crochet animal patterns. They are kind of basic inspiration to be followed as some times you might run short of ideas. This would be an aid in this situation.
There was a time when I considered the dinosaur to be a mere imaginary character, not an actual animal. But a fanatic crochet crafter has given it a try to give it life with the perfection and flawless skills of using crochet.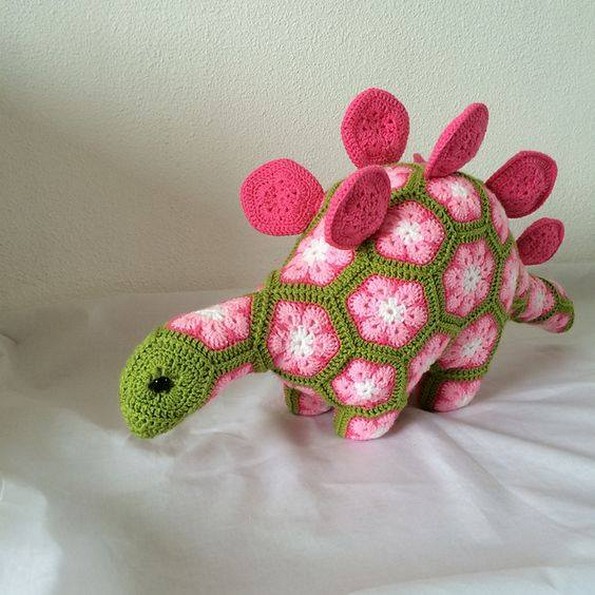 Pardon me if you guys get confused with this specific crochet creation. I have just made it with a clean and pure intention to provide you guys with a crochet animal creation, that's it. Let the rest be defined by you. I have just focused on the color scheme and the stitch pattern.

I know some of you guy consider this tiny creature to be gross. Don't look down upon this beautiful frog that I have made using the crochet and I have even en crowned  it to make it worth discussion. Just look at the attitude given to him by the crochet.

Awww…. I wish I have had already made this for my nephew who is really in love with the stuffed toys. Some of you might think that exactly what material is used for the filling. Well, depending upon you budget this could be anything like raw cotton, polyester or may be fleece.

When I made the younger one, I thought to show some compassion for the little buddy. So I brought him his match to accompany him, though he is a bit bigger but they don't mind the difference.

Please don't mind I have made it again. But for me this is the cutest creature on the planet. Now I have made this crochet craft with different color scheme and buttoned eyes. Bright yellow color of paws is making it eye catching. This could be the best gift for your niece on her next birthday.
And here comes our hard working and wise ant. The crochet crafter has given this tiny creature a proper shape and color scheme. It is a good choice to be added in your kids toy collection as well as to make your toddlers learn its body parts in science class.

Oh my God, look at the tiny shoes with laces. Do you know this is a cute bug that could be a vital support in your gardening pollination? But as this one is not real, so just use it as a stuffed toy for the kids or an inspiration for the crochet beginners.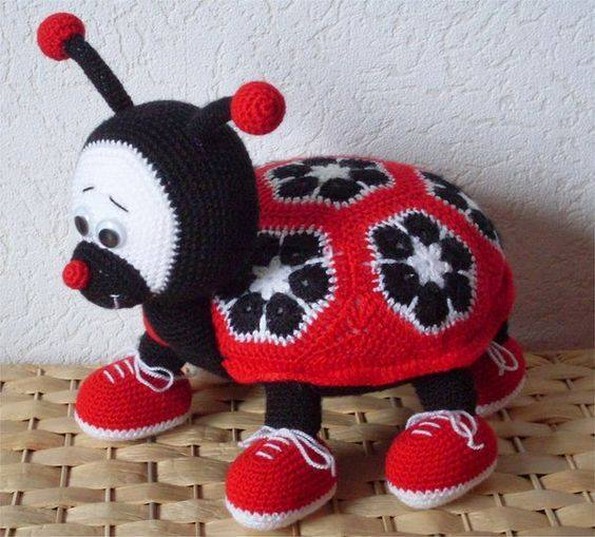 While working on these crochet animals, you must be very cautious about the color scheme that you are going to use because in the crochet creations the thing that matters the most is the color. This could be the only charmer to be a support in the beautification of the crochet creation.

And what about this cue teddy bear with a bow around the neck and an attractive pattern all around? Don't expect it to be jet black like the real one. The fineness can clearly be witnessed that is reflected from this crochet animal.

How many of you like the pets? Just raise your hands! Despite of all the love for animals, if you still cant have one at your home because your wife is allergic to them. Then you have got a great substitute in the shape of this cute button eyed dog.

And this crochet duck is not going you bother you with the irritating noises nor it would ask for a lake, so just feel free to make this colorful duck. I am sure your kids are going to love it and this would be bet time companion of your little angel.

Have you heard of the Japanese amigurumi art that is commonly used for making some stuffed toys? All of these crochet creation seem quite similar to them. This whole range is made using the crochet technique which seems to be disappearing slowly and gradually. You have to revive it by making such attractive art crafts.

Many of these crochet animals might be similar in size and shape but we have tried our best to apply some most soothing and attractive color schemes in making all of them. Just like this one made with light sea green and pink thread is quite attractive especially for the kids.

This one is so amazing. We had done a project similar to this one using the wooden pallet planks, I made this sort of wooden rocker for my kids and they really loved it. I think this is mom's turn to do something for them with the crochet.

Whenever you have to make the eyes of a crochet animal, I think common black buttons are the best choice. They are cheap and easily available as well. Just focus on the color scheme, quality of the thread and the stitch pattern should be in accordance.

Just look at the attitude this fat cat has got, she is so bulky with all the fats accumulated inside her stomach, but actually we did it with some excessive filling of raw cotton. We made it with the intent to sometimes use it as a pillow on the bed or couch.

Though many of these crochet animal creations are pretty tough for the beginners, but you still need to be determined if you are really into this art and technique. Making some regular items with the crochet seems old fashioned so this time try something entirely new.