Amigurumi Crochet Patterns / Designs
I hope the crochet patterns we shared with you guys in last couple of posts were pretty exciting for you to work on. Today we have brought some traditional crochet patterns or designs having the origin from Japan. Amigurumi is basically the Japanese art of knitting or crocheting relatively small and cute stuffed toys. They might be in shape of some animals or anthropomorphic creatures. Amigurumi are basically animals but can include artistic renderings. So this whole article is consisting a number of amigurumi crochet patterns or designs in form of different stuffed toys mostly animals.
As we said that amigurumi might also be something other than mere animal, so here is an example. This is the basic quality of amigurumi crochet patterns that they usually have bigger heads, with smaller cylindrical bodies. So this cute stuffed doll is a classic example of amigurumi crochet pattern.

Awww… these are some adorable cartoon characters, a pair of chicks made using amigurumi crochet pattern. They are slightly different from the conventional stuffed toys out there in the market. The color combination used in them is quite eye catching and soothing to eyes. A good plan to make your kids happy.

This amigurumi art began from Japan and it gained a lot of success in the following years especially in 2003 to 2006. This amigurumi crochet animal is depicting the reasons behind its rapid success very efficiently. Multiple colors used in it make it look even better.

I am just loving this tiny teddy bear. Apparently it looks like some conventional stuffed toys but realizing its texture it is pretty clear that this cute looking teddy bear is basically an amigurumi crochet pattern creation. Amigurumi is mostly crocheted out of yarn using single crochet stitch that could be seen here.

These adorable and cute dinosaurs are not meant to make you scared, but they are to make you happy to see amigurumi crochet pattern. Usually amiguurumi is used in making stuffed toys for kids but they are also used for aesthetics, so this one is classic example of being used for aesthetics.

This is just to show that how better amigurumi crochet pattern can get. This adorable cute doll is just full of life, its black huge dotted eyes are full of hope and colors of life. An appreciation in itself for amigurumi crochet pattern on a massive scale.

In crochet amigurumi is typically worked in spiral rounds in order to prevent striping, a typical feature of joining crochet rounds in a project. That is clearly depicted in this next amigurumi pattern where you can see a pretty stuffed animal to lure your kids.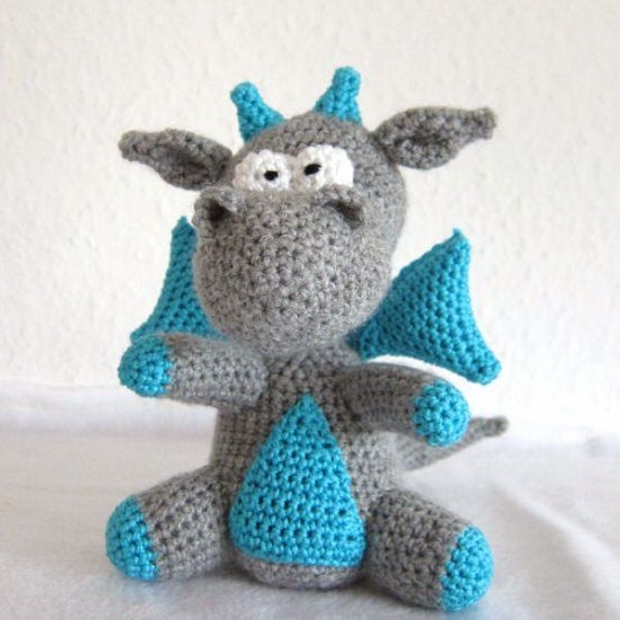 This amigurumi tortoise is going to give you the lesson of not having rest before the work is done. The needles used in arugumi crochet pattern are relatively smaller than the conventional needles used in conventional knitting. So in order to retain a tight gauge that retains stuffing and does not allow the stuffing to show through the fabric.

This cute hippopotamus having a huge throne on its front is a source of fascination for your little kids. As we discussed earlier to retain a tighter gauge a special technique is used in amigurumi, that is very smartly displayed here in this stuffed toy.

The stuffing used in making these amigurumi crochet patterns is usually standard polyester or cotton craft stuffing that keeps the objects erect and prevent from falling. Look at this amigurumi robotic caricature, it is standing erect due to the stuff used inside its amigurumi crochet pattern.

This trio of chickens is calling you loudly to have a look on them, they wan to tell you that a traditional art called amigurumi is used to shape them. They are different from the conventional knitting and they are stuffed inside very smartly so that they hold a tighter gauge.

Awww… this amigurumi mouse is not going to tear apart your clothes or some other stuff, neither it is going to cause any harm to you. Rather it is a friendly amigurumi crochet pattern especially executed to make your kids familiar with different creatures of nature. Color combination is also commendable.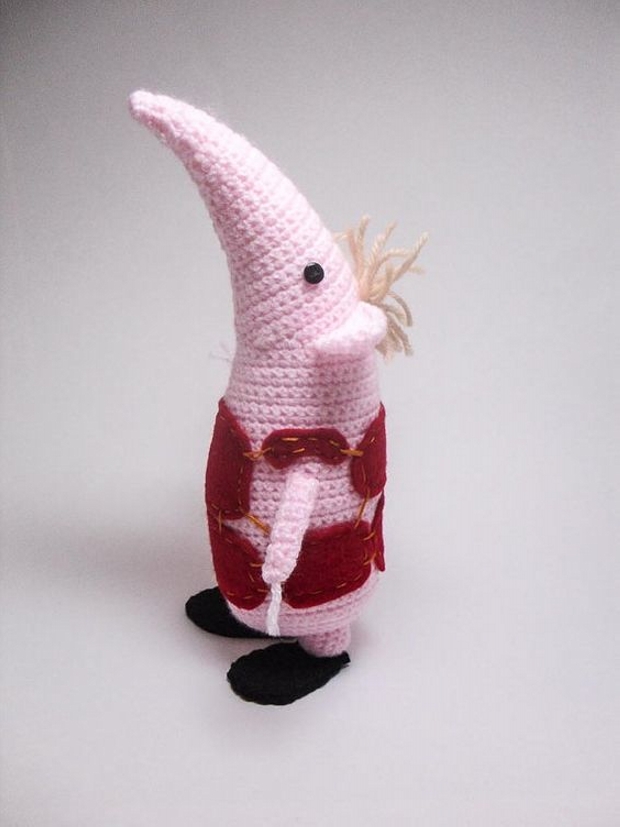 Have you ever had this cute mushrooms in your meal or evening pasta? Just don't have them, or their amigurumi crochet pattern is wasted. These cute little mushrooms are another smart depiction of amigurumi crochet pattern traditionally having roots back in Japanese culture. I am just loving them.

This cute stuffed mouth sewn cartoon character is a reminder for you again that you have to pursue this rising art named as amigurumi crochet pattern. You just have not to let it die silently like some other arts. The buttons used here are an additional stuff so far that is not used in prior projects.

I remember stuffed dolls I used to bring for my little angel. They were certainly good but this one made with amigurumi crochet pattern is even better to make my girl happy. It has a variety of colors, along with long crocheted hair and a multi colored frock.

As we discussed earlier that amigurumi crochet patter stuffed toys have a quality that they have a relatively bigger head and smaller cylindrical body, that is again demonstrated here in this crochet pattern. A strange looking creature having wings is a great birthday present for your infants.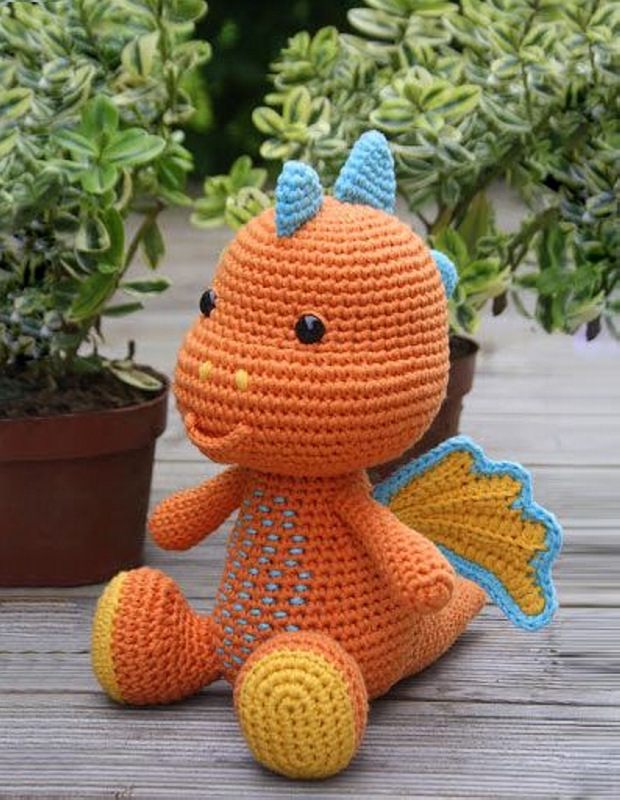 Aesthetics is another considerable purpose of amigurumi crochet pattern stuffed toys. Though they are typically used in making the stuffed toys for kids, but a decorative feature could also be a major element like here we see a whole range of bog mouthed and eared elephants. They look like an aesthetic feature in room interior.

I need to have this cat right now, I just can not resist its beauty and innocence at any cost. The same yarn is shown here in the picture that was used in amigurumi crochet or knotting. A beautiful multi colored ribbon on its tale is even luring me more.

More ideas for amigurumi crochet patterns: