Crochet Mobile Cover Patterns
A mobile phone now a days is just like a must have for everyone. I am so much obsessed with this damn device that I take it along even in the bathroom, pardon me if I sound weird but that is truth. So when you have to carry some device so regularly along with you, then you must ensure to take best care of this. Pouches are a reedy in this regard and even you like them especially the ladies really adore fancy pouches. Leather and some synthetic pouches are so damn common but what about a crochet mobile cover? Sounds great? Let's have a look on some of the crochet mobile cover ideas.
This one that we are starting with doesn't seem like done with the hands using crochet, it seems so perfect that it seems like and expensive market based fancy pouch but actually this is a crochet project.

Just like the last one this might again look like a synthetic mobile cover, but if we ponder on the thread we find out that this is purely made with the crochet using multiple threads. This is perfectly sized according to the smart phone making it look fabulous.

Here we have tried to show you the stitch pattern that might be used in making the crochet mobile covers. This would be slightly different from the regular stitch that is used in common accessories like frocks or caps etc. this time only one thread is used in this crochet mobile cover.

Now this is something perfect for the teens as this is carrying a caricature of a pussy cat that shows the teens in their early ages.  Basically four colored threads are used in this crochet mobile cover, and we have buttoned it up on the top so that the phone does not fall out of the cover.

Ok, how do you really see this one? Actually we used a dotted fabric inside the crochet mobile cover, and we have covered it with a crochet made wrap up or cover that is made using the black thread that gives it a dashing look.

Keeping anything pretty straight and simple always adds a lot of worth and charm to the product. This approach can be applied in the crochet products by using single colored thread throughout the pattern to give it a unified look that certainly looks great to the eyes.

Now coming towards this next crochet mobile cover project, you can see that the color scheme is totally messed up, but in actual this messy look really makes this cover look pretty and dashing. also a different crochet stitch is used in this cover.

A mobile cover can easily be bought from the market, but there's nothing special in that. This would be just a common and regular mobile pouch made of leather or some other synthetic material that every other guy is carrying, so to have something unique and different, opt for the crochet mobile cover.

Just by selecting the smart color tones you can make the mobile covers look even better, because in any art project that you execute, color scheme is something that might totally change the dimensions of your project. Just like pink and silver is one of the prettiest combinations that can be tried in the crochet mobile cover.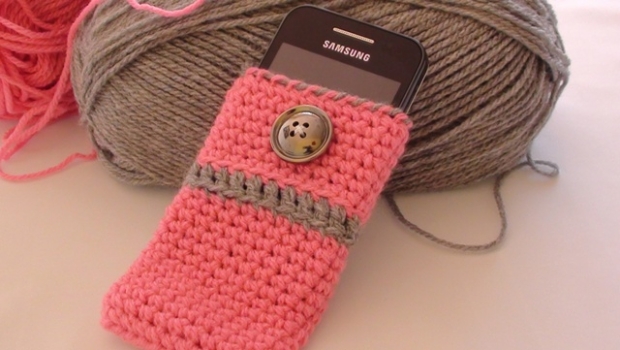 If you have some plans to make a crochet mobile cover for the entire family, you want to generate a similarity while maintaining the difference from each other, you can again exploit the color scheme like you can use the different colored threads in the same pattern.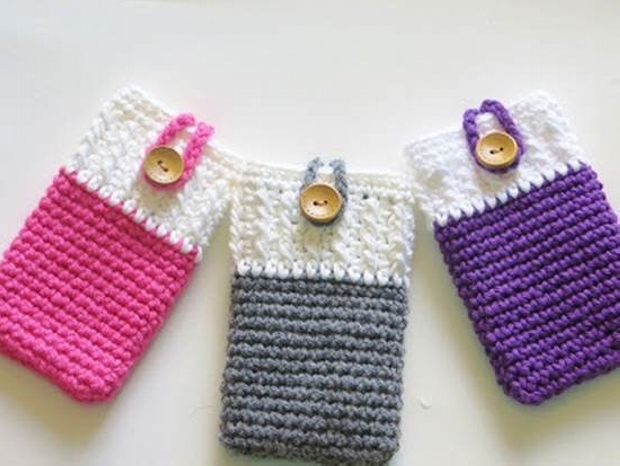 Smart phones that are so famous now days, they need a special treatment. We can not take risk to just place them anywhere, this becomes mandatory to take all the protective measures for them due to their delicacy, crochet mobile covers are a best answer o this.

In the crochet mobile covers, what can be used as additional embellishments, this might be a million dollar question. But this can be answered so damn easily, just use some common buttons that we use in certain clothing accessories. Sounds simple and great? Yeah I knew it.

So, we were talking about some fancy crochet mobile covers, we talked about using a button in the mobile cover, you can also use some stones or beads in the crochet mobile covers. Or you may add some patches of embroidery as well. But making a crochet mobile cover would always be a great idea.

Buttoned up mobile crochet pouches are better in a sense that they can ensure the protection of the smart phone, when you put the phone inside and button it up, your phone is completely protected inside the cover, it would prevent it from falling out.
Now this is a crochet mobile covered that is buttoned up and is also embellished with a frontal caricature on it. We have used multiple threads in this mobile cover and gave it a pretty impressive look that would be perfect for the ladies especially teens.

In some earlier projects, we talked about the exploitation of the different colors. We said that a good color scheme can escalate the beauty of any art project. And this is best demonstrated here in this project where grey color is used along with the bright white thread that makes a pretty perfect combination.

Though the green isn't my cup of tea especially this parrot green shade, but one of our folks ahs asked us especially to use this color combination in the crochet mobile couch to see how it actually looks. But I think in the end it really did well.

Awwwww….. this one I believe is the prettiest crochet mobile cover that we have made s far. Most soothing colors are used in making this mobile cover plus a beautiful heart shaped embellishment is also fixed with the cover. This makes it a perfect remedy for the smart phones.