Recycled Pallet Shoe Racks
For most of the people a shoe rack is just a supplementary furniture wooden item that helps you keep your shoes in an arranged manner, but to me it is a great thing that brings order in your house. My wife who is a real fanatic in this matter, she always wants the things to be right at their specified place. Here we bring you some marvelous multi purposed recycled pallet shoe racks. All of them are going to be upcycled with the wooden pallet but they would be carrying different shapes certainly making them multi purposed.
Here is a stylish pallet wood shoe rack cum table. We see two layers specified for shoe keeping while its upper portion is used as a table and a couple of center pieces are placed on the top of pallet recycled shoe rack. Place it in the corner of your room and use it in the best manner.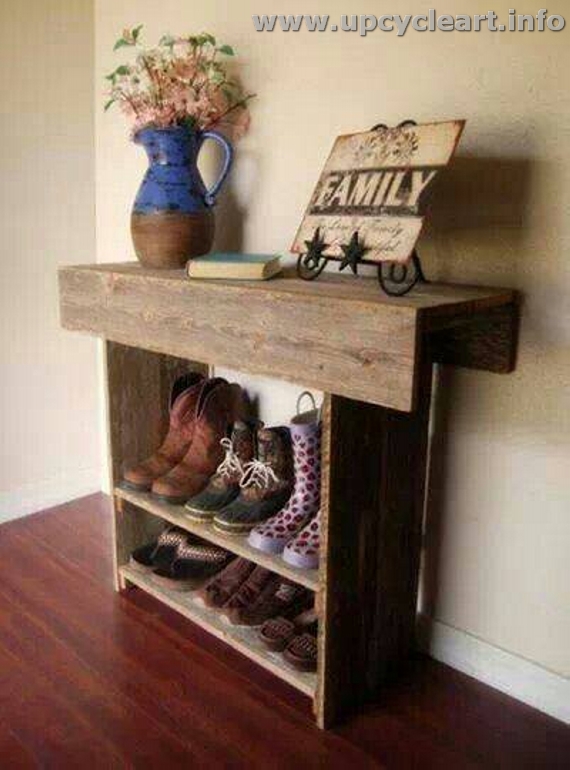 Here is another shoe rack cum table that is completely recycled using the wooden pallet. Apparently it looks like some traditional coffee table having some additional storage space. Here in this shoe rack this additional space is used very smartly to place shoes.

Here is another raw wooden pallet shoe rack, this is installed along the wall just looking like a wall shelf. So its special shape prevents it from covering some additional space. Straight wooden pallet planks are used in making this pallet recycled shoe rack, and this is just another great addition to your room interior.

While the final shoe rack of the day is pretty simple in its appearance as just a long full pallet is used in making this shoe rack, no additional fittings are installed and just installed along the wall. Just hang your heels in the spaces and grab them back immediately.