Creative Ideas to Recycle Old Bathtubs
A bathtub that literally drags you towards the washroom to have shower is a major component of a well built bathroom. In the modern days these formal bathtubs are being made from acrylic or some of the finest fiber glass. But the best alternates are still enamel on steel or cast iron, occasionally, waterproof finished wood. But irrespective of the material that is used in your bathtub, it has an estimated life after which you just have to get rid of this. So think about some creative plan for recycling your old bathtubs, this would be something exclusive in your home interior.
Who knew that someday our smart crafters are going to give the plants a better place like this decent bathtub. They have turned this bathtub into an exclusive planter that has got some ample space where a number of plants and shrubs could be planted at the same time. Such a smart use of bathtub.

And this one is a walking planter made using some old bath tub, just look at the delicacy of this cute walking planter. We just painted the outer surface, and loaded it on wood pallet stand that has got built in wheels on the base.

This is again an indoor planter made with the same discarded bath tub. We have used some great green foliage for filling the tub, and installed a plain wooden slab so that it could be used as a table as well. A great decorative addition.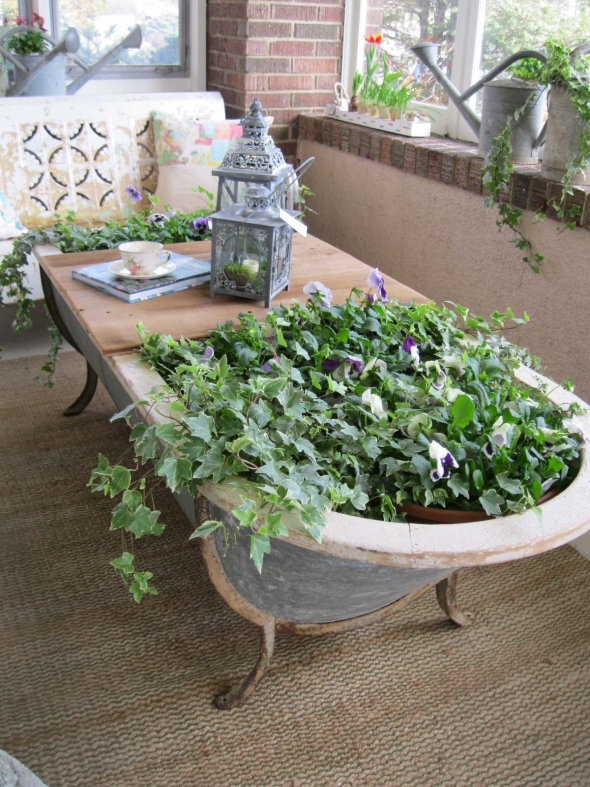 And I am literally running short of words for this incredible bathtub recycling plan. An outdoor couch couldn't just get better than this one, this ultra luxurious couch is the smartest creation by some craft fanatic who just thought that I am not ready to throw away this broken bathtub, he amended it and ended up making this classic outdoor couch.

If you don't like some smaller conventional vases and want to go for some ultra big or gigantic vase that could just give you enough of foliage and freshly cut flower supply, then this bathtub recycled vase would serve you in a great manner.

Are there some art lovers out there? Who just keep making some crazy experiments in making such crazy crafts? Then this is the most appropriate project for those fanatics, this is something you won't see all around so commonly. Just try this with your old bathtub that you have plans to change this year.