Ideas for Crochet Scarf Patterns
A scarf is a very trendy and formal accessory that could be carried all the year round in west, and especially in winter season in rest of the world. Not only it prevents you from the cold winds and reduces your vulnerability against weather, but it also becomes a fashion statement as in today's growing fashion industry, a scarf possesses a very distinguished space. Here in this article we are going to talk about different certain patterns of crochet scarf. They would be a great inspiration for the youth and for the grownups as well.
First of all here is a unique crochet pattern of a traditional scarf. These circular thread patches are just making it look like a part of the stylish dress. Made using small crochet hooks here we see a very delicate pattern used in making this crochet scarf article. A good one to carry on a date.

Now what would you say about this multi colored crochet scarf? Made using some high quality woolen thread this is just designed to be carried on some of the most special occasions. Its colors are making it much livelier and louder than the rest in the whole range.

Awww… this adorable blue crochet scarf for our blue eyed boy who really deserves something better than the rest. He is certainly taken the best care of by putting on this extra stylish dual crochet scarf. This would be his buddy in the winter times to take best care of him.

Wow, I would love to buy my girl this one. This scarf mimicking a cat is made using the whole pattern of a cat which is certainly a very cute animal. This long two layered white and pink scarf is having lower pockets too to keep the palms hot.

And this one seems to be coming from the fashion world straight away. This is not just an ordinary piece of crochet scarf, its specific shade and design depicts all the enthusiasm and charm of the fashion craze. Best to cover the body as well.

Teens also expect a lot from the fashion industry, so this one scarf cum sweater is their pretty cup of tea. They carry it on some nice jeans and tees. And putting on some snickers they can maintain their very own style they are known for, casual, informal and just friendly.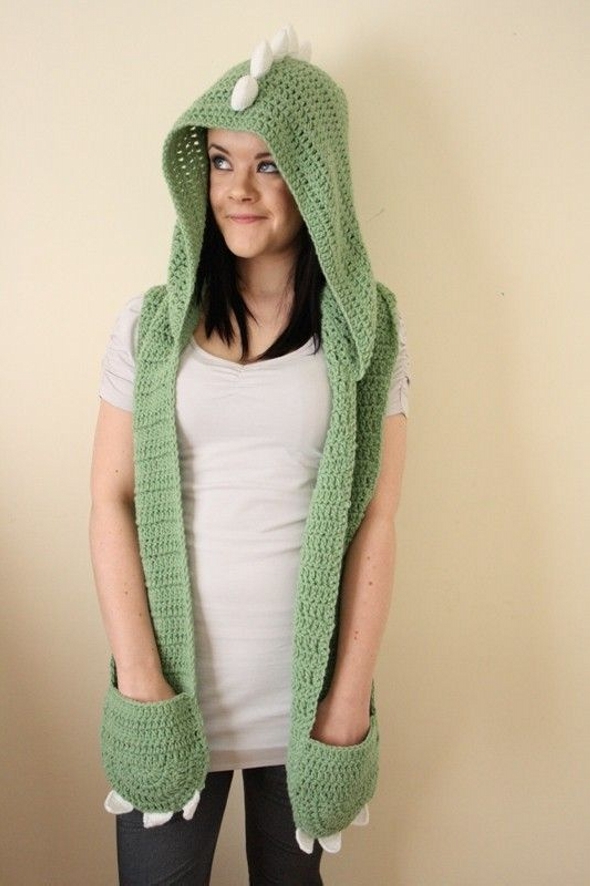 This one is probably taken from some vintage movie scene, yet its pattern is quite recurring in nature. Last it was famous in late eighties, but with the passage of time it has become trendy once again. It wavy curvy layers are just going to camouflage your inner wearing and prevent the cleavage.

The next one crochet pattern is from very much into demand poncho styled sweater that can also be used as a scarf. Its flowery pattern is pretty arousing and appealing at the same time. And its dark blue shade can just go on with any of your attire.

Oops, I am not going to miss this fluffy and dull shaded light green crochet scarf pattern. It is just elegant to put on. Seems like a floral arrangement embedded on some delicate body to create the difference in all. Very delicate stitch pattern is used in making this crochet scarf.

I would give a huge round of applause to this lacy pineapple greenish crochet pattern scarf. It is carrying a decent matching flower on the outer most layer making it look more prominent and eye catching. Again one of the best scarves in the whole range for casual dressing.

I am sure you can not resist the beauty of this extra ordinarily stitched crochet pattern scarf by some veteran crafter who really knows that how to exactly exploit the colors and design. It light shaded color is pretty soothing for the eyes. And the pockets downward are an additional incentive for you to carry.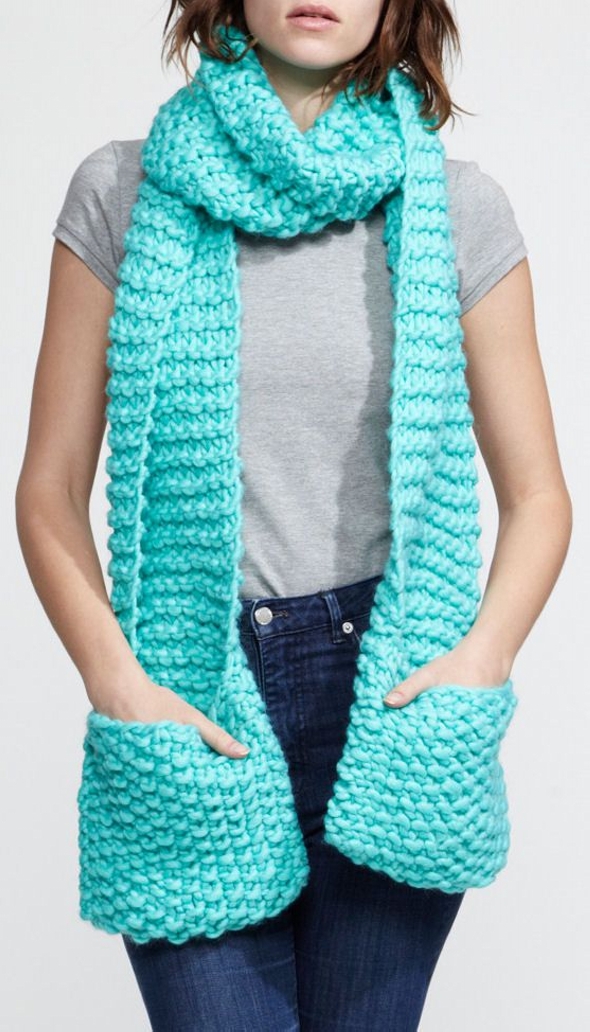 Again a very heartwarming crochet pattern scarf. It is apparently woven on some net fabric. Multi colored and sized flowers are made separately and they are just stitched on the net fabric to give it a ravishing and lively look. Simply the decency and sophistication overloaded.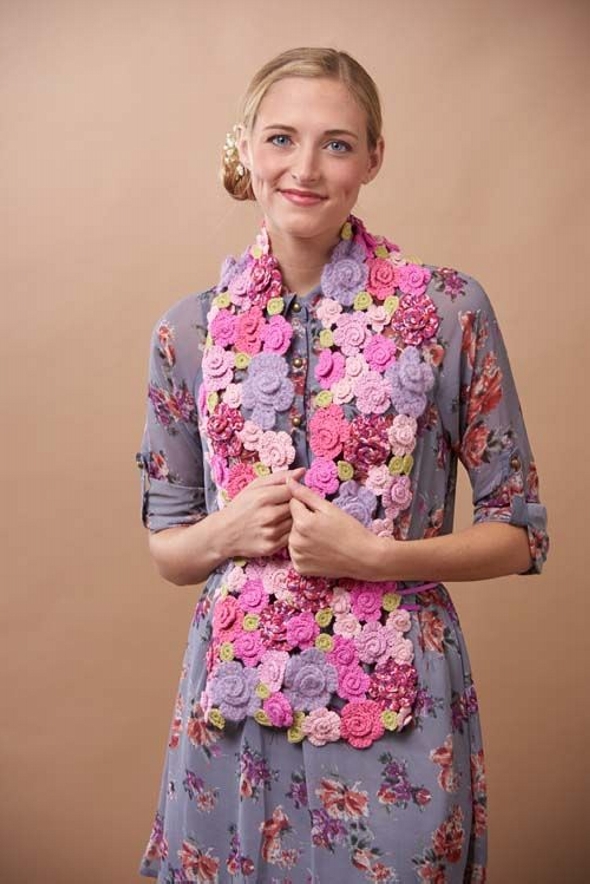 This bulky and thick crochet pattern scarf reminds me of my old school days when I was a child. I was given a similar crochet scarf made by my granny as a birth day present. Equally good for males and females this is not going to let you get cold.

While you are talking about some decent crochet scarf patterns, the scarves made on this check pattern would probably stand on the top. Its ultra fine woolen thread plus the color combination employed in this article is just breath taking. This can go with any of you apparel at any venue.

Here we see a traditional and typically stitched woolen crochet pattern of scarf. This pattern is pretty common in the markets. A huge range of colors is used in making this crochet scarf. And the good point is that its versatility of color and style allows you to carry it with number apparels.

This blueberry lacy scarf made with crochet could be the favorite of any elegant lady who is best at presenting her in an arrogant style. Its fluffy outward bent lace frills are literally a charm. This is pretty formal kind of scarf that you can put on in some professional atmosphere.

Now this ultra mod frilly crochet pattern scarf is again designed for some ultra mod lady who always desires to remain in the limelight. And its versatility makes it equally better for formal and casual apparels. The stretched layers of woolen thread make it look classier.

Now this is some sweet and simple scarflette in our entire range. This is just like any other common and simple crochet pattern scarf. Pretty wide length and width wise, it is just enough to wrap up a chunk of body to prevent from the severe weather conditions.

This is a bit different twisted crochet scarf pattern. Its casual look makes it pretty perfect for casual gathering and informal parties. Its dull colors are telling us louder to use it on some weird jeans and just enjoy the charisma of this differently made crochet pattern scarf.

This dull colored icarus is just a perfect way to pour in some colors in your life in the winter season. Silk straw yarn is used in this crochet pattern scarf. This is a unique blend of double crochet and half double crochet. It compels to the audience to have a second look.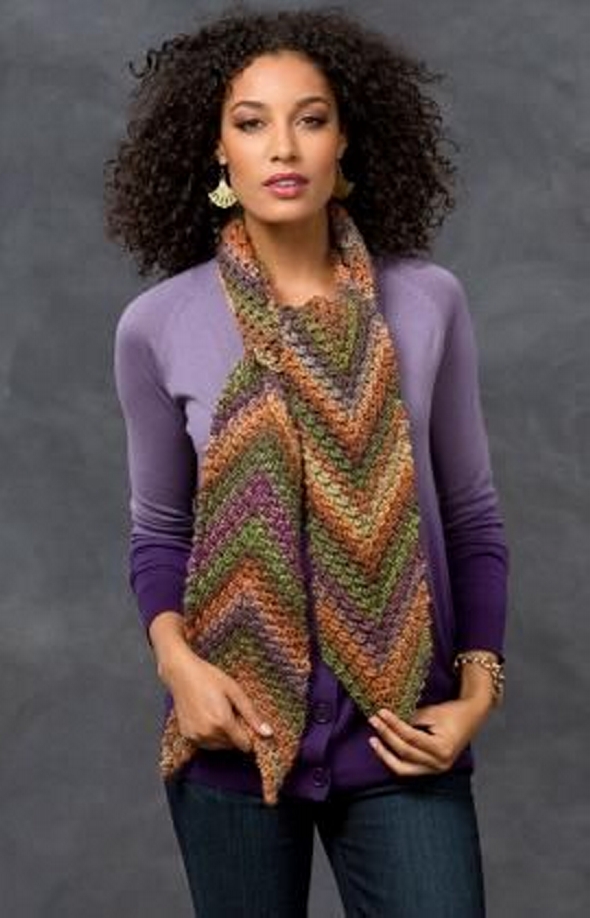 Wow, this extra frilly and lacy scarf is my favorite so far in the whole range. It carries a strange wild look, it makes me feel like going on to some rocky journey upside the hilly are in down town. Its wild and rough look leaves a charismatic touch behind on every soul.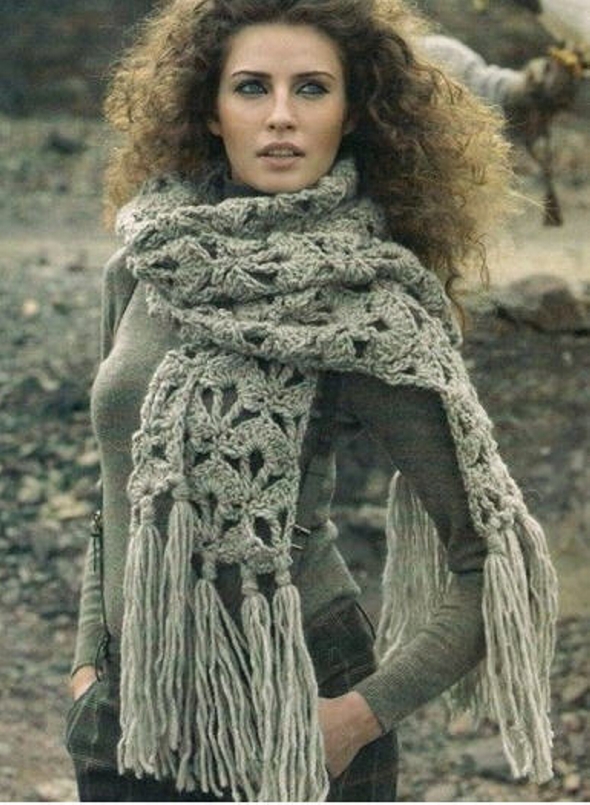 The next one in the line is a bumpy crochet scarf pattern. This beautiful bumpy popcorn crochet pattern scarf having multiple rows of popcorn stitches is running throughout the pattern. You just do not need to compromise on style when you have a stylish scarf like this one.

I would just say that this one is simply commendable, this fluffy cluster infinity scarf is at the same time pretty cute, arrogant, and overloaded with style. Its color scheme is appealing and the pattern of stitches used in it are double half and double crochet stitches that make the stitches prominent individually.

Have a look on this apple green crochet scarf pattern. Nothing is more ladylike than such light shade. Its light and lacy look makes it pretty perfect for the spring and summer season as well. Although it is a relatively easy crochet scarf pattern.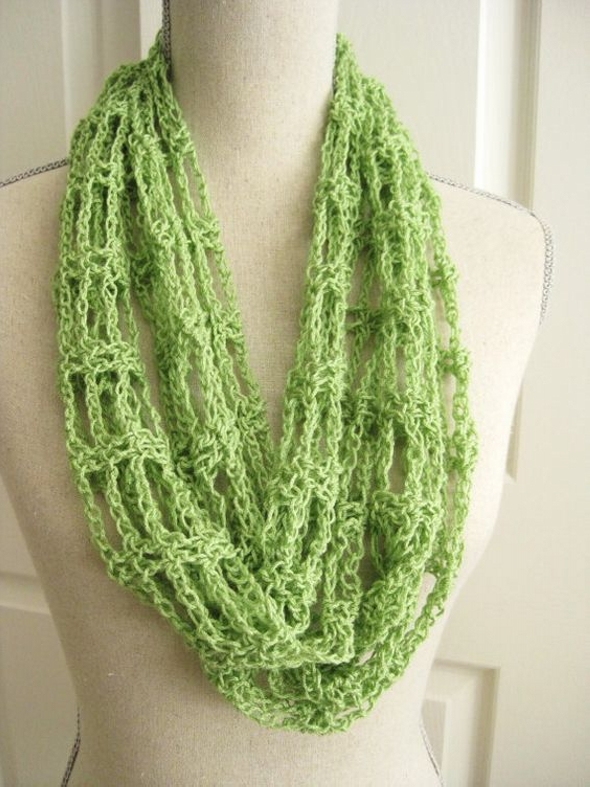 Awww… this crochet scarf is specifically confined for the kids and teens, as it carries the caricatures of cartoons which are quite fascinating for the growing kids. Apparently it looks like a number of table mats are just joined and stitched together. Thick stitch double half is used in making this crochet scarf.

This is again a straight and simple frilly dark blue crochet pattern scarf. Apparently woolen thread is used that is easily available in the market. Though a little blend of white with blue makes it worth having a look and makes it a bit different article.

Again a poncho styled big scarf using the crochet pattern is displayed here. Though the pattern used in here is pretty complex and is done by some veteran crochet crafter. And even the stitch pattern used in here is a bit complicated for the beginners, but the effort made in making this is worth it.

And finally, a whole range of light frilly casual scarves is here. Made using silken and woolen thread, they are the statement of style charm and charisma. Equally good for casual and formal gatherings. Carry it on some jeans or a formal suiting. These crochet patterns are a call towards art and craft.

More Ideas for Crochet Scarf Patterns: