Fabulous Wooden Pallet Ideas
Trust me when we talk about so many wooden pallet creations, a lot of folks who are not very much into the pallet wood recycling they literally call us insane that how cum it is possible that we have made almost each and every wooden furniture item using this lame material according to them. And I tell them even I was no exception in saying all this unless I was not familiar with this awesome technique and skill. Now my life is totally changed. I am among the propagandists who are pursuing it as a whole time activity. Want to have a look on some fabulous wooden pallet ideas? Here we go.
This is the raw and basic form of the wood pallet repurposed couch that we have recycled using some of the finest shipping pallets. Although the bottom shape is pretty conventional but we have done some trick with the back to make it look more stylish.

Here you see some real fabulous pallet wood upcycling ideas inside the whole room like we can see the wooden flooring and to your amazement let me tell you, this is done with the wood pallet planks. While the cabinet all along the wall has got multiple purposes to serve.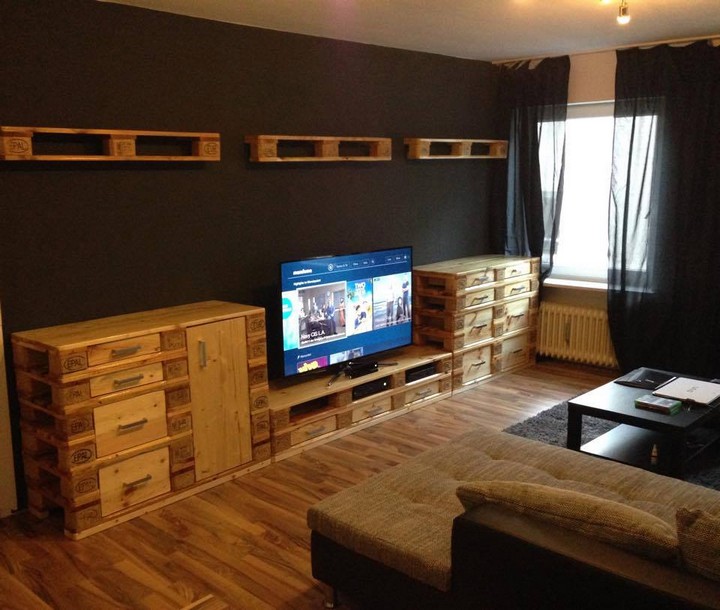 Here actually we were just planning to do the wall cladding with the wood pallet, then we realized that it has turned to be an accent wall. If we install the TV device right here that would be more prominent and fun to watch.

In the kitchen you have to deal with a lot of accessories and material that must be arranged properly or you might get confused with different spices. So better prevent this situation and recycle this wooden pallet wall rack for spices and some other frequently used utensils.

This is probably one of the roughest wall shelves and apparently it seems like it is installed in some house out there in countryside. But it has got its own class and worth that could be asked from the admirers of art and art crafts. Certainly some broken pallets were employed here.

If you go out there in the market for the installation of a bathroom sink then certainly your money is going to get sunk as the brands are literally looting now days. Have faith in your skills and try making something eye catching like this one.

Some of you might get confused that what exactly this wooden pallet item is all about. Well, if I was the one to judge it, I could have perceived it as a side table, this can certainly be used as a side table too, but basically this is a pallet wood storage chest.

Do you like spending time in bathroom, I mean like having long showers? There are a lot of folks who do so. If you are also among them then this is a must have for you, this pallet wood repurposed bathroom cabinet is going to take care of all of accessories like towels and essential oils etc.

Wohoo…. I am already impressed guys, and I am sure many of you too are astonished to see this crazy pallet wood creation. This crazy pallet wood coffee table is having such an exceptional and exclusive top that is half done with the wood and half with the glass top.

The old dressing tables are replaced with these beautiful wooden vanities, and I guess they look much better than those vintage dressing tables. Although a glimpse of the table could be seen in it too. Plus we have also installed a mirror too.

Did you notice this charming pallet wooden planter? This is the class that is rendered by the shipping wood pallets. I just love such crazy wood pallet ideas that are made using the least resources, if we start counting on the cost that is near to zero as the whole structure is made with the shipping pallets.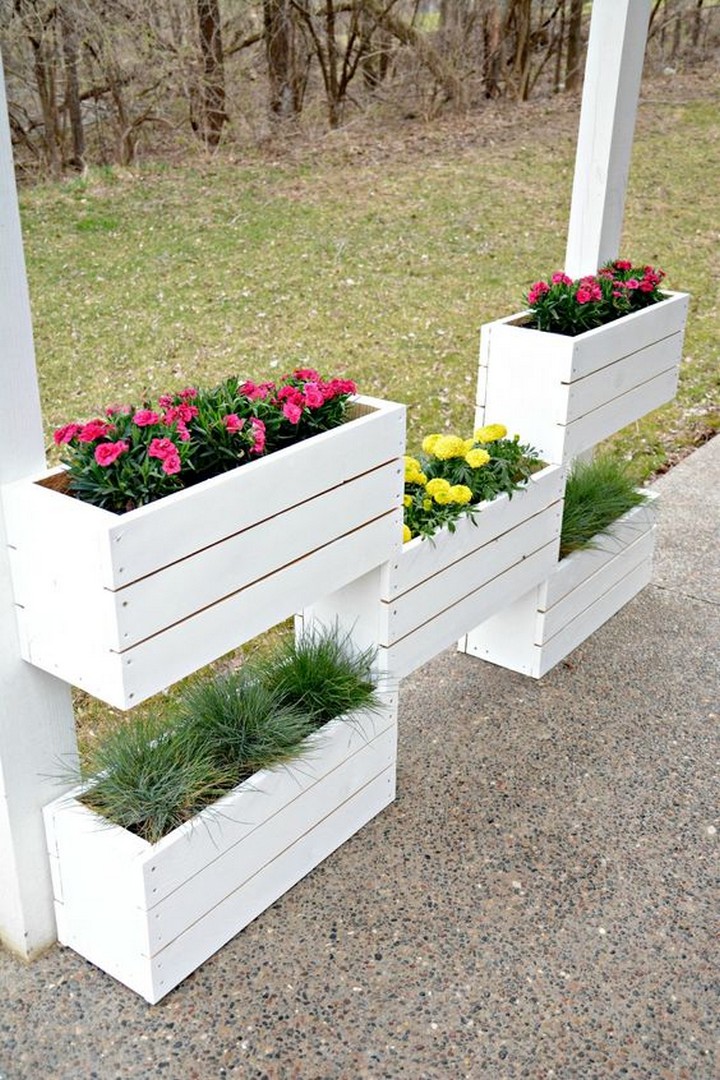 These are the pallet wood projects that I name fearlessly as pallet wood extravaganza. I mean just imagine if the wood pallet wasn't there, who could have thought of covering the entire roof and wall with wooden planks unless he or she wasn't a real filthy rich?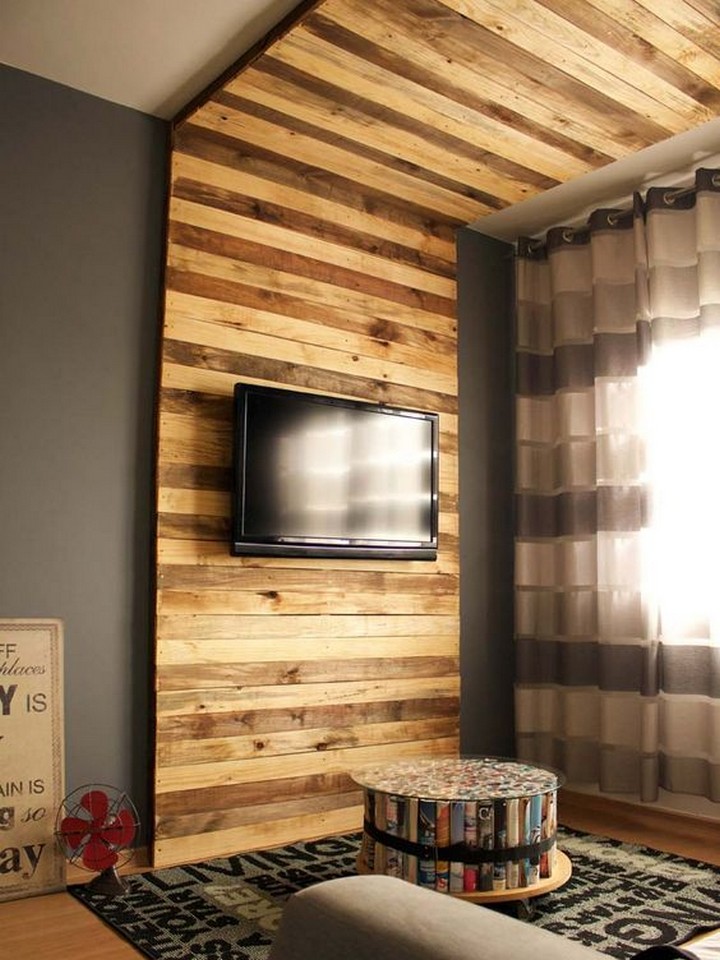 Looking at this wooden cabin one might get confused that what exactly this is for, but on realizing that it is just a cover up for the huge waste bins, I am sure you guys would appreciate the crafter who has planned it to hide the filth and trash from the visitors.

Here we realize that how better a mere side table could get to be with the pallet wood recycling because here you are the one who is taking all the decisions that how many portions and tiers should be there seeing your needs.

Now we have turned to a wooden furniture range made using the shipping pallets. Though this is pretty clear from the outlook that some old and broken shipping pallets were used here but still we have somehow managed to camouflage all the flaws and scars of the pallets.

A wall shelf can take care of many of your immediate accessories. But if the wall shelf is this much stylish and eye catching then I think it must be used as a display hub of different appealing decoration pieces. The art embedded with art crafts. The shelf is unstained still it looks awesome being part of the room interior.

This simple and easy wood pallet raw bed is made to show you guys that it doesn't make much difference if you are not a well taught pallet wood crafter but sometimes it is all about a bunch of shipping pallets.

And finally this exquisite lighting work is a clear depiction of the potential power and ultimate usability of the pallet wood planks. This shows that you can go even to this extent like making some decorative lighting installations with this apparently useless material near many. These are certainly some fabulous pallet wood projects that must be applauded.