Beds for Dogs Made with Recycled Wooden Barrels
Lucky are the pets that are provided with such lavish luxuries and comfortable furniture items for them. We have already discussed that Americans spend each year a pretty robust amount on the food and shelter of their pets and also in overall taking care of the dogs and other animals. Wooden barrels that are used while making and distillation of wine are made of the wood that relatively has longer life span. Therefore this is always an ideal material for recycling purpose. Today we are going to recycle dog beds using the wooden barrels.
This is probably the most common design that is mostly used in the dog's bed pattern. I think last time I saw Floyd Money Mayweather's dog lying in the similar bed that was just so cute. But we are always money conscious so we have dared to make the whole dog bed by recycling the old wooden barrel.

This all depends on your basic idea or the pattern that you are going to follow for the said creation as in this one we see very smart carvings on the both sides of the wooden barrel. And the door is carved out right from within the wooden barrel. So your tools have to be ultra modern and your skills should be apt and accurate.

The metallic stripes are still tied up all around the barrel. They are actually meant for supporting the wood bondage while the barrels are carrying heavier weights in the form of liquid wine. But here they are a huge source of decoration and industrial touch.

Once you have recycled the wooden structure of a dog's house with the recycled wooden barrel, then you are supposed to embellish and equip it with some most sophisticated and comfortable couch filled with maybe polyester or some fine cotton. Only then it would turn to be a perfect dog or bed.

This is another way around of a wooden barrel recycled dog bed. This would actually cover the pet wholly and would also prevent him or her from the extreme weather conditions especially in the chilling winter season when the pets are most vulnerable.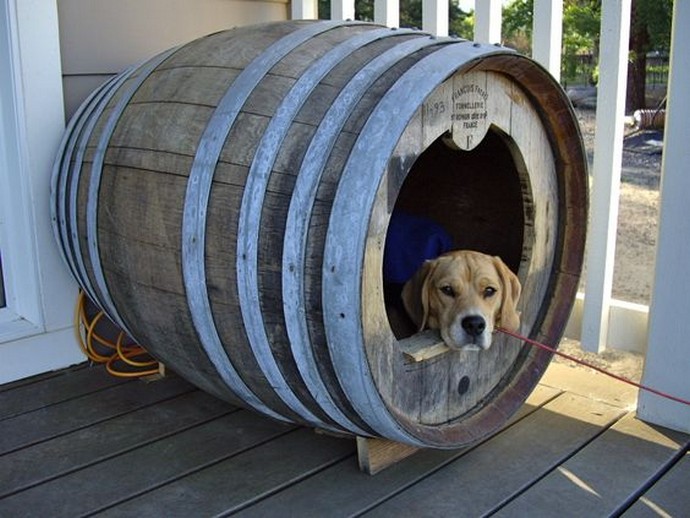 Here we see a relatively older and rougher wooden barrel that is maybe decades old, but because of the quality of the wood used in making this wooden barrel this is surviving till date. We have designed a smart and stylish entrance door.

You can always reduce the size of the recycled wooden barrel dog bed, according to the size of your pet. Like this one is pretty similar to the last ones that we have seen and discussed earlier but this one is certainly a bit smaller and shorter than those ones.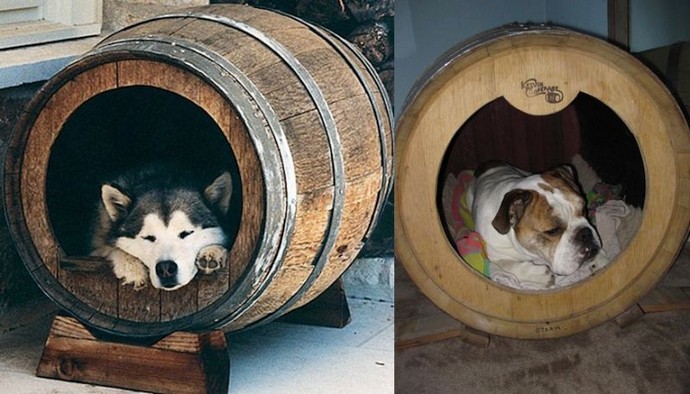 As a wooden barrel holds a pretty round circular shape so if placed on the ground horizontally, it would just keep moving and rolling until stopped. So we also have to create some wooden stoppers that would be placed on the base of the wooden barrel upcycled dog house so that it stays firm.