Pallet Wood Outdoor Ideas
In the beginning there were so many questions arising in the minds of the wood pallet crafters like how exactly and from where we are going to get started. Where do we find the wood pallet from. But as the time kept passing they became so much familiar and easy with the pallet wooden creations that this became literally an obsession. And now is the time when we feel like countless people have been attracted towards this amazing skill and art. This platform is dedicated to bring you guys ever new wood pallet creations, here we offer some fantabulous pallet wood outdoor ideas to you guys.
For instance, starting with this wood pallet kids cabin, you must have a look on this plan. I mean you would have done a number of wood pallet projects for you and your family, this time take an initiative just for your kids and recycle this pallet wooden kids cabin for them.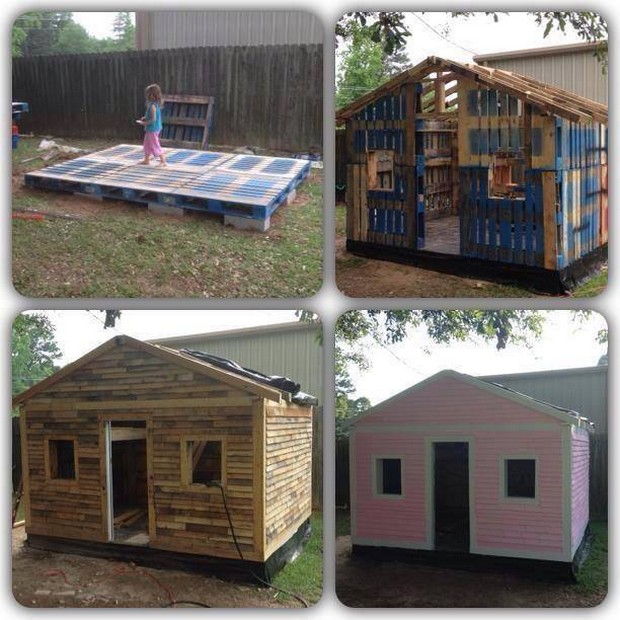 Ok, so if you are looking to bring about a change in your outdoor and open spaces by introducing a new wooden furniture range, I think this one would be a great idea to work on. These tiny little stools would just look awesome along with these benches.

Garden décor is another best thing that can be done using the shipping wood pallets as we have already made a number of projects especially for the garden and its beautification. This time we have made this sign board along with these cute caricatures.

Here we see the whole stage is set for the entire family. This wood pallet deck is made to specify the area for sitting, you can place all the wooden furniture items on it. But we just installed a pallet wood swing here to have a basic idea.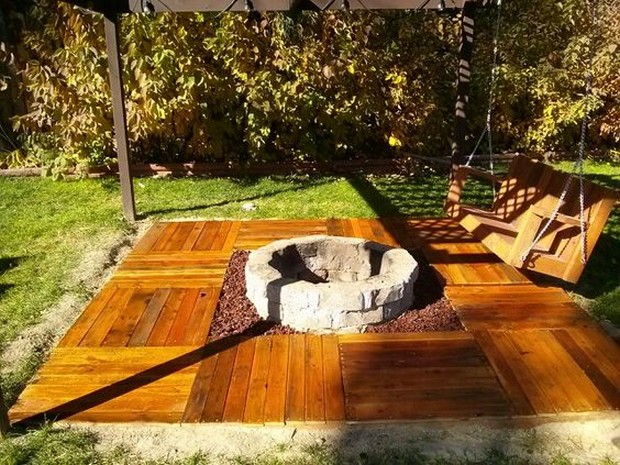 What would you do with this pallet wood recycled cabin for outdoor if you are provided with this? Well, to me this seems pretty exciting I mean this can be used for many purposes. But this would just be perfect if installed in the garden as outdoor hut.

Here is another useful wooden product that can ideally be used in the garden. Well this shed made with the fresh shipping wood pallets would be of the great help in the extreme weather conditions like this can be used to stuff inside the different accessories. Install a lock if the things are a bit costly.

Wow, before you get started seeing this project make sure no kids are around. Because they are going to get so stubborn that you would be compelled to recycle it immediately. But no matter you try this or not, this is going to be the best thing ever for your kids.

And here comes another pallet wooden beauty just for your kids. I think this is the next level of the fun for your kids. This isolated tiny compartment is going to be a whole package of fun and entertainment for the little buddies, but certainly you have to put a little extra effort here.

Now this is a raw wooden pallet repurposed kids play house that is made using the raw and broken shipping wood pallets. This is recycled beside an old tree that proved to be a great support for the wooden structure.

This time again we have gone a bit too far in the pursuance of the happiness of the kids. We have made this fine pallet wood kids shed which is an ideal kids play area too, here they can do a lot of stuff what they are not allowed to do inside the house.

Commercial use of the wood pallet creations is also getting pretty trendy with every passing day. People like the casual wooden creations made purely with the recycled pallet wood in the bars and cafes. And the best thing is the financial relief because they don't cost much at all.

While sitting in the open there are a few accessories that can't be placed in the open because here in the west we are not at all aware of the mood of the weather. So in this specific situation this pallet wood repurposed shed would be an ideal installation inside the patio to take best care of your home accessories.

And now coming towards our next project, this is nearly impossible that while talking about the outdoor wood pallet creations, we must not forget some decent wood pallet planters. As they are considered to be one of the best outdoor embellishments.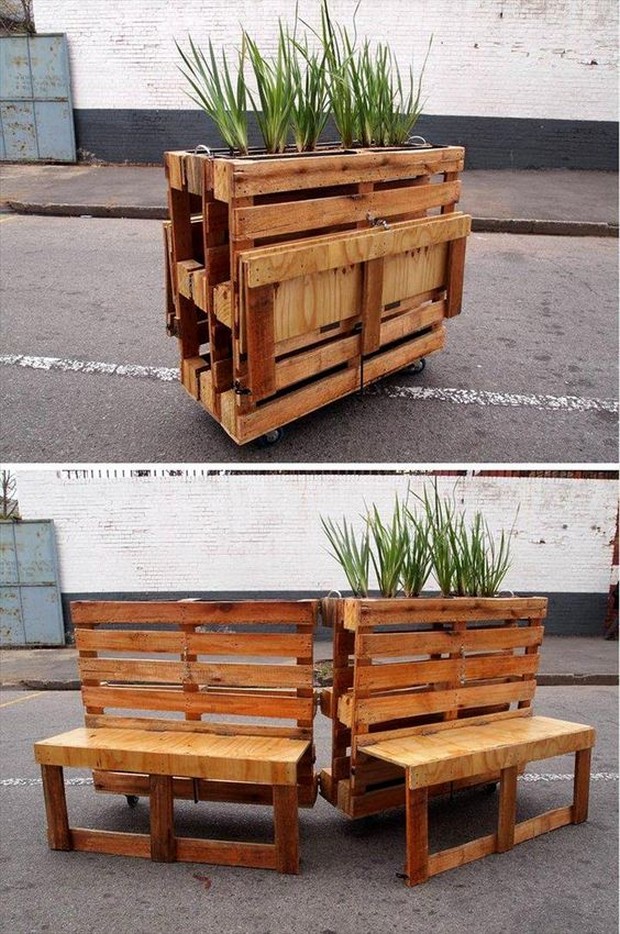 A large number of us just love having pets at our houses. But the chickens can't be kept inside the main premises because they can't be tamed that well. So for them here is a decent pallet wood recycled chicken coop idea, I think you guys would appreciate this one.

What exactly does this pallet wood creation look like? Well, the whole creation is made with the wooden crates. And this multi tiered object is basically a wooden planter that can be used to plant different varieties of plants at the same time. It has got plenty of space to fill in the fresh clay.

Wow, this trolley is so elegant that this reminds me of the great renaissance old era and seems to be from the royalty, even the wheels are made with the pure wood while the rest of the structure again is certainly made using the shipping pallets.

While talking about these pallet wooden creations especially for the outdoor, we have got a huge range of the wooden articles that can be recycled for the garden and patio as well. Depending on your mood and choice, you can pick your desired pallet wood creation.

And finally this exquisite creation that is made with the freshest pallets that were available with us, this is a dual product like at the same time this is one of the best embellishments for outdoor, and this is also an ideal pallet wood planter. I hope you would like to give it a try outright.