Art is all about giving your thoughts a shape. It is about making the things beautiful. Art is a whole comprehensive phenomenon which can not be easily digested by every one. Art is just like a deep ocean, or a limitless sky. Throughout our entire website we have worked a lot on numerous art inspired ideas and we have given new life to many useless and dumped things. Getting back to pavilion, in this article we would be talking about numerous ways in which pearls could be used in art activities. Though the pearls would be artificial as true pearls are just too expensive to get in such a huge quantity.
Have a look on this awesome night or side table lamp that is used in our bedrooms usually in night time when we need a limited quantity of light inside our bedroom. These table lamps are so damn common in our lives. We see them made with numerous different materials. But here the same lamp shade is decorated with a bunch of artificial pearls. This commendable work is really done by some true artist who is quite familiar with the soul and essence of art undoubtedly.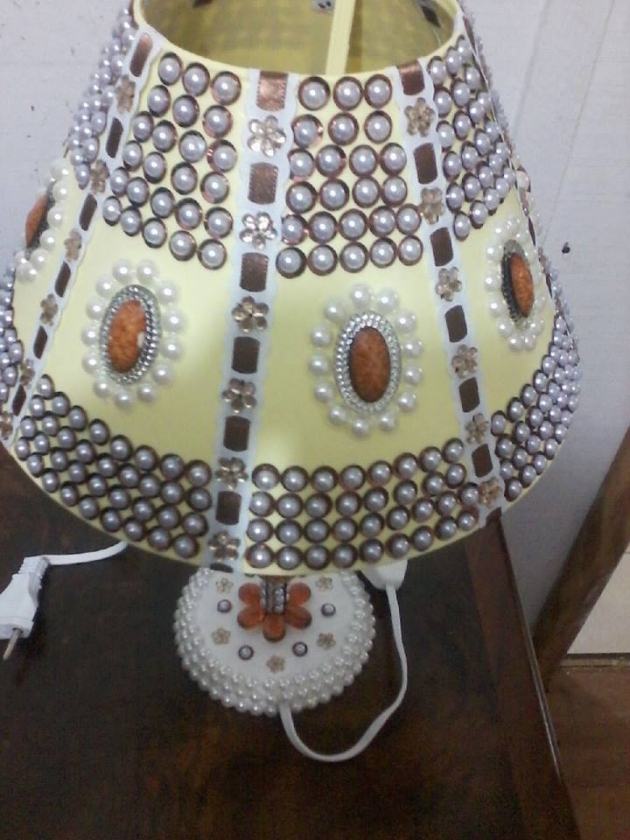 The next one is again a marvelous table lamp. We have seen a number of table lamps so far in our life, but I believe this one is literally the best among all others as it carries a stunningly different look. Apparently it is a common table lamp, but the way pearls are used in art here, that is really adorable. The whole ceramic base of a delicate side table is covered with a variety of tiny pearls making a splendid design that is pretty soothing to the eyes. This pearl art is literally out of this world, more than enough to leave one speechless.

Tired and sick of old typical crockery set and want to bring about some change? So it is never too far from your reach. Make your inner artist awake and do some art with pearls and make these ordinary glasses and cups some extra ordinary crafts. For sure you can not make these ceramic cups and plates at home, but you can make them look even gorgeous by using the pearls in art work. This ordinary crockery set is turned into a worthy and artistic tea set. Use them practically or even as decoration pieces lying on your room shelf.

These wine glasses and ash trays are again a big deal of pearls art. All depends upon your imagination and creativity that in what better way you can make the use of artificial pearls in some elegant art work. The demonstration of pearls with art done here is worth all the praises and admiration. These multi colored pearls should not be confined to mere dresses and shoes, but the canvas for their use could be as bigger as you want. These are a few great demonstrations of pearls with art for you as an inspiration and getting started with your innovation.