Creative Watermelon Carving Ideas: Turning Fruit into Art
Watermelon carving is a delightful art form that combines the freshness of juicy watermelons with the creativity of carving techniques. Whether you're hosting a summer party, a family gathering, or simply looking for a fun activity, watermelon carving can add a touch of whimsy and elegance to any occasion. In this comprehensive post, we'll explore a variety of watermelon carving ideas to inspire your next masterpiece.
The Art of Watermelon Carving
Watermelon carving has a long and diverse history, with roots dating back to ancient civilizations in Egypt and China. The practice has evolved over the centuries and has become a popular pastime, especially during the warm summer months when watermelons are at their peak.
The process of watermelon carving involves cutting and shaping the fruit to create intricate designs, patterns, and sculptures. The beauty of this art lies in the contrast between the vibrant red flesh of the watermelon and the pale green rind. From simple designs suitable for beginners to intricate masterpieces that challenge seasoned carvers, there's something for everyone in the world of watermelon art.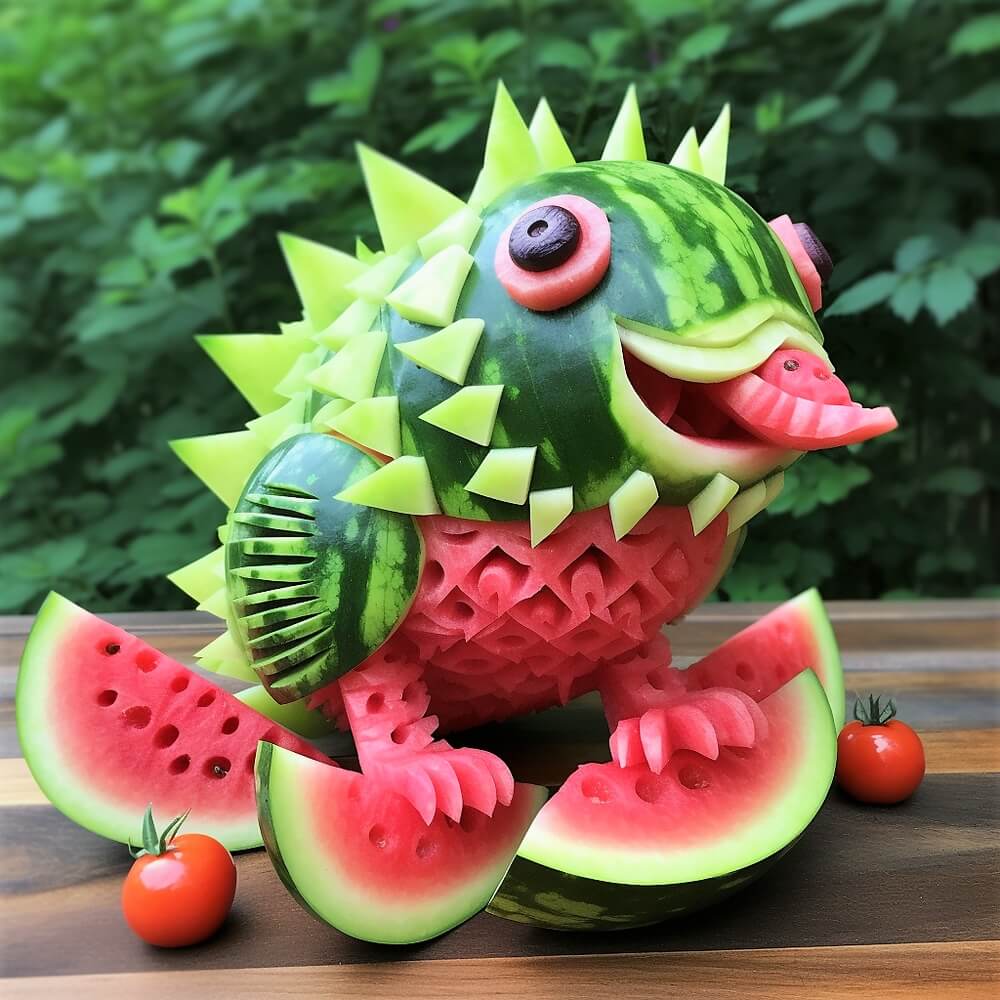 Tools Needed for Watermelon Carving
Before we dive into the carving ideas, let's take a quick look at the essential tools needed for watermelon carving:
Sharp knives: A set of sharp, serrated knives in various sizes will be your primary tools for cutting and shaping the watermelon.
Melon baller: This small tool will help you scoop out round balls of watermelon flesh to use as decorative elements or for refreshing fruit salads.
Carving templates: While not mandatory, carving templates can assist beginners in creating precise designs. These templates can be found online or purchased at specialty stores.
Marker or pencil: Use a food-safe marker or pencil to sketch your design on the watermelon before carving.
Scoops and scrapers: These tools will help you clean the watermelon's interior and remove excess rind.
Safety gloves: Optional but highly recommended, especially for beginners, to protect your hands from accidental slips while carving.
With these tools in hand, let your imagination run wild and explore the following watermelon carving ideas: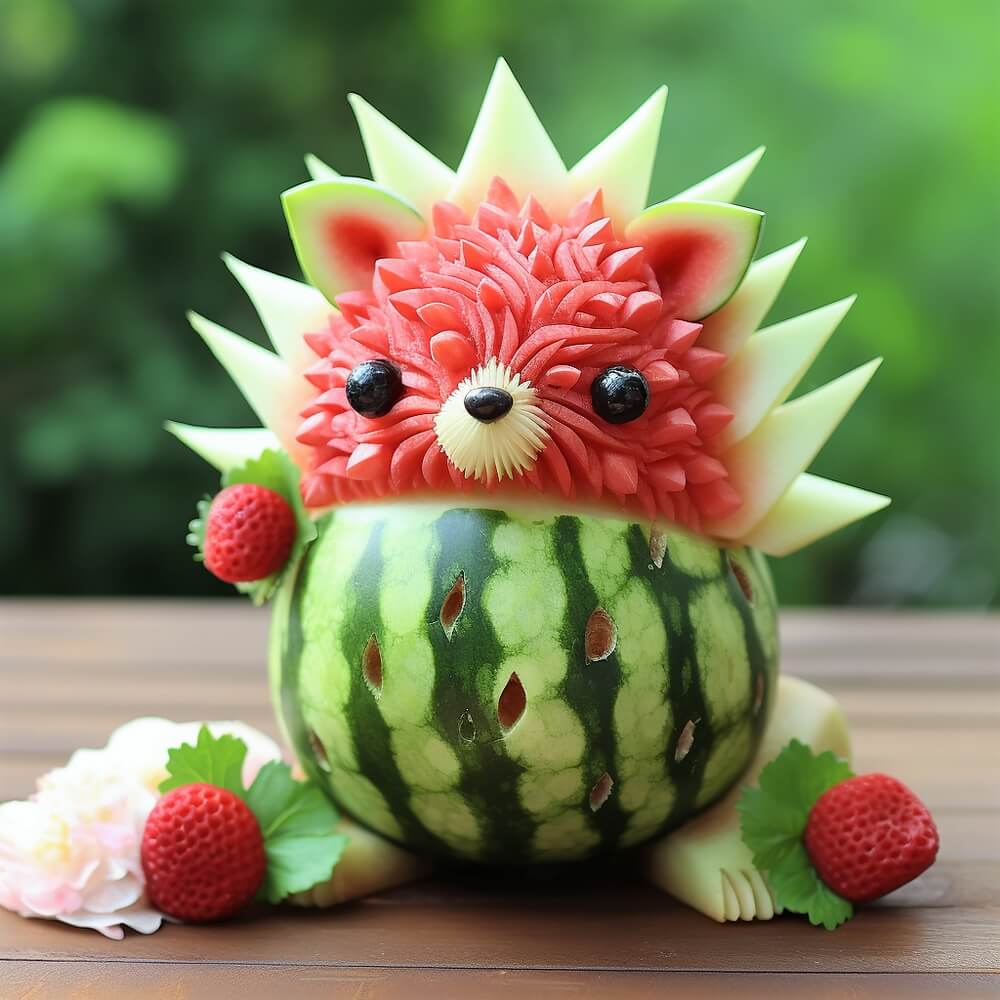 1. Classic Watermelon Basket
A classic watermelon carving idea is to transform the fruit into a beautiful basket. To achieve this, carve a handle into the top of the watermelon and remove the flesh from the interior. Cut scalloped edges around the top to create the basket's rim. Fill the basket with a mix of fresh fruits, and you have a centerpiece that is both visually appealing and delicious.
2. Watermelon Fruit Salad Bowl
Another popular idea is to turn a watermelon into a fruit salad bowl. Cut a straight line across the top of the watermelon to create a lid. Scoop out the flesh and use a melon baller to create watermelon balls. Add other colorful fruits like honeydew, cantaloupe, berries, and kiwi to the mix. Replace the lid, and your watermelon fruit salad bowl is ready to be served.
3. Watermelon Grill
Impress your guests at a summer BBQ with a watermelon grill. Slice a watermelon in half lengthwise and hollow out the flesh. Create grill marks by carefully carving shallow lines onto the rind. Add a variety of fruit skewers to mimic the appearance of grilling food. Pineapple and strawberry skewers work exceptionally well for this creative carving.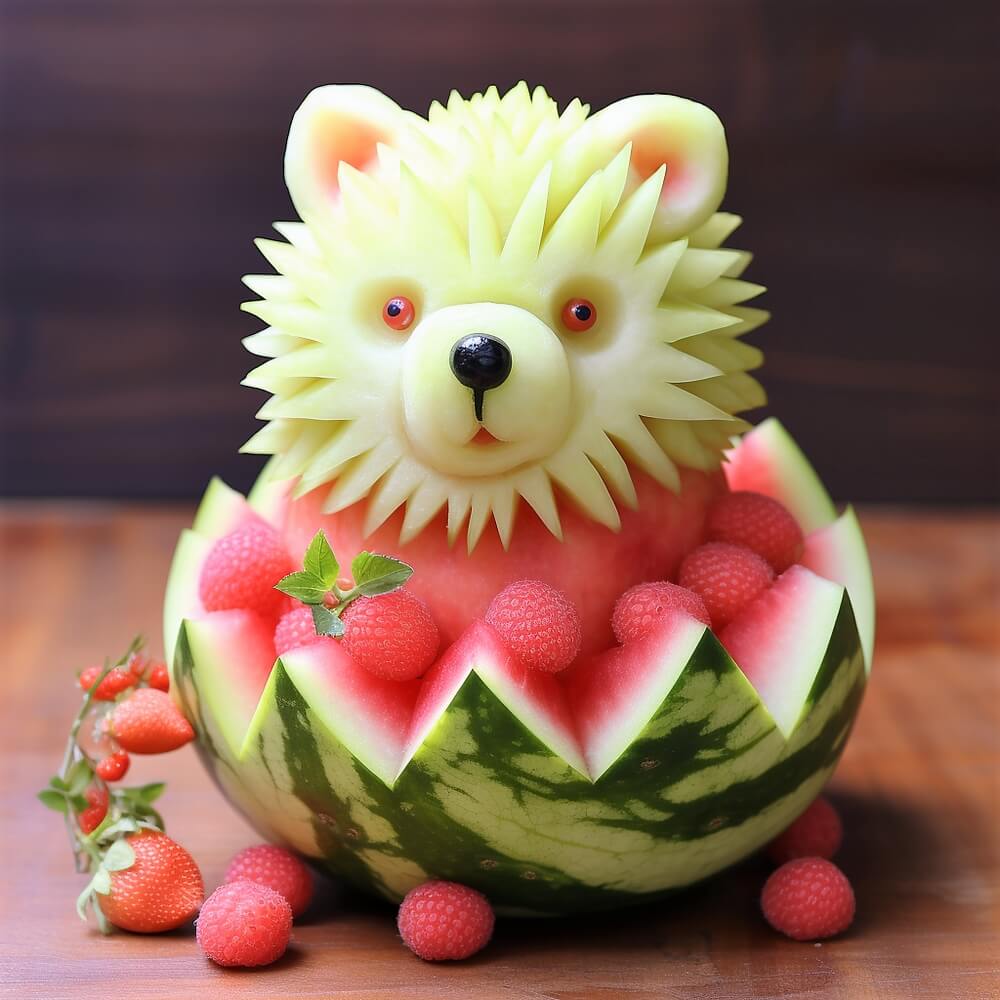 4. Watermelon Shark
Bring a sense of adventure to your watermelon carving with a shark design. Carve the watermelon into the shape of a shark's head, complete with menacing teeth and eyes. For an added touch, fill the carved watermelon with a seafood salad or use blue gelatin to mimic the ocean.
5. 3D Watermelon Sculptures
Go beyond the flat surface and create impressive 3D sculptures from watermelons. Carve animals like turtles, pandas, or elephants using various watermelon sizes and shapes. The three-dimensional aspect adds depth and detail to your carving, making it a true work of art.
6. Watermelon Flower Vase
For an elegant touch to your table setting, transform a watermelon into a flower vase. Cut off the top and hollow out the interior, leaving a cylindrical opening. Fill the vase with a bouquet of fresh flowers or use smaller carved watermelon flowers as decorations.
7. Watermelon Faces
For a fun and kid-friendly option, carve various facial expressions on watermelon slices. Use round eyes, triangle noses, and curved smiles to create a range of emotions. Kids will love these cheerful watermelon faces, and they can also serve as a healthy snack option for parties.
8. Watermelon Lanterns
Light up your evening gatherings with watermelon lanterns. Carve intricate patterns on the watermelon's surface, such as stars, hearts, or geometric shapes. Place a small LED light inside the carved watermelon, and you'll have enchanting lanterns that add a warm glow to your outdoor events.
9. Watermelon Ice Bucket
Keep your drinks cool in style with a watermelon ice bucket. Cut off the top portion of a large watermelon and scoop out the flesh. Fill the hollowed-out watermelon with ice and place your favorite beverages inside. Not only does it look visually appealing, but it also serves a practical purpose during hot summer days.
10. Watermelon Party Keg
Take your watermelon carving to the next level by transforming it into a party keg. Cut a hole in the watermelon, and using a spigot, turn it into a refreshing drink dispenser. Fill it with watermelon-infused beverages or cocktails, and your guests will be in for a pleasant surprise.
11. Watermelon Bowls with Handles
Add a touch of elegance to your watermelon carving by creating bowls with handles. Carve out small, curved handles on each side of the watermelon, and then scoop out the interior to create a bowl shape. Fill it with a colorful fruit salad or a refreshing sorbet for a delightful treat.
12. Watermelon Chess Set
Challenge your friends or family to a game of chess using a watermelon chess set. Carve watermelon pieces into chess pawns, rooks, knights, bishops, queens, and kings. The contrasting colors of the watermelon pieces will make the game more exciting and visually appealing.
13. Watermelon Pop-Up Tent
Create a whimsical pop-up tent out of watermelon for a delightful outdoor picnic. Slice the watermelon into halves and carve a triangular opening on each side. Stack the two halves together to form the tent shape. Fill the interior with a variety of fresh fruits and enjoy your picnic under this fruity shelter.
14. Watermelon Sailing Boat
Take your creativity to the high seas by crafting a watermelon sailing boat. Carve the watermelon into the shape of a boat, complete with a mast and sail made from toothpicks and paper. Fill the boat with fruit salad to create a playful edible vessel.
15. Watermelon Ice Cream Cone
A playful idea for kids and the young at heart is to carve watermelon into the shape of an ice cream cone. Carve a pointed cone shape from the rind and fill it with a mix of watermelon balls and other fruit flavors. Top it with a dollop of whipped cream for a delightful treat.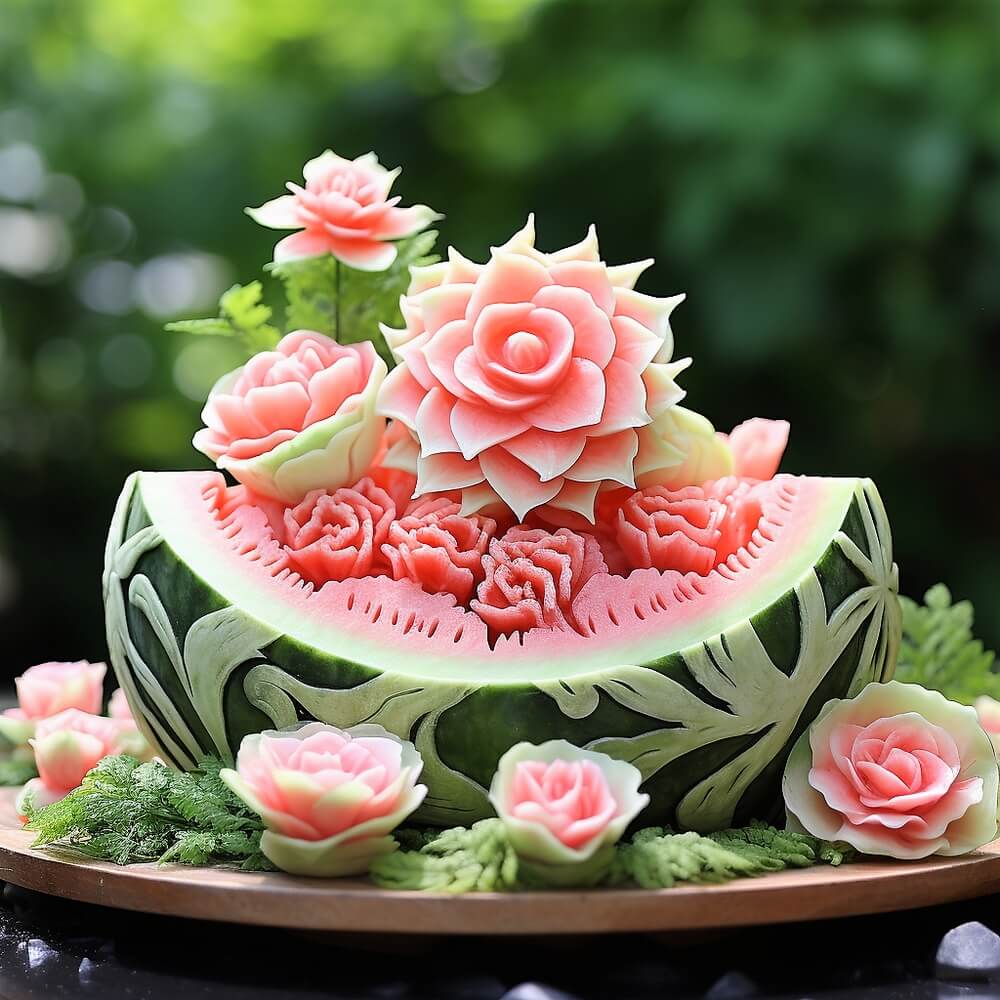 Watermelon carving is a delightful way to combine culinary artistry and creativity. Whether you're a seasoned carver or a beginner looking for a fun project, these ideas will inspire you to turn simple watermelons into extraordinary works of art. From elegant centerpieces to playful treats, there's no limit to what you can achieve with a little imagination and the right carving tools. So, the next time you spot a juicy watermelon at the grocery store or farmer's market, bring it home and let your artistic talents shine through the refreshing canvas of watermelon carving. Happy carving!