40 Decoration Ideas with Used Bottles
Decoration has been the main focus of our entire upcycling process. So far we have presented you guys a number decoration ideas where mere dumped or trashed stuff is recycled and turned into awesome decoration pieces. Today in this article we are going to revive the legacy again. We are going to present you almost 40 decoration ideas with used bottles. These bottles which carry wine or some other beverages come in different designs and shapes. We are going to exploit their different designs here in turning them to superb decoration pieces which are certainly going to enhance the interior beauty of your house.
Here is the very first project where a simple and straight bottle is recycled as a superb decoration piece. It is wrapped up in a paper and wine stopper or cork is put inside the mouth and it is further embellished with stones and beads.

The next one apparently looks like an empty wine bottle have vintage liquor. It carries a stylish metallic chain along with a bunch of shiny beads wrapped all around the mouth of the bottle. It is painted with glass paint and crowned with a decorative metallic cork.

Wow, here decency and delicacy is just over loaded. You certainly wouldn't have seen a better use of sea shells than this one. A wide glass bottle is decorated with a net fabric along with sea shells and artificial pearls. A raw paper piece is also pasted around the bottle.

This one is my favorite decoration piece made using the used bottles. The whole glass bottle is wrapped up in a burlap made cover. While further stones beads and metal is used for the embellishment. The color scheme used in here is literally escalating the charm of the said decoration piece.

Well, this is a simple yet attractive decoration piece made recycling the used bottles. Its design and shape shows that it is an empty wine bottle. It is painted as bright white with water paint and a small black pendent is wrapped around the neck of the bottle.

This used bottle certainly belongs to the tribe of aroma. This is an empty bottle which was carrying some scent earlier. Its entire shape plus its cap is a decoration piece in itself. No further amendments are needed thought, so this could be put as a decoration piece just the way it is.

Oops… this one reflects more of a girlish art. Seems like some adorable lady has planned and turned this used bottle into a fine decoration piece as the accessories used in here belong to feminine tribe. This white lace, silky ribbon, huge brooch all has turned it into an adorable decoration piece.

Hang on, just have a look on this entire collection of decoration pieces made using the used glass bottles. One of them is a perfume bottle and rest are wine bottles. They are further decorated with ribbons, silk thread, brooch and some silhouette art made letters.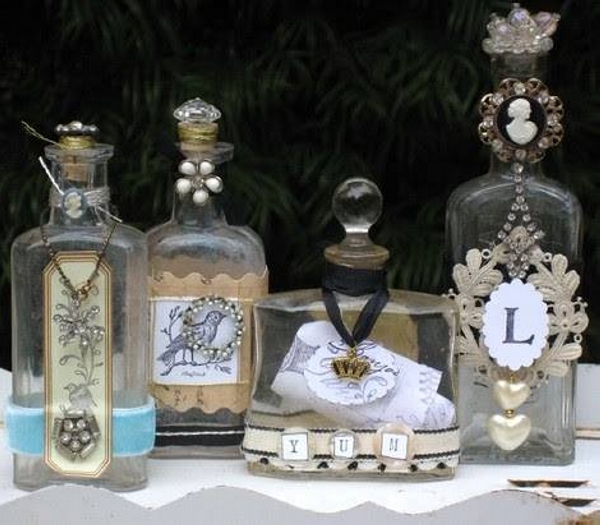 This pair is nevertheless a lesser option for the decoration of your home interior. These both used glass bottled are massively covered with stuff like lace, beads, artificial pearls and brooches. Carrying the Christ symbol they are perfect for a catholic dwelling, immediate attention grabbers these are literally.

This one is the simplest decoration piece so far in the entire article. This glass bottle is painted and then a net piece is wrapped around the mouth of the bottle. An old key carrying the letter love is wrapped around it and just placed on the shelf as a vintage decoration piece.

Wow… this one is little harder to deal with. I mean the quality of fabric used in here, the centre brooch and the whole embroidery on the fabric is so damn elegant. The fabric used to wrap up the used glass bottle is a decoration in itself.

These used glass bottles are really excessively stuffed with several embellishments. Tiny stars and beads are used in drawing a boundary line all around the bottles, and the caps are also stuffed with the same technique. Comparatively a little heavier decoration collection as compared to the other decoration projects.

Ohhh… this one seems to be like my earlier brand. Vodka is always a good choice to have with you. Same glass bottle is wrapped with a butterfly shaped net fabric ribbon, and even the wine stopper or cork is also covered with the same net. A simple yet appealing piece of decoration.

Just hold your breath before having a look on this truly artistic and immensely elegant decoration piece. This is done by some true crafter or a professional who is damn sincere to his or her work. High class glass and stone work is demonstrated on this used bottle.

My goodness. This one is probably the best decoration piece made using the used glass bottles so far. Look at its color, it penetrates into the heart literally. Its burlap thread cover, stones, signs, beads and pearls each and every feature is just awesome. This is worth a bunch of dollars for sure.

Here is a triplet of tiny used glass bottles, one is probably coke. They are very smartly turned into decoration pieces using very common and ordinary accessories like lace, net fabric and a couple of beads. You can also use them as a stylish vase as well.

This one is a huge used Champaign bottle. Though the same kind of accessories are used again in turning it to a conventional decoration piece but the quality of stuff is far better than the previous ones. Pearls, silken fabric, lace and net all are from the highest class to match a classic centre or decoration piece.

The last one is again reflects a girlish approach. Pardon if my perceptions offend anyone of you but they are just meant to speculate not to hurt the feelings in any way. The pink fabric flower, pearls and beads, crown shaped cap all is just so cool and makes it one of the best decoration pieces made with used glass bottles.

Have a look below more used bottles ideas: