Motivative Pallet Recycling Ideas
If someone asks me that what exactly is my motivation, I would say that this is the wood pallet recycling projects. They just keep me going, keep me pro active, bring me some of the best wooden furniture items in my house and office, save me a lot of bucks. So this I think is the biggest motivation in my life. Referring to the some motivational wood pallet recycling ideas, I am compiling here a list of pallet wooden repurposed ideas that you guys must consider. These specific ideas are certainly going to be pretty motivational ideas in your life.
I am beginning with this wooden pallet wall shelf for the bathroom. This is going to be a damn useful and motivational wooden pallet plan for your bathroom as it would provide you with ample space to take care of all of your bathroom accessories. So you must give it a try.

Here is another wooden pallet wall shelf for your kitchen. These wooden wall shelves are quite in fashion now days. They prove to be a real helping hand in your daily kitchen affairs as it has got several portions where you can place some mason jars carrying spices or some other kitchen related accessories.

This one is definitely the creation of some fanatic wood pallet crafter. As he or she used some most broken wood pallets, they were cut just randomly and were pasted or nailed along the wall without maintaining a certain symmetry.

Now this one could be said a new idea in the world of wooden pallet recycling ideas. This wall pallet wood planter shelf is an exquisite installation inside your house. This has got dual effects, it can be used as a wood pallet planter and also as a wall shelf.

And this one could be counted as the cutest and motivational wooden pallet project. This pallet wood side table and book box would be best used inside your personal room where you have piled up the books, place them inside this stylish wooden book box and also use it as a side table to place a cup of coffee on it.

This whole set up seems to be bought from some designers expensive wooden furniture store. But actually you know what, this is the creation of same wood pallet. We have used some vintage wooden pallets in making this coffee table along with the wooden pallet TV stand.

This pallet wooden wall planter is just so amazing. It has got multiple tiers, and on each tier we have carved the place in circular shape for fixing way in the potting planters. So basically this is a pot carrier. Fixed with ropes this also looks like a decent decoration piece as well.

This seems to be a dressing room of some celebrity, I really didn't want to exaggerate but trust me the way it is decorated this is just beyond my common comprehension. The whole wood pallet work is just awesome.

And here comes one of the most frequented wooden pallet couch that we have recycled countless times. It has got many potent positive aspects, it offers the best sitting posture, the arm rests are ultra luxurious and over all look is simply amazing. We just ensured to use the freshest available shipping pallets.

These are the raw wooden pallet repurposed creations where we have made some wooden chairs inspired from the Adirondack shape. They could also be used as wooden pallet sun loungers as you can literally lie down on them. The whole lot was prepared for a large green landscape.

Come on ladies, here is something for you especially for your kitchen. This wooden pallet kitchen cabinet can be made so damn easily. Plus you must not get worried about the pallet wood selection, even the most broken shipping pallets can be used in making this wooden pallet wall shelf.

Who would say that this kind of wooden pallet projects are just less than a motivation for the wood pallet crafters. This is just an amazing wooden pallet recycled coffee table that we have made in a perfect manner. It has got four built in drawers, and the most stylish handles on it.

This home deems to be the belonging of some crazy artist who just never ready to go for the traditional stuff. That is why he has resorted to the wooden pallet recycled creations for his home. The whole sitting couch, and the wooden bed along with their rustic appearance are really creating an impression.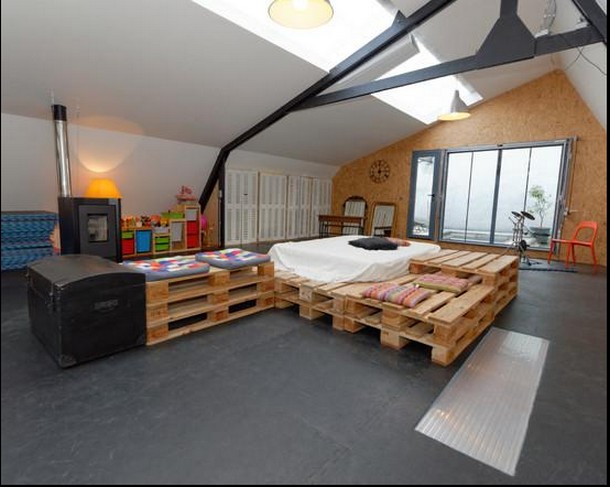 Everybody has got its own definition of the elegance and interior décor. But the priorities of the artists are always different from the common masses. As this wooden pallet wall cladding is the real definition of class and luxury for the artist.

So many times we have emphasized on the commercial use of the shipping pallets as they are in no way lesser than the market oriented furniture items. So we just thought to bring this motivational pallet wood bar table installed in some bakery. Plus the wooden flooring is also done with the same wood pallet.

This again is a damn motivational wood pallet recycling idea which is just beyond comprehension. The whole wall seems to be covered with the wood pallet. And also the best shipping pallets are put to use here. This could be a wall shelf, a rack or some bathroom installation.

There just can't be a better wooden pallet creation for taking care of you LED. This whole set up made with the wood pallet has got it all to be a perfect pallet wood TV stand. It has got a perfect wooden cabinet as well. So this would take care of all of your TV related accessories.

And if you are interested in making this wooden pallet patio cabin, you just have to be gutsy and smart enough, you must be very well versed in the wooden pallet recycling. Only then you can enjoy such blessings of the pallet wood inside your house.