Creative Wood Pallet Ideas
Working on some fresh shipping wood pallets is always a blissful activity for pallet wood lovers. This is their creativity and innovation which turn these rustic wooden objects into yelling smart wooden pallet furniture items. Though we have countless wood pallet recycling ideas on daily basis, but it feels like we can never have enough of them. And it feels like with every passing day we are developing a strange potential lust for some ever new ideas. Here are some of these creative ways to recycle pallet wood showing that this is your imagination that helps you make such amazing creations.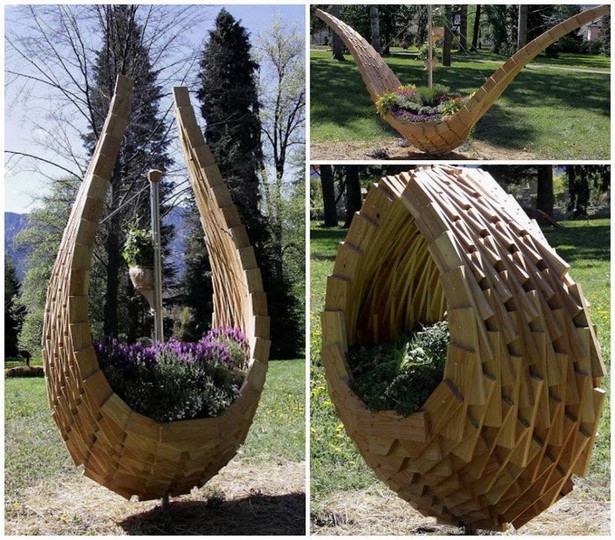 For instance, take the example of this cable reel recycled wooden table. A whole wooden cable reel is painted in a very charming manner where we have painted a flower on the top. While the rest of the structure is painted in dark green shade.

There just can't match a happiness to this kids isolated wooden pallet shed that we have made with the repurposed wooden pallet. This is given a perfect shape in each perspective. The top is shaped conventionally as a hut. And there is a pretty spacious room inside where they can play and do some recreational activities.

This is again a customized wooden pallet wall shelf made in the kids room. We can see that the wall shelf is  painted in a very attractive color pink which is especially associated with them. The idea is pretty cool where kids can place their stuffed toys and books as well.

Here are a couple of wood pallet inspirations that you can work on. There is a large pallet wood cabinet with multiple racks along with a decent TV stand. Plus there is also a cable reel recycled coffee table. They really make a great addition in your room interior.

If ever in your life you need some specified wooden gardens, the shipping pallets could be the best remedy at your disposal. This dual wood pallet garden has got a decent vertical garden and a raised wooden pallet garden as well. Multi tiers might be used to plant a number of plants.

A room closet is an essential portion of the room. This is needed to take care of your clothes, shoes and some other common accessories that are needed on daily basis. So I think this stylish pallet wood repurposed closet is a perfect room installation.

If we talk about some indoor wooden pallet furniture items, they are just limitless. Using the same shipping wood pallets one might go on making some countless furniture articles with just some minor amendments making them a whole new and different wooden furniture item. As here we can see the whole range of furniture items.

Lastly we thought to make use of the broken and deteriorated shipping pallets. We thought that there can't be a better choice than turning the pallet wood into a decent couch. Finally we camouflaged it with finest mattresses and couches and the idea really turned to be a great one.