My better half always loves to collect stylish hand bags usually made of leather. They also prove to be pretty expensive for my tiny pocket. But have you ever seen some crochet bags? If not, then this is a misery. Rather I would say that you are not essentially up to date in the matter of fashion. Crochet bags have become quite trendy now days and they are largely replacing the conventional leather hand bags. Crochet is actually a process of creating fabric by interlocking loops of yarn, thread or strands of other materials using a crochet hook. Its name is basically taken from the French word crochet that means small hook. These hooks or crochets are made from materials such as metal, wood or plastic and they are manufactured commercially and produced in artisan workshop. Initially you might confuse in knitting and crochet but there is a very basic difference in both. That difference is that each stitch in crochet is completed before proceeding with the next one. So all this explanation was regarding a basic know how about crochet bag pattern. Matter of the day is that crochet bag pattern has become pretty trendy and has gained the interest of masses.
Like in the very first project, you can see a casual large crochet bag pattern. This bag is produced entirely following the same crochet pattern. This bag is quite different from the conventional huge shiny bags that you have become fed up of. In this pattern of crochet, multi colored threads are used in making. Green, white, blue, yellow and many other threads are used in this bag to make a specific pattern with the help of crochet. You can carry this bag whenever you are going out shopping or just partying with friends.

In the next project, we can see a stylish multi colored crochet pattern bag in which many threads are used and owl caricatures are made on this crochet pattern bag. This is quite a different and simple looking bag for you to carry casually. This is something exceptionally incredible for you to carry just casually. Though its handles are made of ordinary fabric or may be some leather, but the rest of the structure of bag is following the crochet pattern. While a couple of black buttons is used on each caricature imitating owl's eyes. This is another great example of crochet pattern bag.

In the next crochet pattern bag you can see it is made on a whim. It would also earn you lot of praises and admiration. When you would jaunt about with it on your shoulder, it would prove to be a very practical bag for stashing yarn in. a damn crotchety indeed it is. Seems like some Debbie bliss yarn is used in this multi colored bag. This must not be confused with cash-merino which is far softer and lighter in weight. You can just just use whatever yarn tickles your fancy. Hook used in it is almost 4 mm hook.

While in the next there tiered crochet pattern bag, you can witness trio of some lively colors skin, red and blue as well. This is an amazing combination of colors. When it comes to the handle, that is made of some fine leather that adds to its firmness and durability. While another charming feature is its hanging brooch or ribbon that is made of cut leather strips and is embedded in golden metallic hook. This is a great addition to your fashion style and a big statement of your tase and fashion sense.

The next couple of white and blue crochet pattern bags are a symbol of status. They are pretty graceful and delicate for your lady to carry. The material used in them is wool thread that is resembling some knitted stuff, but actually these are crochet pattern bags. The stones used in contrast, brown in the white one, and black in the blue one are not only complimenting each other but also boosting up the grace of crochet pattern. You can carry them formally in some formal event, in some wedding, or even in any formal celebration. A great stamp of immense style.

Let's ponder on the next master piece. All these crochet pattern bags are like no other. They all are exceptionally great and tiny bombshells of fashion statement. Again its handle is made of some fine leather, while the floral brooch are enhancing its grace and delicacy. While the yarn used in its pattern is single that is off white. This huge crochet pattern bag is the best one for your lady to carry in some formal or semi formal events. You can carry bulk of your makeup and hair care accessories in this spacious graceful crochet pattern bag.

Another great article is here for your inspiration. We strongly recommend you to switch to these stylish crochet pattern bags quitting the conventional leather bags if you really want to make an impression and difference. Again here in this crochet pattern bag, large circles are multiplying its style imitating some flowers, while the huge spaces between each stitch makes it pretty transparent. While the wooden beads are used in the handle or the hook, while the rest of the hook is also made of some fine thread. You can carry it casually and formally as well because of its multi dimensional fashion looks.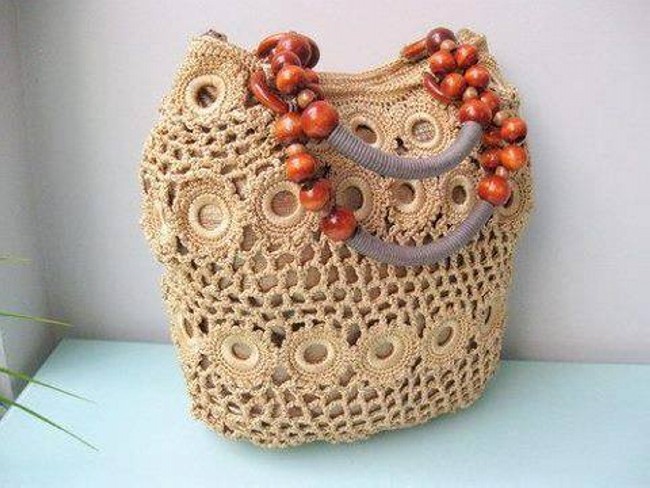 And last but not the least, once again multi colored crochet pattern bags are here for you. If you are sick of typical huge leathery stuffed dull bags, you must go for these crochet pattern bags. They are an undeniable article that you would be carrying in some special occasion or get together. Once again the hook or the handle is made of finest leather, while multi colored yarn is used in making crochet bag pattern. These multi layered crochet pattern bags are made with different colored threads and yarn. They are totally going to change your appearance. These multi colored crochet pattern bags also give you the freedom to carry them with any dress color. Trust me you are going to love their space, style and stuff. Just give them a try.

More patterns for crochet bags: