Reuse Old Pallet to Make Patio Furniture
If we compare the pallet wood creations with all other recycling projects, they have been the greatest success for this platform. People have shown immense warmth and they have contributed so actively. This was the reason we focused on each portion of the house, we made some specialized wooden pallet furniture items for bedrooms, lounge, garden and patio as well. And we have also designed them accordingly. Here are a couple of more pallet wood creations that would be a perfect installation for your patio. All you have to do is to just grab a couple of shipping pallets and start working on your desired pallet wood project.
How many of you love to party? Well, I also belong to that tribe who is always looking for some reason to call on a gathering or a party. So for this kind of people, a BBQ stand is literally a must have. Recycle it with shipping pallets.

Ok, if you have some plans to decorate your patio with the most decent pallet wooden recycled furniture item, first of all work a bit on the space that is to be covered. And then you can opt for some decent furniture range like this one.

Even if you are not in mood to take any fatigue and just want to shorten up your task, you can recycle this sort of wooden pallet bench for the outdoor space like patio. Leave it quite rustic, this would still look good lying in your patio.

And this sort of wooden articles are spared for the time when you have used all the fine and fresh pallets and you are only left with some broken and most deteriorated shipping pallets, then you can resort to this sort of pallet wood chair.

Now let's have a look on a reasonable sitting arrangement repurposed with wooden pallets. This fiver seater wooden couch along with a decent centre table that is kept pretty low to the ground. This really makes sense to me that you can create a pretty decent atmosphere with some fine shipping pallets.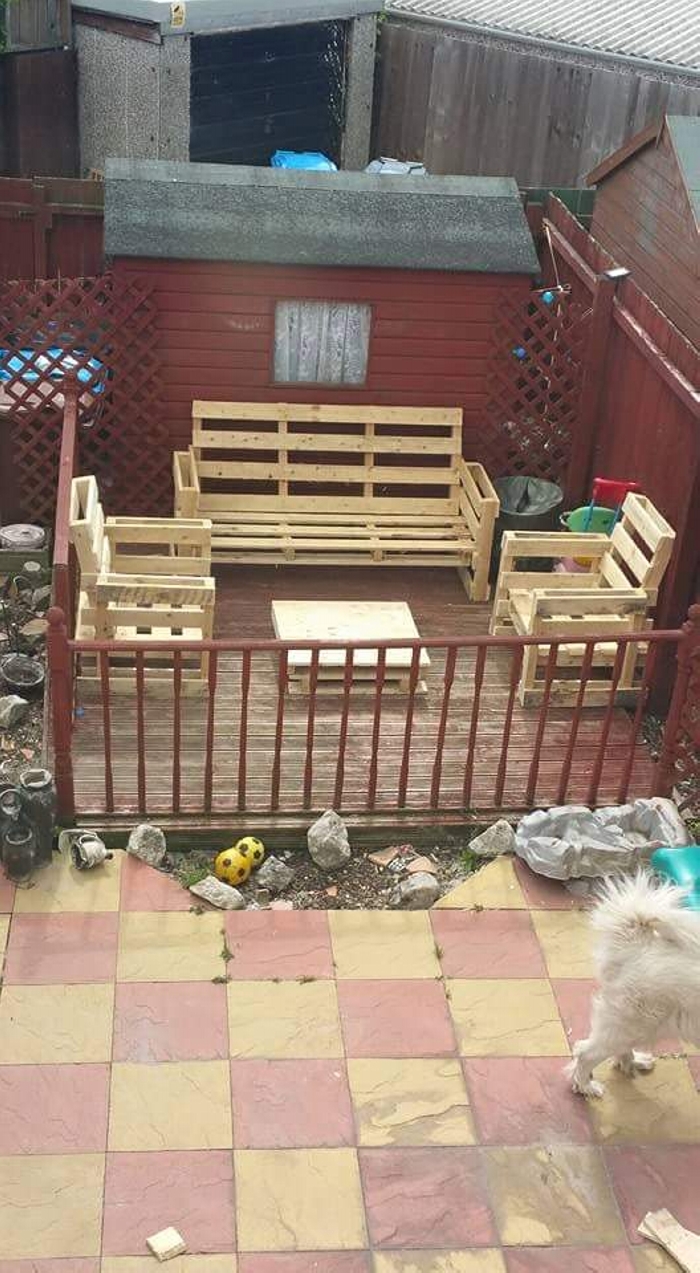 You still want to go a bit farther for your patio arrangement? Ok, not a big deal. This is all about your priorities and how you really want to decorate your patio. If you have some larger amounts of shipping pallets, make a whole wooden deck along with such L shaped wooden couches for your patio.

If you want to create something funky or casual for your patio, or a specific wooden item for a couple may be you and your wife, I would insist to consider this shipping pallets recycled dual bench having a built in wooden table in the mid.

And these are some typical wooden pallet benches that we usually see in the garden or also on some public places. Carrying the simplest design and shape so far, they are a perfect remedy for your patio. Paint them according to your choice and enjoy them in the fullest.