Recycled Plastic Bottles Patio Decor Ideas
The craving inside my heart for the recycling of different stuffs always keeps me motivated and I keep on doing some real crazy stuffs. But sometimes they just become so rewarding that I earn a lot of respect from the pals and all subscriber fellows. Here again we are upto some crazy things, we would be recycling the plastic bottles for some patio décor ideas. They are not essentially for patio but you can also use them anywhere outdoors. But one thing is very clear, you need a huge amount of plastic bottles to recycle for making these smart patio décor ideas.
Look here, a simple green landscape is turned into a fairy land for your kids. These gigantic plastic bottles recycled vases and gift box are so delighting, they would give your kids recreational feeling and would entice them to the max.

What about this tall lady with curly hair and attitude, her unmatched attitude is coming from the plastic bottles that keep her erect and tall on the ground. She is carrying a sign that directs you towards some specific place. Some useless materials are given here an entirely new life.

I can still remember the amazing kids train in the fun land park, the memories are still afresh in my mind. Give your kids the same bliss, though this train wouldn't be able to give them a ride, but the optics would make your kids super excited with colors and creativity.

These street poles are a loud call towards art crafts. Poles decorated with plastic bottles have turned to be a decoration piece outside your house. Seems like a wedding venue, all of the work is done with same plastic bottles and some other fluffy ribbons. Make your street a different one among all others.

These fairies are deployed here just for your ease, they are carrying some certain sign boards that are directing you towards your desired place. Made with multiple colored plastic bottles these fairies are literally luring your kids to come here and enjoy some outdoor games here.

These art crafts recycled with plastic bottles are not confined to mere patio, they could also be used in some commercial areas just to excite your customers. If you want cheap substitute of décor crafts just go for these insane creations. They would undoubtedly leave an impact on the visitors.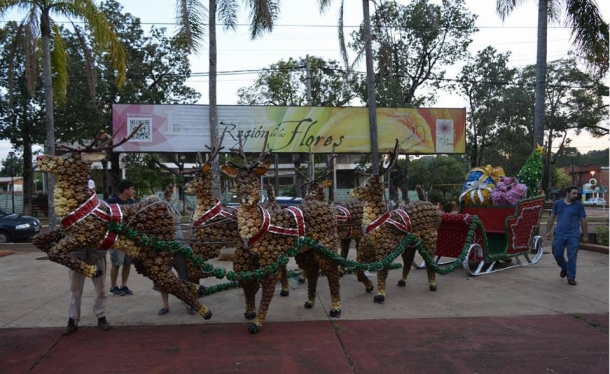 And what are your views about this vintage cab? This reminds us of ancient times when lords and kings used to travel in such cabs made with wood. But here we have recycled the entire cab using the old plastic bottles. Even the gift hampers that it carries are again the creation of plastic bottles.

And finally this elegant lady again made with the plastic bottles, wearing a stylish frock is directing you somewhere. This is all set here just for your ease as sign board, so we have given a totally different dimension to the boring sign boards. These plastic bottle creations are a bit crazy yet appealing enough to be tried.