Well, honestly speaking to you guys, I have been a bit miser always. Whenever it came to saving a few bucks I was always desperate to do this. So this factor was pretty dominant when I came towards the recycling stuff on a larger scale. But on a positive note, recycling also gives me a strange happiness that's why I keep bringing you guys such crazy things. What would you really say about recycling crafts with tin can caps? Yeah those tiny lids which we just remove and throw away, sounds good? It would be even exciting just stay tuned.
I am beginning with a craft especially for some gorgeous ladies out there sparing time to go through my blogs. Just collect a large number of tin caps, and following the pattern below you could end up making a whole hand bag or may be as its cover.

How about making an ornament, a pendent specifically? Looks good no? Then what's the matter, just get started with it. Again the same tin can caps are joined together in a certain pattern and a couple of silken threads are crossed all along to make a delicate necklace for you.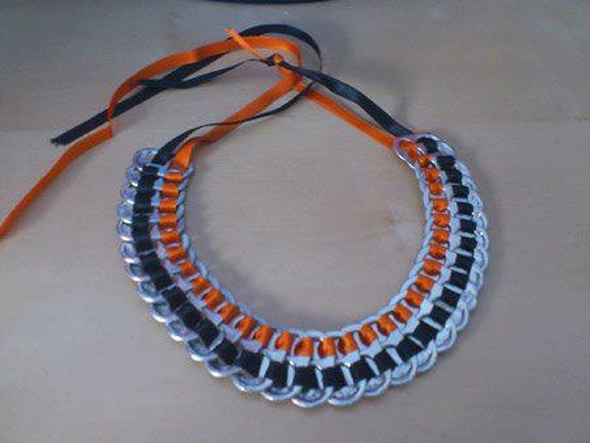 Now next one would be something that would be pretty exciting especially for gorgeous ladies again. This bracelet won't cost you in hundreds of bucks, just collect a huge range of tin can caps, and by cutting the each edge join the next like a chain and then cross a pink silken thread all along, that's it.

Once you go with the flow you can use these tiny tin can caps in several art crafts matching to your mood or taste. Like you can use them in making a delicate bucket or again a unique hand bag that would show your class and taste.

Well, earrings have always been a great attraction for the ladies. They say that they must not be essentially expensive, but they must be classy to leave some impact. I think the tin can caps could do the job in the most efficient way.

Now making a lamp with these tin caps would be a great experience. You can make the whole lamp shade with these pygmy caps, the pattern might change a bit as we have already shown in the pictures below just to give you guys a supporting hand, and the final product would be a real beauty in itself.

If you are getting romantic tonight and want to create some intoxicating atmosphere right at your home, then just do something different. Making these little candle containers would really be a great choice to go for. Put them on the dining table and switch off the lights.

And lastly this see through bag would be again a different impact on your friends. This is something done by you entirely, though a bit of effort is needed and patience as well, but trust me, the appreciation and recognition would simply be matchless for this amazing art craft.