Knickknack Ideas for Hanging Plants
Hanging plants could be a gentle substitute to a number of home embellishments. There is a strong idea behind the hanging plants, they are just matched to the hanging gardens or the vertical gardens. So seeing the importance if these tremendous creations we have brought here a whole range of the hanging plants. Not only they are going to be present there as mere decorative items, but they are also going to be practically useful I mean they would offer you their services as well. I mean you would be able to plant certain plants in them. Sounds exciting right? So let's get started with this new spree of excitement.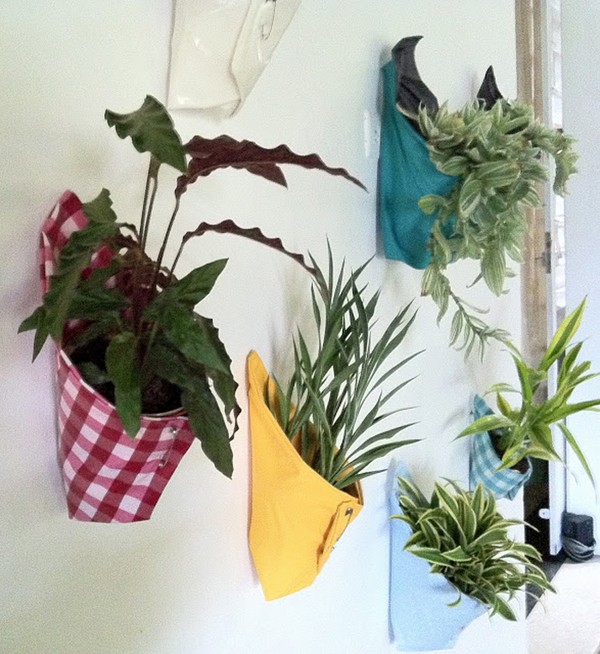 This plants hanger is made all using some very ordinary household items that can be very easily available to us. Like this whole rope is available in our homes very easily. Then the wooden squares were used, an overall view shows that this is a fantastic knickknack idea of hanging plants.

This one essentially seems to be the portion of some café or bar. Some extensively beautiful and decorative ideas are employed here that show that these awesome knickknack ideas could also be applied in the commercial sites as well.

This whole wall seems to be covered with a lot of hanging plants. Even in some cases their base is camouflaged in such a manner that it feels like the plants are growing from inside the wall surface. But the good thing is that only some ordinary materials are used for this whole setting.

Wow, these hanging plants seem to be designers plants, and I know you guys would be like what? Designers plants? Have you gone nuts man? but I am simply so helpless that I find no words to express what exactly I feel for this phenomenal decorative knickknack idea.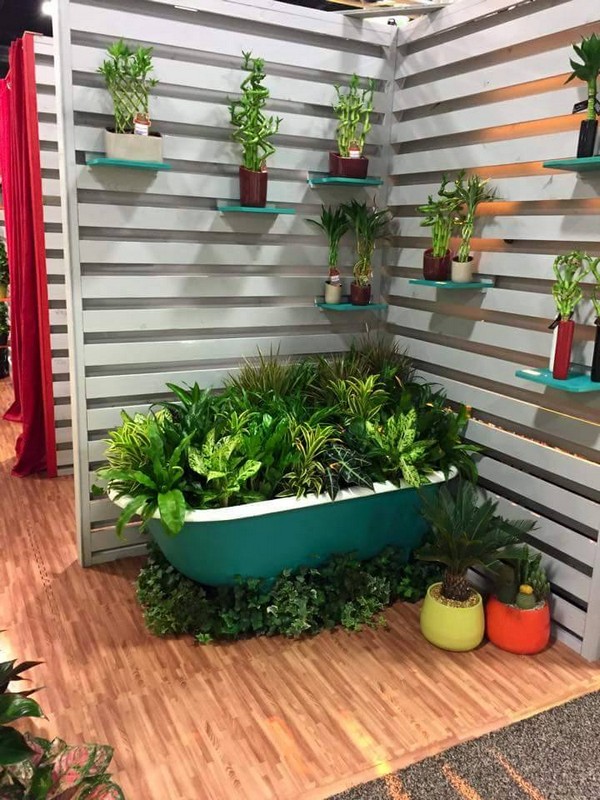 We are just desperate to save the finances of you guys. We want you to create these awesome ideas pretty free of cost like here the mason jars were used, a metallic basket which was reclaimed from an old bicycle and each mason jar is tied to the base of the metallic bucket.

The bucket is a decent container for these fine roses and lilies etc. The one used here is also very fascinating, this is made of wood and being chained up this is hanged on the tree. A more naturalistic idea indeed.

With every next hanging planter idea the containers are getting changed to some next level sort of things like the container we see here is again made of the wood. This beautiful  pallet wooden planter was made with extreme love and perfection so that it could really make its impact in the garden pretty loud and clear.

I really have to confess that my fellow crafters and decorators have more potential than me. Their efforts and works are really commendable. These wooden ladders are very cheap cost wise, while the buckets we used here are also of very low price.

This patio was meant to be decorated with some of the finest décor crafts, no matter how much their cost is. Keeping in view our preferences we have again ensured that most cheap materials are used here so the hanging plants are hanged along with some beautiful lighting installations.

The next one is again a more naturalistic garden décor idea. A cheap clay pot was arranged and then some nylon ropes that were already lying in the backyard were used for the hanging purpose. And some fresh green branches of plants were used inside the clay pot for the foliage.

We usually see this kind of buckets in the market which are especially associated with the presentation of gifts. Their beautiful shapes and the patterns used inside them make them look more attractive. We simply filled them with some freshly cut plants for the foliage and just hanged them along the wall.

This multi tiered hanging plant was not very hard to make as we can see that some of the most common household accessories are used in making it. Plain wooden slabs that can be obtained from the shipping pallets, jute rope, and some common clay pots were used for the actual job.

Do you see the pattern of this complex hanging planter? Well, apparently this might look like a complex hanging plant idea but actually this was just as easy as other knickknack ideas. Wooden sticks crossing from inside the binding rings and they were hanged with thin wires so that the hanging source is not very prominent.

I have already made up mind that I am going to try this one for my garden very soon. I just have to arrange a triplet of the clay pots, have to stain them according to my choice, crossing them from the middle through a long stick I would just erect in the soil.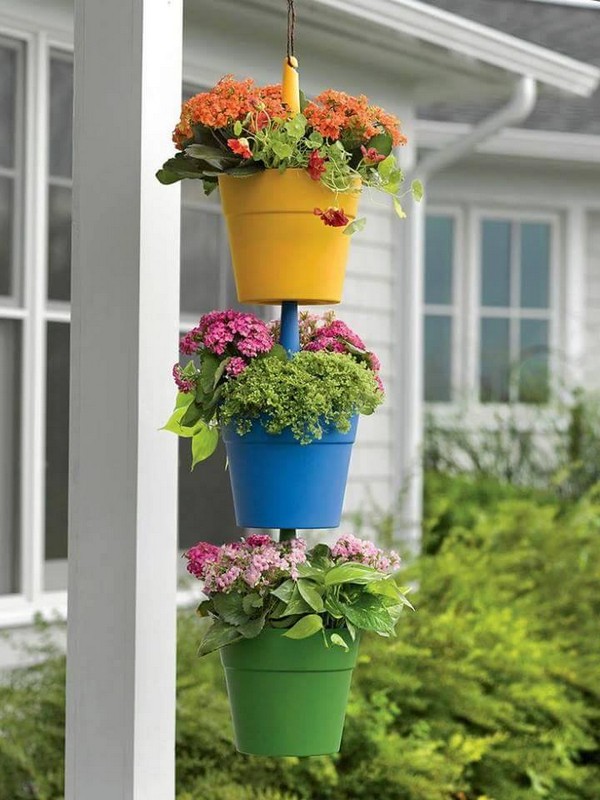 As we said that for these knickknack ideas we are going to use the most common house hold accessories, and we are still stuck very tightly to our word. Here we have used little ceramic bowls and hanged them with thin metallic wires.

While working on such decorative ideas out of some of the cheapest accessories, you have to be very cautious while making the selection of plants that would be used for the foliage. Because the plants are the main component that are going to over shadow the rest of the idea.

Depending on the size of the container for your idea the range of the plants might vary from fluffy to slim ones. Like here we have used the slip patches to fill the tiny little containers and then hanging them was again equally easy.

And finally this whole plants heaven is set on the wooden backdrop where the wood base is looking like as if it is woven with extreme skill and expertise. The same clay planter pots are employed here again, and for the foliage we have used some of the most colorful breeds of flowers.