With every passing day, I have literally started enjoying the wood pallet recycling. It has got so many reasons to be loved, as it saves me a lot of money. I can arrange the wooden shipping pallets pretty free of cost. And then I have complete command over the design and shape. I can make anything that I like. Ever since I have earned a lot of expertise in the wooden pallet recycling, I keep working on multiple ideas. Here are some wood pallet chair ideas. I hope they would be of great help for you.
This is a master bedroom chair. We usually see such master room chairs in pairs, but this single one is initially for the approval I think. Despite of a certain design for indoor usage this can still be best used outside as well. Whether your patio or green landscape, this chair would leave your mark and scale of aesthetic sense.

How would you guys classify this wooden pallet recycled huge couch cum chair? Well, this chair looks much closer to a wooden couch as it has got a huge seating space, the armrests are quite large, again a perfect sort of wooden furniture item for outdoor usage.

Do you remember the vintage sofas in old Hollywood movies? They were quite simple in their shape, they were made out of best wood, we have borrowed the same design right here. This is a simple wooden pallet upcycled chair that is made using the shipping pallets. This would be great remedy when you have some plans to sit outside in the open and enjoy the atmosphere.

And here comes something quite exclusive. I mean you can just find some regular furniture items typically shaped and designed, but finding one with such a different style is always a sort of pleasure.

Don't ever limit your explorations, let your thoughts and creativity have a free flight, and this is the way you can come up with such great pallet wood recycling ideas. We were actually up with making a straight wooden pallet chair, and then we turned it to a wooden chair with planter.

This is our prime motto to keep you guys updated with the latest and trendy ideas going on in wood pallet recycling. Just have a critical look on this wooden pair of couches or chairs, they hold such a rare and unique design and offer a formal sitting plan outdoor.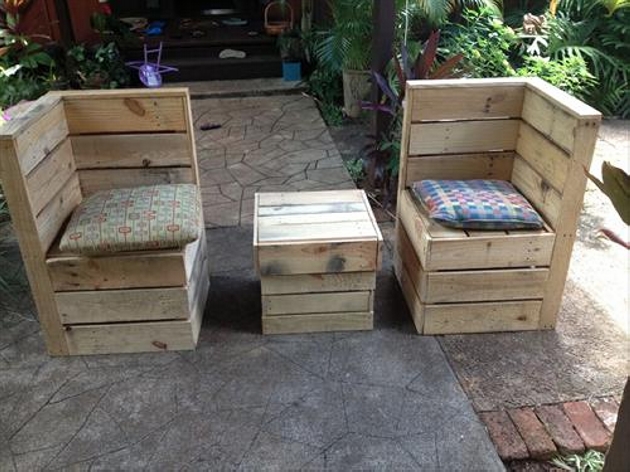 Do you remember a couple of Adirondack shaped chairs we recycled in some of our earlier projects? Now this one is a lighter version, bulky people don't get offended they can expand it according to their choice, this is just a basic inspiration or mere food for thought.

This is another classic pair of wood pallet upcycled Adirondack chairs along with a simple centre table. I think this is another great addition to your patio. Style, charm and above all its cost effectiveness makes it a prime project of wooden pallet chairs.