Coffee Tables Made with Recycled Tires
Tyres are undoubtedly an expensive item of a vehicle. They come is various sizes but shapes more or less remain the same. Whenever we have to change them we become a bit worried as they are an expensive item. And the discarded one is just considered a pile of trash and we are willing to get rid of it as soon as possible. How would it sound if we offer you some plans to make some stylish coffee tables by recycling these old tyres? I don't think this is a bad deal. These coffee tables would add a lot of value to your home.
We are getting started with a very delicate and stylish coffee table recycled with a huge vehicle tyre. The entire tyre body is wrapped up in a floral wrapping paper, it has got reclaimed wooden legs, and then it is further decorated with a classic shining wooden sheet.

The next one is even prettier than the last one. It took nothing else, the same discarded tyre, this time it is wrapped all around with a jute rope that carries a special charm and charisma in itself. The reclaimed wooden legs are same again. While it has got a fine glass top.

Coming to the next one we realize that all the pattern almost remains the same, the tyre is a bit bigger than the last one this time, the reclaimed wooden legs are same as they were in the last one, and the glass top is installed inside the jute rope layer.

Wow, even the Michelin company wouldn't have ever thought that there could be such a smart use of their tyre. Painted in golden color, the table has got some built in light work, and the glass top is fixed with prominent metallic screws or holders that keep the glass stuck.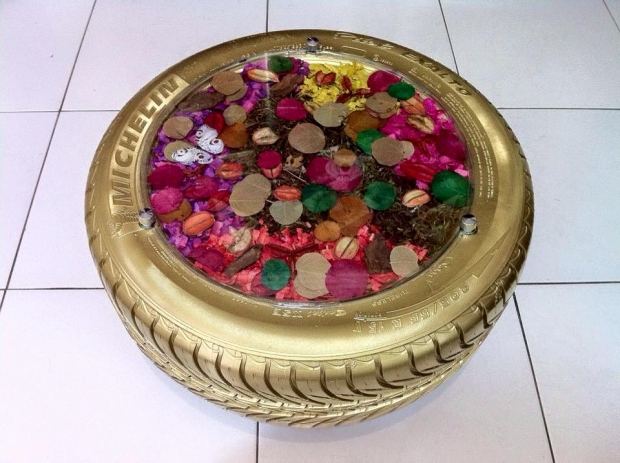 The next coffee table made using the old tyres is a bit more classy as it has got the same pattern almost, but the shining wooden sheets have increased to two, just to add more spice in the article.

Now this is again some exploitation of color scheme. The same coffee table pattern has been differentiated with a bit of innovation and smartness. The floral wrapping paper is different, the top sheet is different but the pattern is same again. This would look pretty gorgeous in your drawing room or lobby.

There just can't be a better use expected from these used tyres. If you recycle them to make such stylish coffee tables then you are really a gutsy man. this means you have got the skill to turn the ordinary things into exceptionally great art crafts.

And the last one is again made using and old tyre, reclaimed wooden legs, jute rope to create some distinction, and a shiny wooden sheet on the top. Just with these ordinary and cheap accessories we have ended up making something really incredible. I am more than sure that you would earn a lot of respect with such smart recycling projects among friends and family.