There have been a huge number of projects that we have worked on with wooden pallet. Pallets are such an amazing material that you can easily turn them in practical art crafts and for this you do not need to learn some rocket science. They are quite easy to make and above all they do not cost you at all. You can grab a bunch of pallets just free of cost lying in your backyard, and turn them simply in some practical furniture items. Today lets make some stylish wine racks and bars by recycling the pallet wood.
Look at this simple but delicate wine rack. We do have racks in our homes serving different purposes. Like we use them to hang our clothes, hats, coats and even sometimes our keys. But how would it look and sound if we make a rack to contain wine bottles?  Certainly this would be a great idea to make it. This simple wine rack is made by joining some straight pallet planks and stained and sanded properly because if you have to install it in your bedroom, it must have some fine texture matching to room interior.

My wife is a real fanatic when it comes to the decoration of our home. She is always desperate to make new experiments in the beautification of our home. And finally she ropes me in as well to make the expenses. But since the day I have been making art crafts at my own by recycling the wooden pallet, it is just a matter of ease for me to make new inventions. Like this wine rack which is made by the end portions of a pallet having a metallic wire connecting it to the opening board. This is a spacious wine rack.

Now look at this two tiered wine rack, this is also entirely made by upcycling the wooden pallet. Though it requires much effort and much time as well, but it is still all worth it. Look at its structure, it is all made up of pallet wood, it has two tiers for storing the wine bottles. While the covering sheet on the front is having a design like zic zac pattern. While the lower most layer is made of pretty robust planks and it is left in its natural color without proper paint. Its rustic look is very fascinating.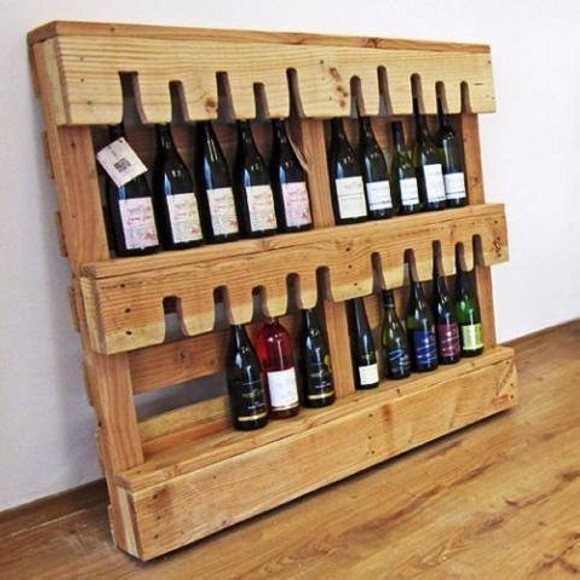 While talking about this pallet recycled wine rack, it is pretty versatile in appearance. Its transformation is even simpler and easy. The rack is damn versatile and this can not only be used for storing wine bottles but also for storing different magazines and displaying some other accessories or decoration pieces. To add more style and charm, some lighting work is also used in it. Some Edison bulbs are installed inside the wooden planks. It is installed along with wall of lobby right beside the entrance door. So it welcomes your guests the moment they enter your lavish house.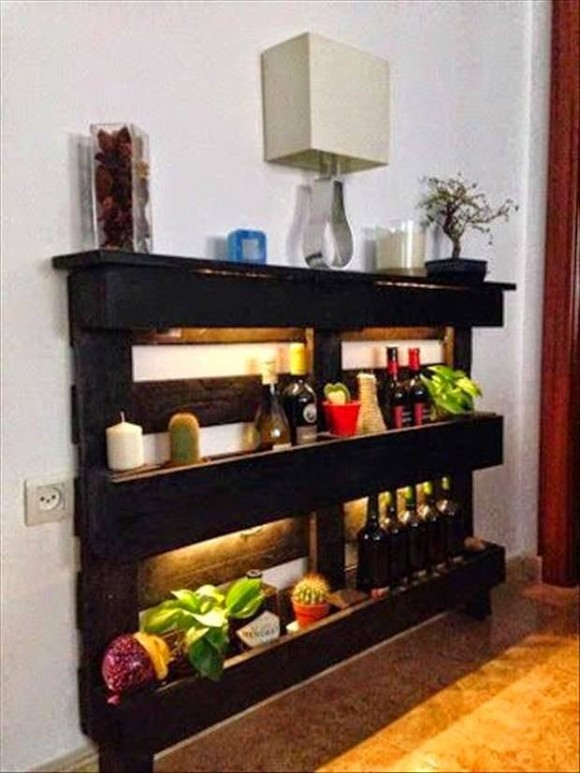 This is another fine liquor rack. This is really very practical in its nature or the way it is designed for you. Cut off the most lower sections of the wooden pallet, the top boards were removed. Middle boards are cut through and then a decorative edge is cut down in its making. All the pieces are sanded very well but they are not stained properly but left in its very natural woody color. As we can see that it is installed on an accent wall and its rustic look is reflecting immense charm and beauty along with its style.

Here is another fine wine rack which is once again recycled with wooden pallet. We have talked a lot about the adjustability and diversity of pallet wood. This comes free of cost thus making the final products pretty inexpensive. And can easily be stained sanded molded and shaped as well. So when ever you have plans of making your summer project with wood work, we would strongly recommend you to work on the pallet projects. Like this one, you just need a couple of pallets lying idle in your backyard, cut mold and shape them accordingly and you end up with a splendid wooden wine rack.

Now coming towards our next design of wine rack, you can see that this is a sort of bottle holder. Neither much timber is used, nor much effort is made in its entire processing. Not a pile of pallet wood is needed but you just require a few raw pallet planks in its making. If you look at its design carefully, it can hold three bottles of wine at the same time. The bottles are placed in it in an angled shape sitting horizontally for a more interesting visual display. A good one for your dining table.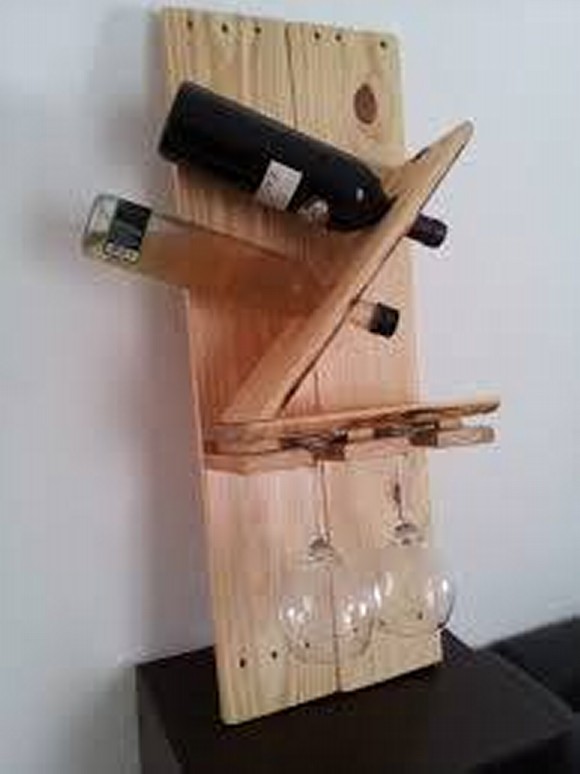 I am pretty damn sure that sooner or later, one day you are going to be attracted towards this art of upcycling because it is more that a mere fun activity. It satisfies your creativity, quench your thirst of art, and provide you with some of finest art crafts that you can use practically in your daily house hold activities. Like this hanging bar in your house is just a pleasant inspiration for your visitors. Flat wooden planks of pallet are used in its making and some wooden hooks are fixed to carry the wine glasses. A perfect beauty for your dining room.

Last but not the least, here is a full fledge wine bar along with a wine rack that is totally made of wooden pallet. You do not have to go out for a peg in an ordinary bar, just bring this bar home. You just need to ponder on its entire structure, totally equipped to cater all your needs while having a peg of wine. It also has some lighting arrangements built inside it, and also pretty spacious to carry all your necessary wine utensils and glasses. These self made bar and wire racks are a great addition to your home interior.

Below are collection of pallet wine rack ideas: