Upcycling Ideas for Used Tires
Your used tires become a headache if they are not dumped properly. A tire is certainly a main part of any vehicle. The tires are supposed to have an estimated life. After which they become useless and you must quit them replacing with new ones. These old dumped tires could easily be used in stunning upcycling ideas for used tires. The tires which are meant to keep your vehicle running are going to become the inspiration of the day by some genius upcycling ideas for used tires. We have already discussed many possibilities of upcycling used tires in various practical art crafts in some of our earlier articles. Once again we are back with some more upcycling ideas for used tires which are going to transform your life from straight simple to some artistic and aesthetically great life style. When you would upcycle the old tires it would not cost you much bucks additionally as the tires are free of cost being the old ones. So re using these old tires is just like giving a second life to a tire that was never meant to be used artistically, but just was a symbol ugliness and roughness.
For instance, here we have such a great idea of turning these old tires into some great outdoor planters that are pretty unique in their style and stature. Have you ever witnessed such upcycled tires as some fresh flower planters? If not then we have brought you the same inspiration this summer. Include it in your scheduled art projects in pipeline. Just grab your dumped tires from your backyard, wash and paint then neatly according to your choice. Fill them with some fine clay, and turn these old tires into some great outdoor planters which are also meant to be a welcome note.

In the very next project, we are offering you a master art craft which is quite practical and also best to be used in your garden or patio. These marvelous set of sitting sofas along with a stylish center or coffee table. All these furnishing items are recycled with the old used tires. A couple of tire is used in recycling each sofa while the legs are reclaimed from some old ditched furniture. This is a mind blowing addition to your patio seating or even your garden. Further enhance their optic beauty by adding some vases along.

Before pondering into this project, let me remind you that we have worked on some finest garden art ideas where various methods and items are employed and upcycled. Once again the inspiration remains the same, to upcycle old used tires into some practical art crafts. And turn it to a star shaped planter installed on earth with the help of old used tires. You want lure your kids or want to have more admiration from the visitors of your garden, this great upcycling idea of used tires is a great remedy in this regard. A best addition in garden art ideas and projects.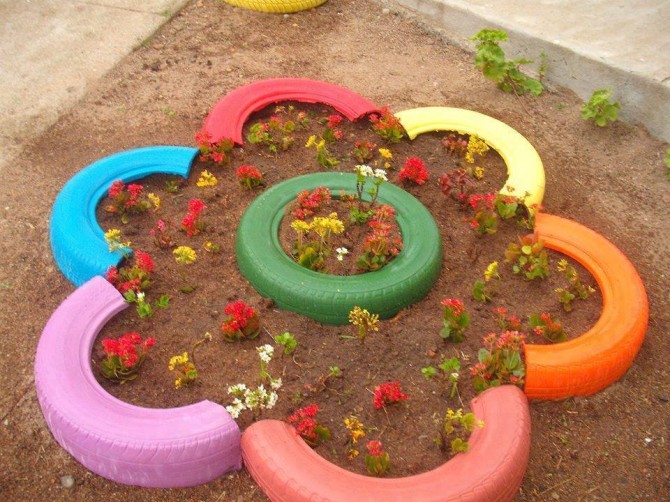 A tire when placed on the ground, it becomes a box shaped object which gives you the freedom to fill it with the material you want to. Here in this project, the old used tires are placed on the ground and they are filled with some fine clay. And after some required watering, this ready to go planter is all set to give new life to your seeds as some large plants. The guy in here is deemed to have some great interest in upcycling ideas, and for this, he has opted for the old tires ofcourse.

The ideas are not limited, sky is the limit. Just start sketching on the canvas of your brain and make best use of your innovative skills, and you could come up with some great inventions. Not only the planters are here for you, but if you desire, you could also go for some great caricatures of famous cartoon characters or whatever you want. In this project, we have painted the tires green, and the lips and eyes are another next level step in assuming the character. This green Mr Jenny is going to be a good watchman in your garden.

As we talked earlier that the ideas are not limited. You can just go limitless. Another great option of recycling old tires is to turn them in some delicate sofas or stylish couch. I always remain ready for such creative inventions where used material like old tires are used in recycling process and something really new is achieved by upcycling. Here we have painted the sofas as pink, yellow, orange, black and blue. The color scheme is of your choice. While the upper tire is filled with some finest quality luxury cushions. Switch from old conventional giant sofas.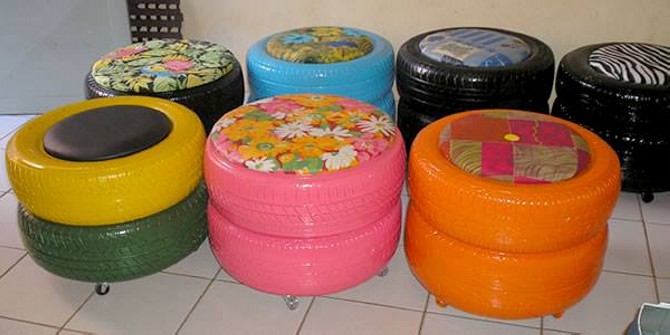 Once again the upcycling of old tires as some fine planters is very frequently used idea. This old tire made planter is durable, perfectly sized and shaped, and at the same time cost friendly too. Though it is always advised that you must never harvest some edible plants in the old tire upcycled planters. As they might contain some harmful substance that could cause damage to your health. But for the rest of variety, this rough dull black planter is a perfect choice. You just have not to invest bucks on some pretty conventional planters, this is something new and something unique.

Garden art ideas has also been the main focus of our website throughout. If you have some vast areas of land as your garden, then you would have to opt for multiple garden art ideas. One of them could be theme planting. For instance, the tires are painted according to the color of floor they are lying upon or matching to your building paint color. You could arrange some planters in the neighboring space of your pergola. This symmetry is also reflecting some great influence of discipline in your premises, while at the same time offering immense style.

Grab some more interesting used tires upcycling ideas: