30 Amazing Driftwood Chandelier Ideas
Driftwood is certainly something uncommon that most of people are not familiar with especially the kids I think. But the ones who usually go to the beach for outing they must be very familiar with these raw and broken wooden pieces which bear no proper shape. But this creepy stuff is used in various art based creations. Even we have used the driftwood in making various recycled art crafts that are widely appreciated by our subscribers. Here we are presenting 30 amazing driftwood chandelier ideas. Chandeliers are not mere lighting objects but they are also regarded as one of the finest decorative items too.
The very first chandelier is made partially with the reclaimed leftover of a broken chandelier and in the rest of the part we have used the driftwood all around the chandelier. These are some random and unevenly sized driftwood pieces that are assembled along the round shade.

This one seems to be inspired from the candles as the long slim objects on the top seem to be the candles which are not actually. Plus we have installed tiny bulbs on the top which are ultimately going to lit up the room.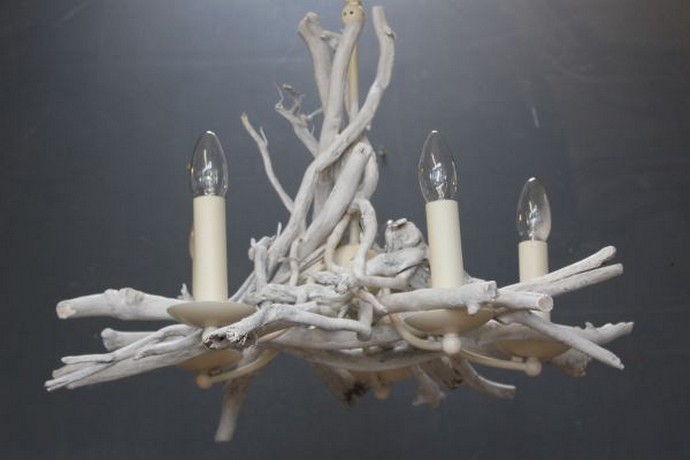 Even this one was so handy to make as we just grabbed a long and thick driftwood stick, hanged it with the jute made rope, and some glass made mason jars were attached to the rope. And cut pieces of thick candles are placed in each jar for the lighting purpose.

You must be confused that how cum so many long driftwood pieces could be in so much similar shape, well, actually the lower ones are the reclaimed parts. The upper sticks connecting the chandelier to the roof are pure driftwood pieces which is apparent from their shape and condition.

To shape several driftwood pieces like this you have to work smartly. Take a ball that could be deflated later and could be pulled back from the spaces available, paste all the sticks on that ball so that they get a proper round shape, and finally cross through it an Edison bulb.

In most of the chandeliers we are using some reclaimed parts of some old broken chandeliers that were no more in use and we made them functional again. Here in this project we have used simply these long driftwood sticks that were relatively similar in shape. While bulb shades are certainly the reclaimed ones.

Wow, I think this one is too wild looking to be used inside a lavishly decorated house. I think this would work great in some extra large spaces like a workshop or some other work related place. Its light would be sufficient there as we have ensured the maximum supply of light.

Even this one is not one single piece, various driftwood pieces are combined together to give it this certain shape. And then a plain cubical lighting globe is attached to the base. This would look superb in decorated room interiors as it has got a flashy look that is quite appealing.

Making this driftwood recycled chandelier doesn't need rocket science. It just takes an initiative and certainly your creativity above all to make these attractive décor items. As here we used some curvy and uneven driftwood pieces that may be could have looked ugly unless they were not turned it this smart floral chandelier.

The driftwood piece on the top seems like a caricature of some bird, that is why the same touch is given right inside the wine bottles that are lit up and have bird print on the glass. Navy blue shade of corks is further enhancing the beauty of this one.

Even this round shape was also obtained in the same manner as we did early. We just made sure to cut the pieces to size to attain minor symmetry that is pretty visible in here. Though the driftwood is dominating the light flow so this is inclined to be a mere décor item with light.

To give your room a wild touch, there just can't be an option better than bringing inside a driftwood repurposed chandelier. As this is close to the nature and because of this weird shape it gives a look that cannot be obtained from the market based lighting installations.

Here we have tried our best to follow some certain pattern in making the upper and the rest of the round shades. We just combined some similar pieces together, assembled them with one another, and the reclaimed strips were attached to the base.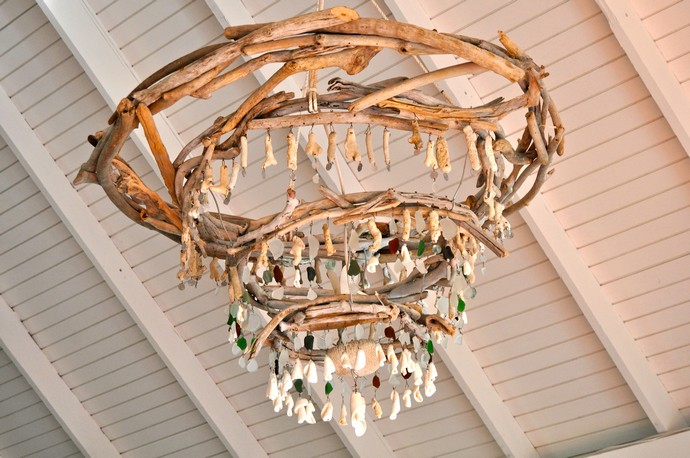 This one looks perfectly like the base of a whole tree or a debarked wooden piece. Though countless tiny branches are there but this is good. It adds a lot to the beauty of this raw creation made especially for the lighting purpose.

I strongly feel that the driftwood actually doesn't matter that much except looks, the thing that really matter are the reclaimed parts of the chandelier that you have got with you. Because the driftwood is used for mere connecting purpose. As here these round glass globes are really making an impressive impact other than the driftwood itself.

These all are actually very tiny little sticks that are first cut to size. All of them are almost same with some minor exceptions in the thickness. So we thought they all could have been combined together. And they all were shaped this way using a round ball that was later deflated and pulled out from the spaces.

Wow, this seems like a whole merry go round of the lighting shades. This is pretty obvious that all of these shades are reclaimed from old broken table lamps. Here there metallic stands are connected to the driftwood extensions and their wires are hidden and camouflaged inside the wood.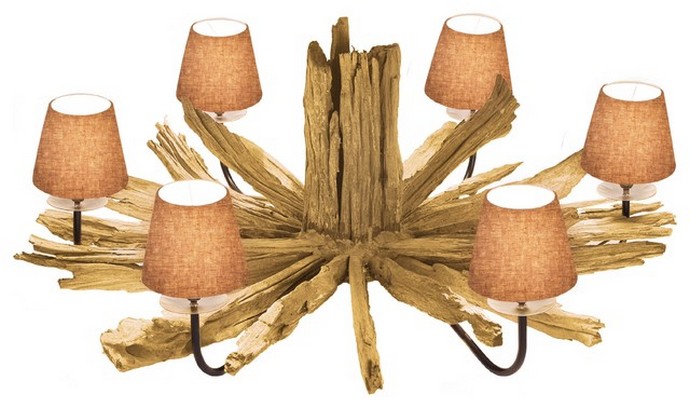 Driftwood always varies in the matter of shade. This depends on the time that was spent in the water or sea. Water affects the color of the wood. This bunch seems to be too old one.

Now this one reminds me of the jellyfish that is a beautiful living object living in deep waters. But don't be astonished at all, this sort of shapes are highly expected from the driftwood. Now this is upto you that how exactly do you assemble them together to enhance their beauty.

Look at the entire driftwood chandelier here, do you notice the black dotted stuff there? They are actually the decorative strings that are usually attached to the common chandeliers. We were having them in bulk so we just attached them all to this driftwood creation. And I think the idea really worked.

On the Christmas eve, we see so many trees embellished with the lighting installations like this. It seems like the each branch and bushy parts are wrapped and covered with different little bulbs that have lit the whole tree up. And the strings studded with beads and pearls are added to further polish the beauty.

After seeing all of these driftwood chandelier inspirations, the very next time when you visit the beach you are coming back a bag full of the driftwood pieces. And you have already made up your mind that you are going to the beach the very next weekend.

It seems here as only the thick base is made of the driftwood, while the rest is all some silvery and golden metallic material that is purely used for the decorative purpose. Actually we used some bushy part of the tree in our backyard here and attached several tiny lighting bulbs to it.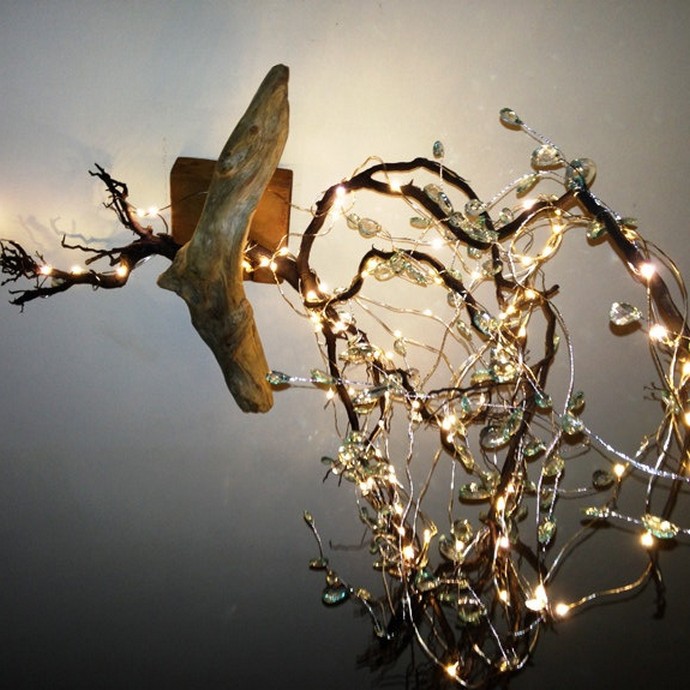 When it comes to the decoration of your house, especially for the one that is newly built, you wish to go all the miles and leave no stone unturned for making your place a heaven on earth. With these ordinary materials we can really make some miraculous changes.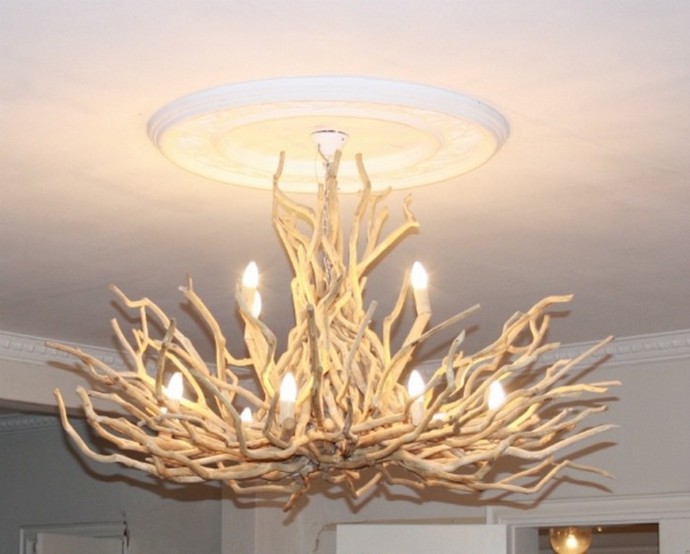 Like this one seems quite simple as here we have just tried to make an object with the driftwood that looks like a simple shade, and then we have installed a common Edison bulb inside this shade. And despite of the simplest design it really looks awesome.

If you have to try some similar project, just make sure that the lamps shades that you have with your quite similar in size, shape and color. Or else it would have an adverse effect on all your efforts and the final creation that you have created with so much care and dedication.

If one asks that can we categorize the driftwood pieces shape wise? The answer is a big no. so basically it is all about your own genius and the way in which you combine some driftwood pieces together to give them a similar touch.

Like here we can't find even a single piece that looks like the other one in the whole bunch. But it still looks pretty awesome when they all are combined together. You have to treat each piece individually and have to figure out where exactly some certain driftwood piece would make its best place in the chandelier.