In the matter of upcycling, I am sure we have gone way too far. We have upcycled countless things into many practical art crafts. Which are now being used nicely in our practical lives. Upcycling is just an art of giving new life to the trashed or dumped items which are considered to be of no use any more. For instance here in the following project we can see a cut tree turned into a very natural looking and artistic planter. This is a classic example of wood upcycling idea. Wood a super handy material for recycling.
As we have discussed earlier that the wood is probably the most appropriate material for upcycling. Here in another demonstration of upcycling, you can see wooden steps carved as passage way deep in the ground by digging the mud. We try to make our green landscapes much prettier by employing several garden art ideas. This wood upcycled idea of passage way could also be one of them. Adding more wild and natural charm to your green landscape. What is done in this project, some circular pieces of a tree a cut straight away making several steps as the passage way in a green landscape.

Wood is a really fantabulous source in upcycling ideas. As its specific texture allows a crafter to cut and shape it the way he desires. Like here you can see a wooden pallet upcycled trolley table which contains your multi purpose tools. It is pretty obvious that such a big amount of tools can not be placed in some conventional box. So just think of recycling a pallets wooden trolley having all the essential racks to carry your tools. You can also see the wheels on the base of trolley making it completely mobile. This would keep all your tools in your immediate access all at once.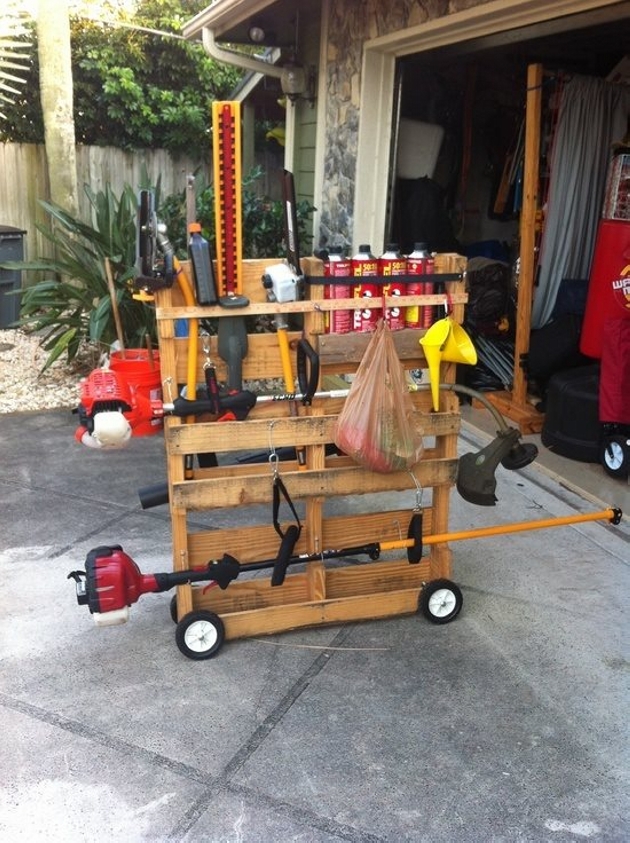 What a wood piece remind to you? It is pretty obvious that it reminds us of natural beauty and natural views which are especially associated with forests and wild life. So even the tiny pieces of wood remind us of natural views. So if you want to bring home some natural views, you can employ some smaller wooden stick in home décor ideas to give your home a vintage and stylish look. See in the below wood upcycling idea where tiny raw wooden sticks are placed in a glass jar making it a great home décor idea.

Now coming towards our next wood upcycling idea, we can see here a classic wall shelf that is upcycled by using some raw wood pallet planks. A wall shelf is considered to be an integral part of every house hold. Wall shelves are meant to carry several decoration pieces, vases, photo frames and even books sometimes. So as it is an integral part of a home interior, instead of going for market based wood shelves try making it at your own by upcycling the pallet wood. This home décor idea recycled with wood is going to be a great addition in your house.

How much do you like the fruits? I and my entire family loves to have fruits on daily basis substituting them with one whole meal. They keep us pretty active and healthy and protect us from many diseases. My wife keep several buckets full of fresh fruits in the main lobby. So here is another great wood upcycling idea for you. Here we can see some of the finest pallet wood recycled fruit baskets that are a great addition to a home décor. These pallet wooden baskets are so damn attractive even for your kids.

More ideas for upcycling the wood: