The winter season has arrived, so this is certainly the most appropriate time for the BBQ's and backyard parties for the entire neighborhood. So whether you are planning a july 4th celebration or just a get together with your friends, the most appropriate place would be your patio or may be your green landscape. Because it is is pretty obvious that when you have planned a barbecue dinner or lunch, the number of guests is going to be huge. So a proper barbecue table is a must have thing without which your event or celebration would not be complete. So here is the time to show you some real inspiration of a all in one BBQ table that could also serve you in other purposes.
I think we must celebrate each and every moment of our life. There should be frequent parties and get together because life is so uncertain. So when you spend some time with your loved ones or your beloved pals, it becomes one of your most memorable times in the whole life. BBQ is probably the most informal way to enlighten your moments. This is associated with casual style. So we are planning to go for a table that could also serve you for dining purpose, and grilling at the same time. This is definitely going to be one the finest thing you have ever had in your furniture collection.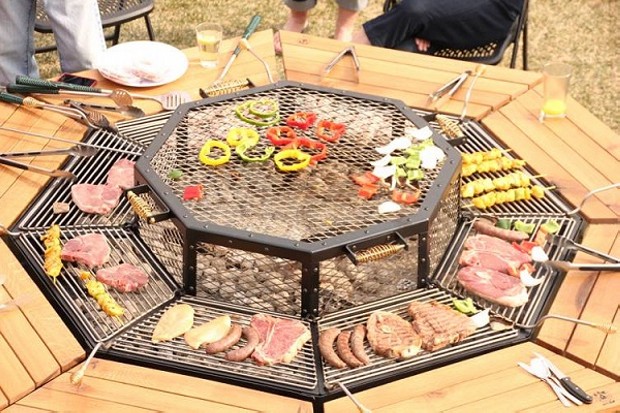 Now being specific towards the table, look at it its decagon shape with corners. Its most inner part is having a burning space for the coal and having certain appropriately designed grills for even stakes, sausages, fish and chicken as well. While on the other end it has wooden portion where you would serve the food. I am sure you would have loved this all in one BBQ table idea.