Curtain Designs for Bedroom
Apart from the furniture items, paint, flooring and some decoration pieces, there is also another major component of the home décor. And that is a well managed and well matched room curtain. If we specifically talk about the prime purpose of curtains, they actually block the obscure light. But in today's modern world, hundreds of dollars are spent on designer and fancy curtains. People specialize in this field and they advise people about the most appropriate curtain for their room. Their size, width, color and stuff etc. in this article we are presenting various curtain styles that you can select for your room interior.
This is a room of a lavish house most probably in a urban setting. The color scheme used in this curtain is quite soothing to the eyes. Green color has always a special soothing effect for the eyes, so a perfect one for those who like greenery all around.

Wow, this is a multi layered and multi panel curtain where yellow and white color is mainly used. The internal white fabric is made of net, while the yellow one is a bit thicker one just to make a decent contrast. Floral touch on that is mainly for decoration purpose.

This is a wide auditorium inspired curtain covering a larger area of the room. Dark and light purple are widely liked colors with a blend of some decorative brooches in the middle and both the corners shaped like curvy leaves. Definitely a decent combination of colors and art work.

The next curtain is very elegant, its strange see green color along with white netting is creating a perfect atmosphere inside the room. And silver frills along with the white netting are an additional charm adding much value to the curtain with floral touch as well.

This one seems to be from the same class with a bit of changes and modifications. Same netting is kept inside, while the outer layer is much fancy and shiny. There's also used lace on the lower bottoms contrasting to the rest of fabric colors. Separating the lounge from the drawing room.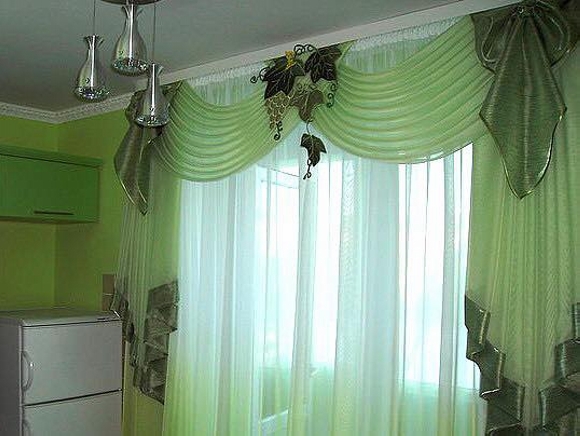 While in the next curtain you can figure out that it is mainly about the colors and fall of the fabric that makes a perfect curtain for your room. Mainly the white netting is used here which keeps the view partially transparent, and random colors like red and green show freedom from binding of any specific color pattern.

The next one in the timeline is pretty different from rest. This is actually a designer's curtain that is stitched following a certain curvy pattern. In the entire curtain same white netting is used with a very wavy fall, and a slim patch of red lace is attached to the entire border lining.

Now this one is a classic curtain. With a unified metallic panel, curved white netting is crossing all across in a receding pattern. While on the other hand there is a layer of thick fabric curtain covering the netting layer.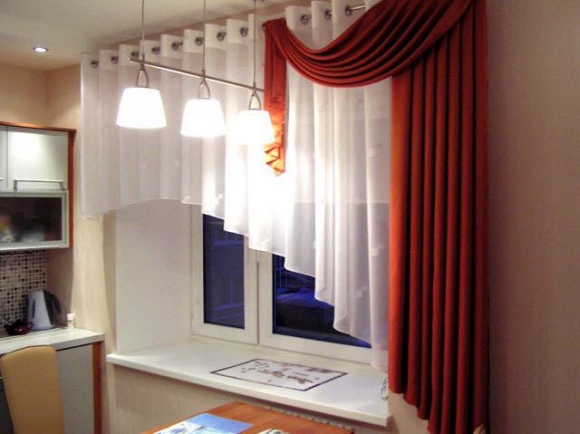 Coming to the next curtain inspiration of the day, this could be a bit complicated curtain pattern. This multi layered and multi colored fabric curtain is a sort of some real charm or even a decoration symbol. While on the other corner there is a thick fabric woven with jute fibers.

This one is certainly another classic example of a fancy curtain. Installed inside a comparatively small room, this is a beautiful blend of color and style. Outward extended silver floral brooch is a master piece of art and expertise. This would certainly do a great job inside your bedroom.

As we discussed earlier that curtains mainly base on the exploitation of different colors, and designs and shapes. With slighter modifications you can turn a plain and simple curtain to a classic and fancy curtain. Same approach is implied here in this project.

And on the end, this one is really worth consideration. Three panels of white netting curtain having a green fabric slim border lining all across and with green knots. When tied up, it would still leave you in a comfortable position to have a generous look on the outer view. Just by working a bit on the creativity, turn your ordinary curtains into fancy ones.