Our house is probably the best place on planet earth. We spend a lot of finances on the maintenance and decoration of our house. This happens to be the biggest expense that we make. But this is not money only that can buy us happiness. Even small ideas and innovative initiates can bring us immense pleasure. Small mud pots are used basically in gardening. These small pots are used as planters. But today we are going to turn these planters into decorative pieces. For instance here in the very first project, the small pots are hanging with the branches of tree in our green landscape containing our favorite flowers. They are tied with woven ropes. This is a great garden decoration idea with small pots.
In the next project of ours, this is some inside are of the house where one specific are is specified for mere garden. We can see some of the finest Japanese garden plans here where small pots are frequently used. Small pots are though used as typical planters but still they are the best addition in this garden plan. They are more like decoration pieces than the mere planters. All the stair steps are filled with small pots making it a decorative view to enhance the beauty of our home interior.

Small pots seem pretty attractive to eyes due to their delicate design size and their color. Here in this idea, small pots are very smartly used in a vertical garden which is used as a decorative tool in the house. The base is recycled with the wooden pallet and then small pots are attached to the base making it a great piece of decoration inside our house. Although these small pots are pretty tiny in size, but when it comes to the decorative ideas, they play a pretty mega role in this.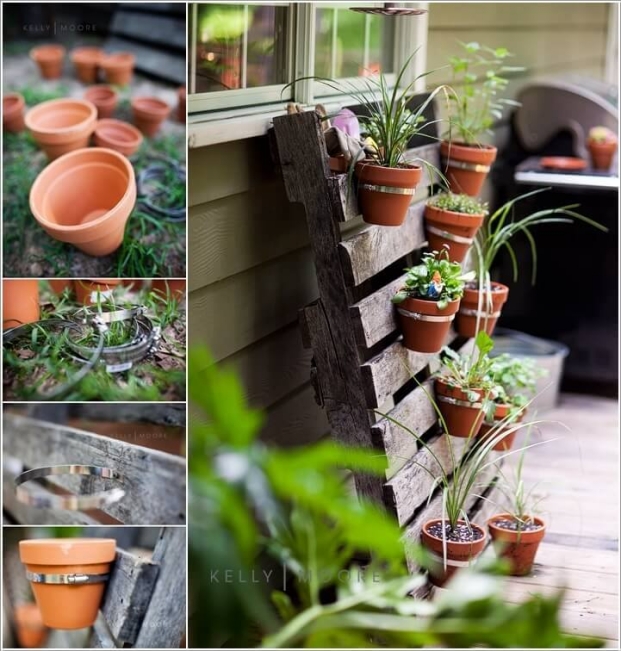 Have a look some more small pots decor ideas: