Prodigious Ideas of Pallets Recycling
It has been a long time since I have been recycling the wood pallet into different wooden furniture items. I myself have witnessed so many wonders happening around with the same shipping pallets. This pallet wood recycling art has literally transitioned to the next level. New pallet wood crafters come in this field with whole new zeal and passion and they are doing such an awesome work that they literally grab the appreciation from people. Same kind of prodigious and astonishing of pallet wood recycling are going to be presented here for you guys. I thought you would like them so just have a look.
Let us begin with this giant swimming pool that is not at all made using the concrete. The pool with concrete has been a pretty old idea, so this time we thought to introduce the shipping pallets here. The middle parachute stuff is for carrying water, while the rest is all made with the wood pallets.

Don't consider it to be a common pallet wooden deck, it is recycled with a special purpose. In the start it has only got the passage way made with plain wood pallets, while it ultimately leads to the fire pit.

Usually we see that the refrigerators deteriorate with every passing year. At the end the whole body is destroyed with rust and broken. So this time try making the body of the whole deep freezer using the same shipping pallets. The inner stuff for cooling purpose is reclaimed from that broken freezer, just see how it looks finally.

This vintage wood pallet repurposed deck was probably repurposed to please the granny who long had been complaining about the bad condition of her patio. I think after seeing this old pallet wooden deck along with the tiny planters, she would be amazed and delighted.

Hang on for a minute, what exactly are you thinking about this pallet wooden sitting arrangement? Excuse me, this is not a common pair of benches along with top, this is a gazebo pallet wood sand box for the kids which they are simply going to love.

Awwww… I really feel like hugging the one who has repurposed this whole exquisite pallet wooden kids bunk bed set up entirely with the shipping pallets. Not only the design adopted here is good, but the color scheme and light work is also phenomenal.

And here comes again a simple pallet wood upcycled kids play house. No matter what kind of shipping pallets are used in making this wooden kids play house, as far as the design and shape is concerned, that is pretty superb and easy for the kids, they would love spending time here with their buddies.

Now this one is again a beautiful swimming pool that is probably made especially for the kids seeing the size of the tub. This is certainly inspired from the pool that we recycled earlier, same shipping pallets are used again all around the pool, but this time in a different manner.

I don't think that you guys are not familiar with these blinders or wooden pallet separators. They are mostly used in the commercial sites where we have to do a hollow partition. With the appearance of guest these articles must be fresh looking and made with the finest material.

Do you your kids love playing outside? Well, mine are that kind of kids who are never in mood of playing indoor games. They always wanted me to take them to some kids part, then I saw this kids theme park for their physical activities made by a friend of mine wholly with the pallet wood.

Again the pallet wooden separators are made here using the finest shipping pallets. They are stained with bright white color. And they are made in such a manner that some portion might also be used as a vertical garden as well.

Just with the little modifications, you can keep making different pallet wood upcycled projects for the house and the kids with more or less the same supplies. Like here we have altered a bit the design of the kids house, and we painted it with a charming color that is loved and adored by the kids.

Now we are turning towards the room of yours and its interior as well. We have planned to recycle a stylish pallet wooden bed along with the pallet wood wall cladding on the backdrop of the bed. In none of the ways this bed is any lesser than the market based expensive room beds.

Here again we see the pallet wood all around the front wall of the room. The pallets used this time are of a lower quality, they are deteriorated but still it didn't make a difference. They still look as charming as the fresh ones.

Making a patio wood pallet deck is another smartest way to make your patio a better place. With this you are provided with so many facilities at the same time. Your place looks better, furniture stays secure, you are away from the earth worms.

Wow, this wooden pallet ship reminds me of the pirates who are known for looting the ships and people in voyages. But don't worry your kids are just going to enjoy the ship as a fun activity that's it. Even the design isn't that much complicated, this can be initiated even by the beginners as well.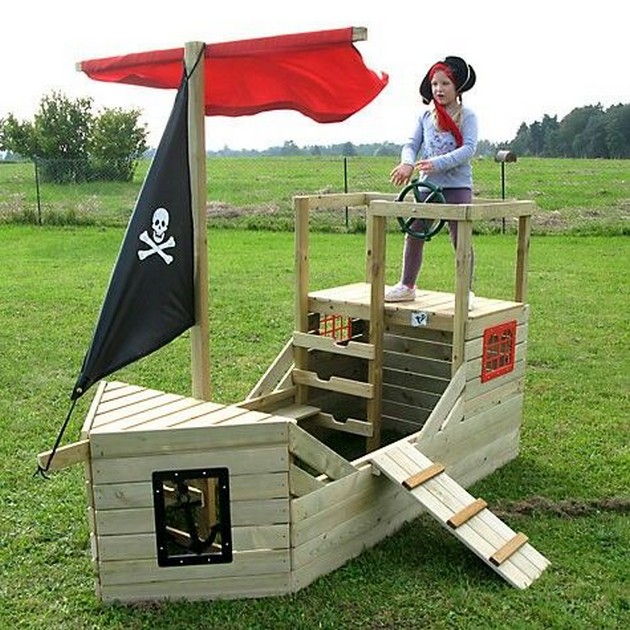 You would have seem a number of wooden furniture items on wheels, but never in your life you would have come across a decent wooden pallet planter that has got the built in wheels. The purpose is very same again, the easy movement of the heavy wooden creations.