Doors are an integral part of every building or premises. They not only represent a passage way inside a room or any entrance, but also add charm and vintage beauty to the interior of building or a house. The wooden doors have a specific life span as they are vulnerable to decay. So ultimately there comes a time when they become useless and we have to replace them with new ones. And then these old ones are simply dumped or trashed. We have already given numerous ideas to recycle these old wooden doors into practical art crafts. Simple recycled crafts and different furniture design projects really create very impressive impressions. These wooden doors are recycled as stylish headboards, modern tables, nightstands, racks and shelves. The creative ideas in this regard have no limit. We have saved a lot of money by making these art crafts by recycling wooden doors at our own. We have not only saved money, but gave new life to the trashed wooden scrap, and also loaded our home and patio interior with immense style. Recycling these old wooden doors have become so trendy now days. People love its recycled crafts as furniture and decor items.
As we discussed earlier that these old wooden doors are recycled as many practical art crafts, vintage headboards in a major example of recycling old wooden doors or it can be said a best example of recycling wooden doors. In the below recycling project, we have used old trashed doors both alike, installed as the headboards of two single beds lying distant from each other. Rustic dingy color of wood is making a compliment on plain purple painted wall. While in the next one, same deteriorated and rusted doors are installed to give more wild and vintage impression.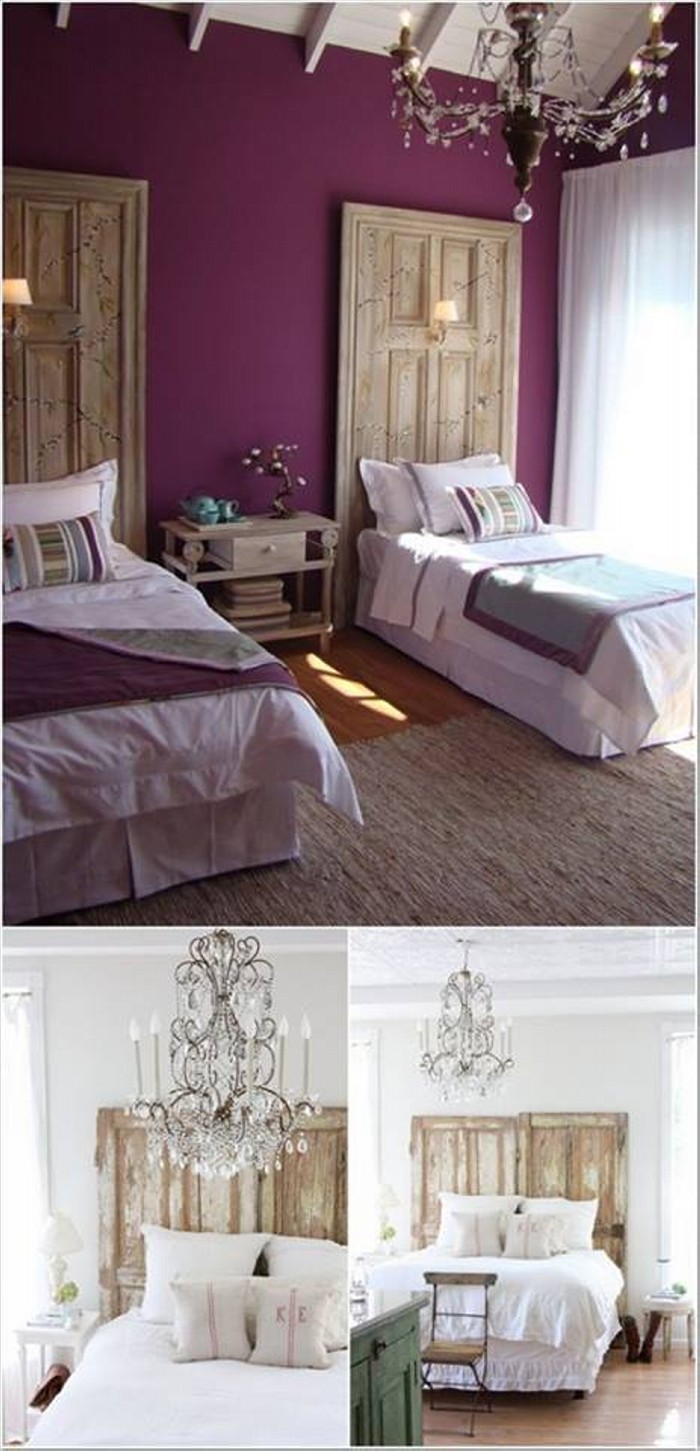 In another recycling project, an old wooden door is recycled as a table with reclaimed legs. This is most suited for outdoor or your patio. This door is painted according to your choice, and as every door has different sections horizontally and vertically as well. This door also has 15 equal square sections each divided with a wooden plank, and we have fixed or installed a different colored glass in every section to make it look like more of a decoration or a master art craft which is full of colors and is all set to fill your surroundings with colors too.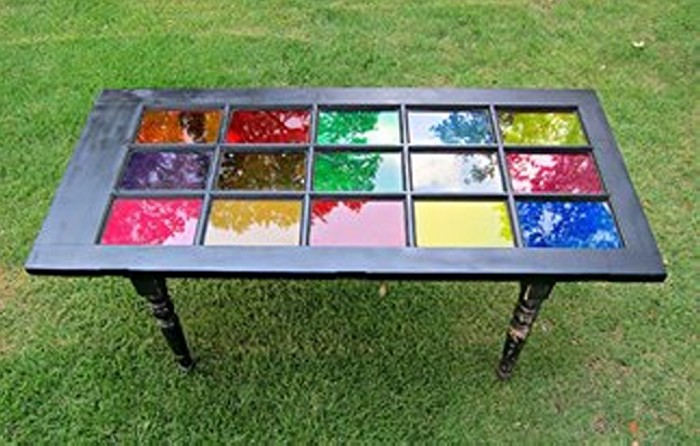 In our next recycling plan, we have grabbed an old wooden door and recycled it as a small coffee table to be placed in our drawing room or lobby. No extra amendments or modifications are done with this project. Just roller wheels are installed to make it mobile, so that we may move it according to our ease and choice. This table is quite spacious, we can place a lot of accessories on its lower portion like books, a basket, or a couple of cloaks. We can use this recycled wooden door as a simple or coffee table as well.


This recycling project shown below is also an interesting one. Here in we have recycled a wooden door as an outdoor swing or cradle. This is really a great source of fun. My mom loves to sit and enjoy our patio swing. She sits there for hours and hours, she does knitting there, reads newspaper and make long calls to her siblings. Here in this project we have turned an old door into an outdoor swing where you can sit even relax for hours. Take some fresh air and enjoy the outer view sitting in the patio of your house.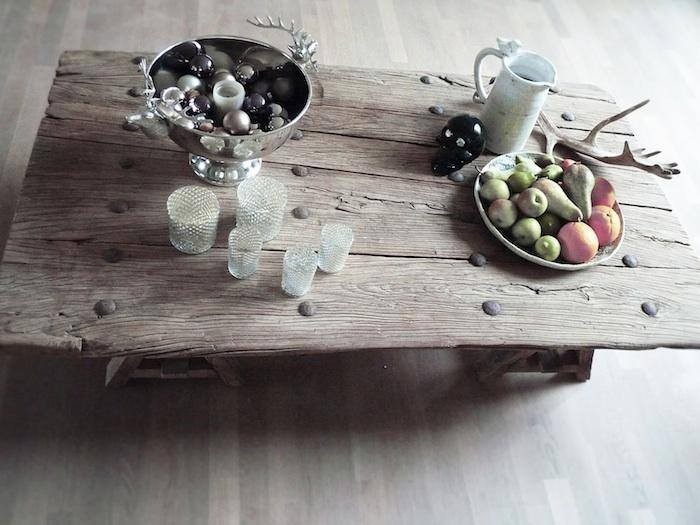 In another recycling project we have used the old wooden door and recycled them as long dining tables where the entire family celebrates reunion and they enjoy three time's meal every day. This recycled wooden dining table is very durable and also very stylish even cost friendly too at the same time. We have also recycled it as a giant hanger having multiple stands, again as vintage headboard, we have used them in wall art for hanging old photo frames, as standing mirror erected near the wall, also as the fence of our garden which is pretty unusual and we have used them even in industrial furniture. They look great in every way they are recycled.