Incredible Recycled Pallet Ideas
Pallet wood recycling is really a fun sort of activity for me. Sometimes it becomes a hard task to deal with the old and broken pallets, we have to do certain procedures to clean them and to remove any kind of contamination is also difficult sometimes. But after all this has become a routine matter for all of the pallet wood crafters. We just do the tasks like any other common daily routine matter. This ease and freedom of the pallet wood recycling allows us to do some incredible recycled pallet wood ideas that are the soul of our home interior and décor.
Using the wood pallet in several garden décor ideas has been the most common thing, we have applied the pallet wood in various garden décor ideas and it does the job in a pretty perfect manner. Just like the way we did here in this specific project.

This most deteriorated wooden pallet recycled vertical garden despite of all the dingy and rustic look, still maintains the decorum of a perfect vertical garden as it has got all the necessary features that should be there in a supposed pallet wood garden. Nothing except pallet wood is used in making this one.

And this luxury couch cum daybed along with the wooden pallet repurposed coffee table is a new definition of class and beauty. This is different from the routine wooden furniture items with a classic design and ravishing stain. This makes an ideal sitting plan in the garden.

Green grassy land is an ideal place to live for many harmful worms that might be fatal, so to prevent any attack from them, we might make a passage way using the pallet wood planks to ensure the security while we walk in the garden. This would look great as well.

And this long pallet wooden couch is made for a number of people who are going to attend the certain event organized here. This might be a kids farewell, or a bachelors party or whatever. This long wooden couch is pretty perfect for the accommodation of a number of people at the same time.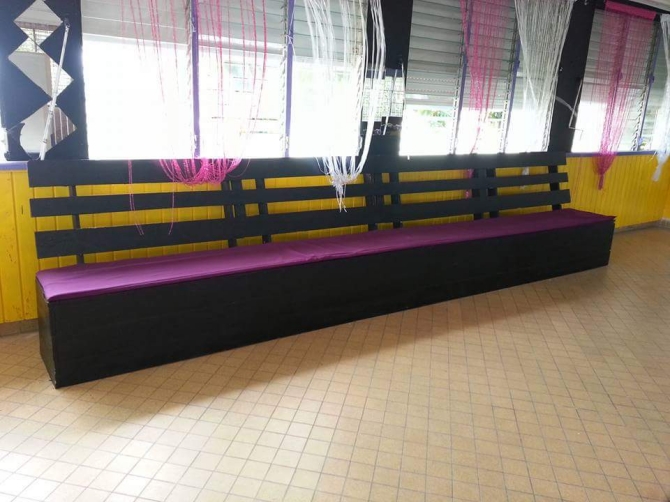 How do you find this wooden pallet bar table? Isn't this a bit crazy? Infact this is a prettier version of the large wooden bar table that we usually see in the bars. More than the space, we have focused on the beauty and style in this specific project.

Wow, the barrel that was used to make the wine in some earlier times is now being used to carry the wine bottles as a domestic wine table or rack. This is actually a cut into half wooden barrel with a lot of built in racks that would be used to carry each wine bottle.

Here are a couple of wooden pallet repurposed bar tables that are certainly inspired from the typical wooden bar tables in size and shape overall, but still we can count on to the designs and shapes that are pursued here.

This pallet wood upcycled coffee table along with the reclaimed clipping metallic legs is intentionally given an industrial look just to bring about some change in the routine pallet wood creations. Legs can also be counted as an embellishment as well. This can be used inside the house anywhere.

Ok, how exactly you want to use these pallet wood crafts? Actually they are made with the pure intent of décor, but as each of them has got some space inside them so you can also put them to use for some other tasks like a mini wooden chest etc.
This dog house certainly shows the sheer love and compassion for your pets. You just couldn't compromise in taking the best care of your dogs and you got them this decent pallet wood repurposed dog house along with the dog food container. So this is a perfect shelter for your beloved pets.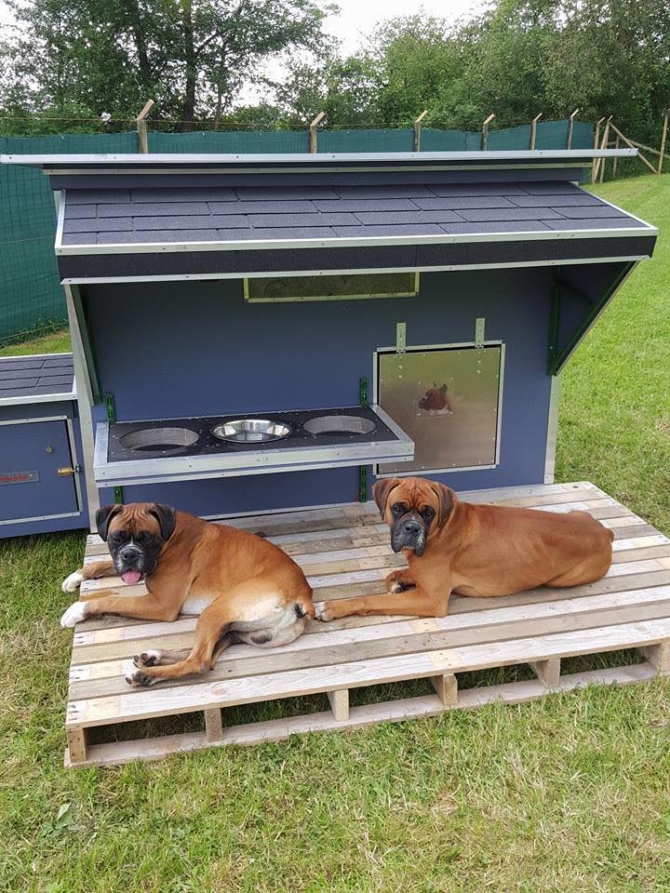 And how about this vintage wooden pallet wine rack? Well, this would make a perfect combination if installed on a wooden pallet wall but would still look great if used or hanged on a plain concrete wall. Line up your favorite whisky bottles and grab one when you need a good peg.

I am pretty clear about this wooden pallet couch, this is a decent and sophisticated sort of wooden furniture item that can be doubtlessly used inside a well managed room interior. Despite of the rustic look it would still make a great addition inside the room.

How many of you have already planned to recycle this multi purposed wall shelf or rack for your place? Don't look at me, I have already got one at mine. I think this is great, this would take care of your immediate wearing, and the bottom would be used to cater the need of shoe rack.

Another pallet wood wall rack inspiration is shown here, this is different in appearance and several other features as it has got a bright white stain all over, multiple extensions or racks, and on the bottom it has got a proper little cabinet that would preserve a number of accessories.

I am literally in love with such straight and simple pallet wood creations and furniture items. They actually reflect  certain class that is very choosy in such affairs and can not compromise over the image they have made for the society. This shows class and delicacy.

This pallet wood swing was especially designed for a couple. The love birds were insistent that we want to have a swing where we would be swinging combined. So we did it for them and all with the same shipping pallet wood. Placed in patio, this would give some quality moments of life.

Gas cylinders could be fatal and must be kept out of the reach of the kids because they might miss handle and GOD forbid get hurt. So take this precautionary measure and cover it with this pallet wood repurposed cover in a way that it could also be used as a side table as well.