Pallet has probably been the most repeated and focused item in our previous art crafts. We have been on a journey on making certain art crafts by upcycling wooden pallets. Pallet is a very common stuff we normally do have in our backyards easily and frequently. A pallet is basically the structural foundation of a unit load which allows handling and storage efficiency. Goods or shipping containers are often placed on a pallet secured with strapping, stretch wrap or shrink wrap and shipped. This wooden pallet is very important in safe transfer ability of several goods which are delicate in nature.
We have been making many art crafts with the same wooden pallet. We have made sofas, benches, stools, beds and many such furniture items which have decorated and further beautified our homes. These pallet made products are so stylish, charming and also cost friendly. You just have to grab a bunch of discarded pallets and employ some basic techniques of wood work. These pallet made items are also very durable and stay for the longer periods. Their rustic and dingy optic could be maneuvered the way you want.
Here is a stylish pallet made wooden book shelf hanging in the wall. All of it is made with the wooden pallet and nothing else. This could be called a master art craft upcycled by wooden pallet. This is not precisely a book shelf, you can also use it to place some decoration pieces and you can arrange your collection of books in a compiled manner where you have not to search for your favorite one, you just have to approach to this pallet made book shelf and grab the one you need. This would not only ease you in this regard, but would also enhance the beauty of your room as well.
This wooden pallet is such a marvelous stuff that you can make countless crafts by upcycling it. For instance, how would it sound when I would ask you to make your own Christmas tree this year? Yeah its cool its practical pal. You can make your own pallet Christmas tree at your own place with pallet. You just have to dis assemble its planks first, and then you have to join and shape them accordingly to make it look like a Christmas tree, and then you have to lit up with colorful bulbs. This is going to be a welcome statement this year for your Christmas guests.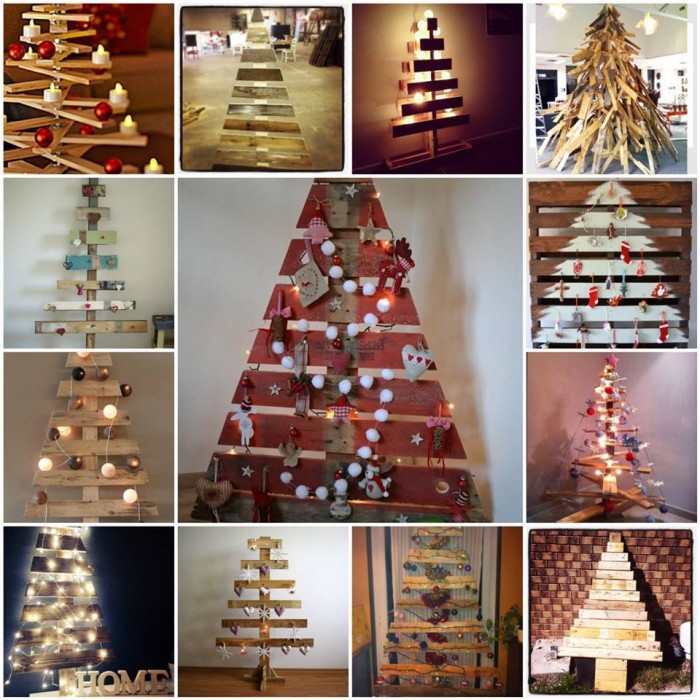 Where you have used pallet in numerous furniture items, you can also use it in decorative wall art. Yes, pallet wood could be used in wall art, you can make an accent wall with the pallet wood which would change the typical pattern set by rest of the walls. Just like in this picture, we can clearly feel the charm set by pallet installation in the wall as wall art. In this unique tv stand, the pallet planks are dis assembled first and then installed and fixed on the wall horizontally and vertically as well. This stylish tv stand is adding more charm and beauty to the interior of room.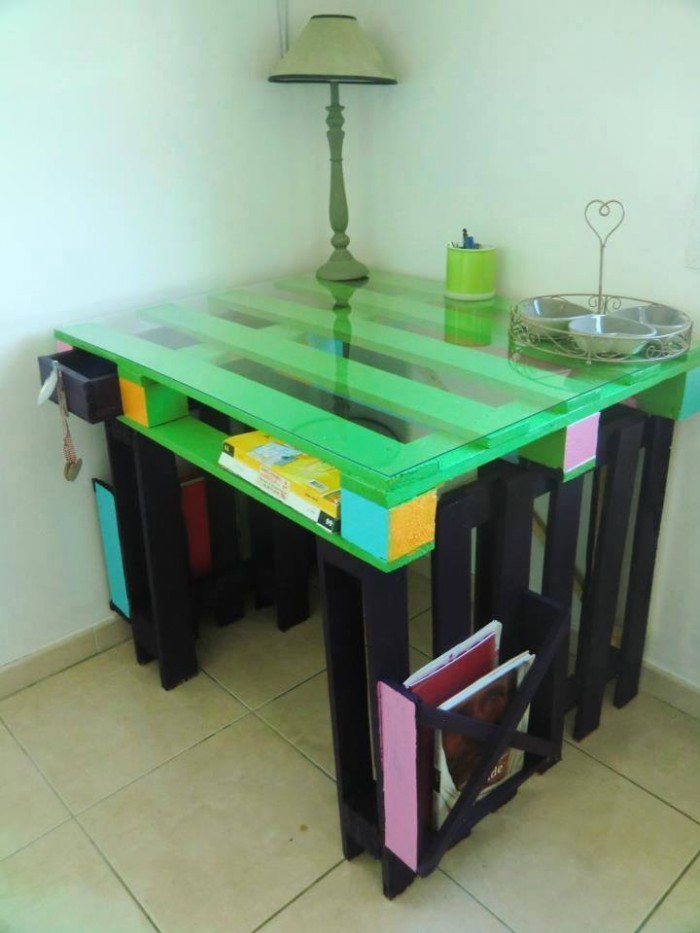 Pallet wood is beneficial in many perspectives as it comes free of cost, its durable and its long lasting. Among other countless art ideas you can also make kids patio play arrangement with pallet. Your kids are definitely going to love this activity in their garden or patio. This is a source of inspiration for your kids to gain their inclination towards art and crafts activities after their KG standard. You just have to grab a pile of pallet wooden planks and sheets to make a hut like place for your kids. They'd love this idea and feel more like being home.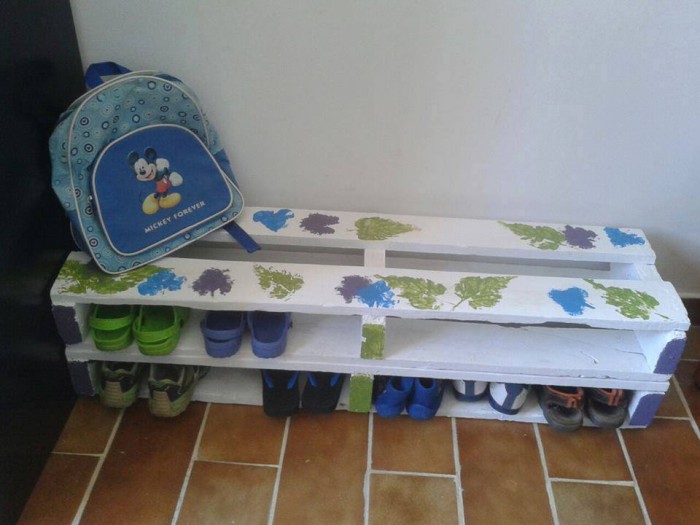 The side bench in the picture is so fascinating and luring that it hardly can be avoided. It rustic dingy surface is grabbing full attention. This is a statement of fashion and style, and it is reflecting your aesthetic sense and taste if you have it at your place. This gem, or master piece is once again made with the same pallet wood nothing else. All its top surface is made of plain pallet, while the legs are reclaimed or obtained by dis assembling the planks of a pallet and fixed with the upper tier.
Chandeliers are also a statement of vogue fashion and style in your home interior. Colorful and stylish industrial chandeliers give a totally different look to your premises. Their style and uniqueness is so ravishing for you to enjoy that you literally feel delighted when ever you have a glimpse of their beauty. This chandelier shown in the picture is very smartly made with the pallet wood. You just have to grab flat smooth planks of the pallet and fix them all together like a wooden sheet and you have to arrange for internal lighting, and you are all set to enjoy your pallet made chandelier.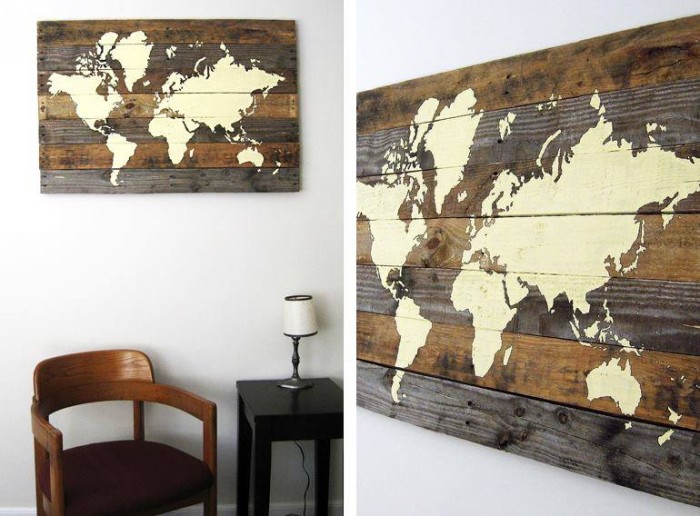 Here comes a new idea of upcycling the pallet wood. You would get tired counting the ideas of upcycling the pallet wood but still you would be left with a pile of ideas left. This marvelous wall planter is just like no other, touch wood. Let me assure you, if you have this wall planter at your place, you are going to gain all the praises and due appreciation by buddies and pals. This is really something admirable and noticeable.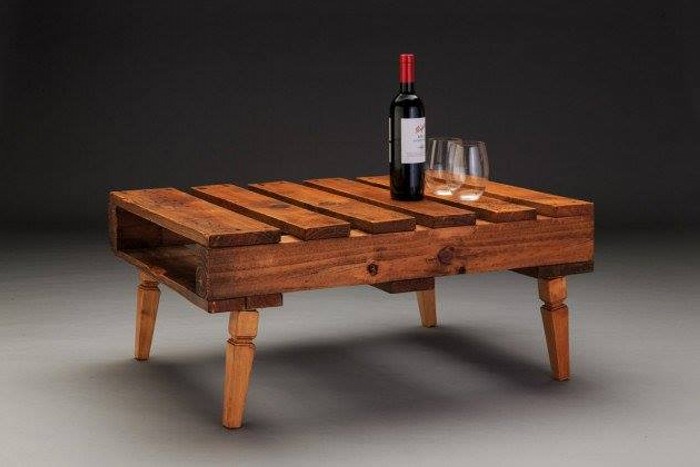 Last but not the least, here is the idea for setting stage for your most beloved place, your garden ofcourse. You can witness a painted still rustic dingy garden deck which is obviously some place precisely for your sitting and relaxing. This is just like a centre point of your garden where you ultimately have to gather all your visitors. You can place sitting benches covered with woolen cloaks, and also you can place a delicate coffee table and a vintage lantern to give more vintage look in your garden. All these wonders could be done with pallet wood. You just have to be smart enough to place the right idea at right place.