Whenever we are intending to buy some fresh fruits in larger quantity, we go to the market and buy some wooden crates carrying fruits. These wooden boxes ensure the quality of fruits and help them retain their shape and freshness. So may be all of you might have these wooden boxes in bulk at home. If you act a bit smartly, you can easily recycle these wooden fruit boxes. In this article we are going to have a critical review of various projects in which we have used the wooden fruit boxes in making decoration shelves.
Well, before I get started let me make this fact straight that some might not be much happy with these creations but the people with some higher artistic taste would literally love them. Just like this room shelf we have created using the old wooden fruit boxes, we painted them in a greenish shade.

And here comes a Christmas tree all your ways. Apparently this is influenced from the structure of a Christmas tree but the basic idea behind this wooden wall installation is the same decoration shelf that we again built with several empty fruit boxes. Instead of going for rhetoric, we just did it here practically.

So what about this next one? Seems like a lighting installation meant to light up the room. These are the same wooden pallet fruit boxes that we have had in bulk in our backyard. We just fixed them in the pattern of a receding triangle.

Though the fruit boxes can be used in decorative wall shelves, but how about using these wooden boxes with the intention that at the same time they would be used as a decoration wall shelf, and they would be utilized as a unique shoe rack. What about the idea you see here?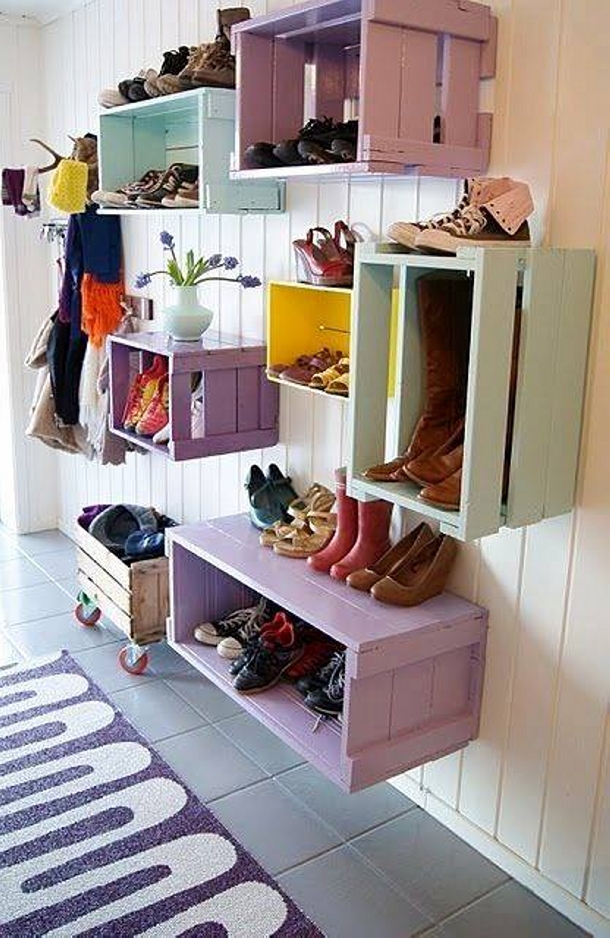 Sometimes you might face hardships while arranging your kitchen accessories because there is a whole lot that should be arranged properly. One of your problems is fixed here, these rustic wooden fruit boxes painted from inside are hanged along the wall to carry your utensils, crockery etc.

And when you have decided to use this wooden wall shelf as a typical wall shelf for storage hacks, you can make it this way. Similar wooden fruit boxes could be lined up in this manner. And you can place inside several accessories and some of your decoration pieces too.