Multi Tier Pallet Planters / Gardens
Having some wooden pallet recycled garden have become literally the need of hour. Many people are left with only mere square feet big residences, and in these congested livings they just can't manage to make a proper green landscape. In such a situation one is badly in need of some easy substitute where he hasn't to make much investment and he also gets what he or she wants. That's why we have so frequently given many pallet wood garden ideas earlier, here we come with some multi tier pallet planters or gardens that are designed with the intent to allow you to plant multiple annuals, herbs and shrubs at the same pallet installation.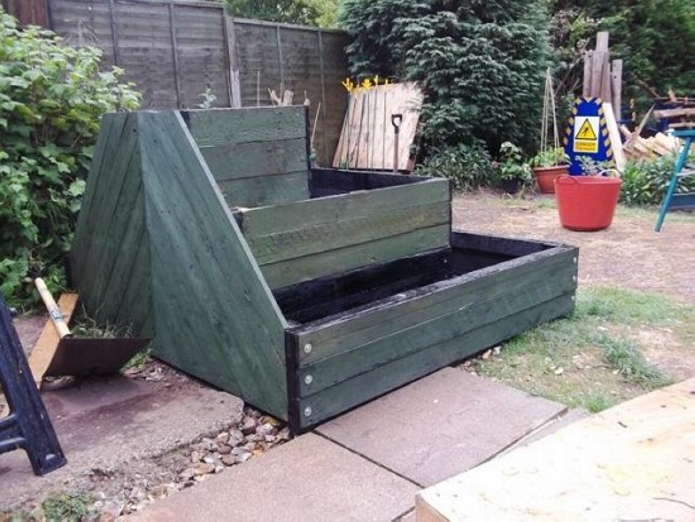 This is a rustic and rough pallet wood garden with basically two tiers, this is kept pretty simple despite of being recycled with the most broken pallet planks, and this still holds its charm.

When we go to some mega stores, we usually observe such multi tiered wooden racks carrying different house hold accessories. Their different tiers make it easier to arrange multiple commodities in systematic and arranged manner so that sorting out the things isn't an issue at all. Here these multi tiered pallet gardens are for different plants.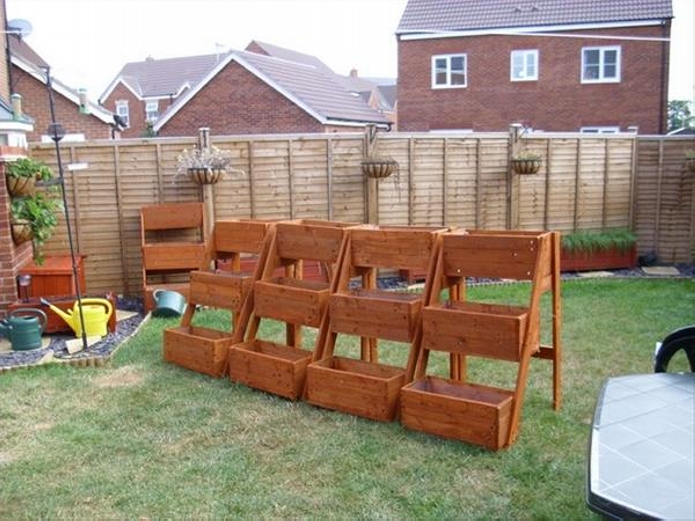 Applying some artistic designs and shapes in pallet wood creations always leaves a substantial impact on others. Because wood is such a material which allows you to make different experiments, and you can give ever new shapes and dimensions to the wooden creations, as is given in this pallet wood garden.

And this is something classic, rather exclusive. Finding such an article in the market displays would be near to impossible because this is recycled with immense love and sheer care without any expectation of commercial benefits. A long home work is done for this multi tiered pallet wood garden and then executed.

Corner pallet creations are just getting more and trendier with every passing day. People like them being cornered as here they can grab more attention. Same approach is applied on this wooden pallet recycled multi tiered pallet garden, place it in a corner of your patio and enjoy the fragrance of your favorite annuals.

While visiting the market, we see such wooden installations in mega shops carrying different wrapping papers on each rack. But here the intention is completely different, we want them to carry our desired plants on each tier just to provide us with a variety of plants.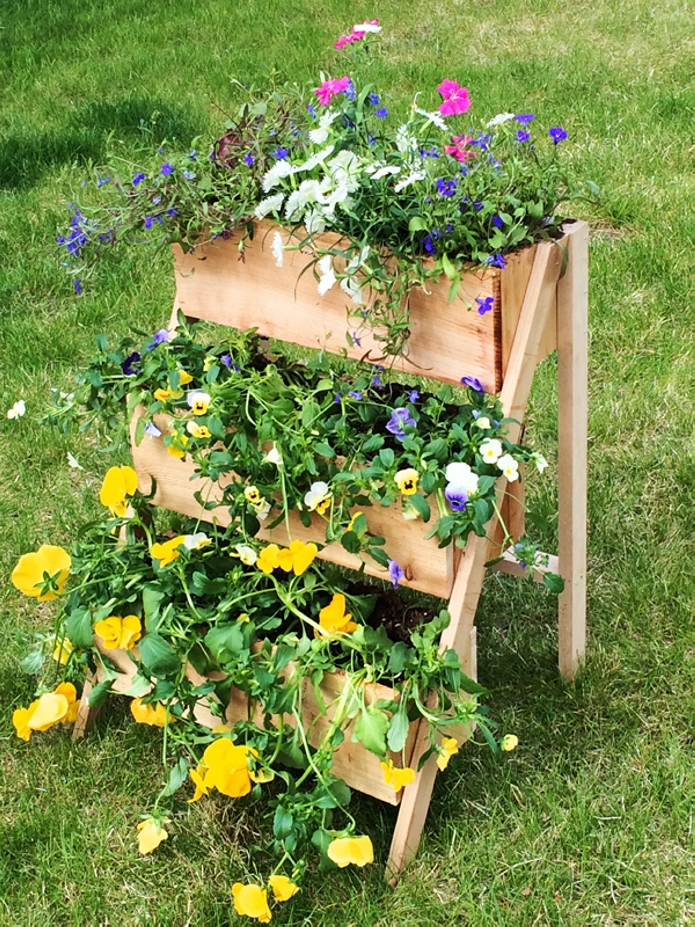 Wow, a lot of supplies were needed for this wooden beauty. This multi tiered pallet garden, rather a multi portioned pallet wood creation is made with all love and attention by some fanatic pallet wood crafter after some four or five day's continuous struggle.

Making multiple wooden cabins for carrying different accessories is something ideal. They are a safest remedy in such a situation. And especially when it comes to the plantation on multi tiered pallet wood gardens, it makes an even better provision because of the fineness of wood quality and also its cheap cost of pallet wood.

What about this one, call it a hanging pallet wood garden. Well, to make it look like a multi tiered garden of pallet wood, we hanged each wooden cabin with single metallic chain making a long series of pallet boxes. Each one is filled with fine soil and then used for planting.

And this is really nice. Reflecting a total vintage look predominated with some deteriorated wooden pallet planks, this is given a great artistic shape. Each tier is provided with ample space to make it sufficient for the plantation of larger amounts of plants.

Well, these area basically the pallet wood crates that are combined on one place to make a multi tiered pallet wood garden. They are actually not interlinked, each unit is separate, but to make it a multi tiered pallet garden we placed them in a receding pattern, now used each separate unit for some separate breeds.

If removed the lower cabinet, this could have been a classic example of a pallet wood wall garden. But just to make it multi tiered, we had to make the lower cabinet which is also having some sufficient space for your favorite annuals.

And for this one, a thumbs up is very well deserved. I mean from every perspective, this is a perfect pallet wood creation. We have recycled it with finest available pallet wood planks, we have worked a lot on the design, very fine sanding is ensured, and each tier is provided with some ample space.

While this one is probably inspired from the wooden ladder, that's why each tier resembles to the wooden ladder step. We painted them with some darker stain which is effective in preventing the plants from bugs and flies as well. Still you would be having the necessary pollination.

Don't you find this pallet wood multi tiered garden like some twisted and sliced pallet wood creation? Seems like one whole pallet was twisted with some super natural power and we ended with something like this? Just kidding. This is the ultimate result of great efforts of our smart pallet crafters.

Again a purely vintage stuff is coming your ways. And just for your ease, we have added some built in wheels on the base of the wooden pallet recycled pallet garden. Drag it on your desired place to introduce the controlled supply of sun light.

So this summer, instead making a fountain for your garden, it would be better to go for this multi tiered pallet wood garden. This would make much better impact for sure. Stain it according to your desire and shape it the way you like. Just arrange a couple of shipping pallets and just get started.

This pallet wood garden triangle is simply cute, they are actually three different units combined together forming a shape of a triangle just to make it look like a multi tiered pallet wood garden that we are specifically focusing on in this article.