The art of quilling paper or what we usually call paper filigree is a timeless craft, that means that it can literally be used at any time or occasion as it is neither time barred nor has any negative impacts relating to time. This can be used in multiple projects ranging from decoration items like some wall hangings or coasters to some DIY embellishments for scrapbook pages and cards. This art holds a strange versatility. For the beginners here is the key point, just learn making some basic coils that is basically the foundation of many of these paper quilling projects. Have a look on some exquisite paper quilling art idea that you would adore.
Splash of papers, colors and an alluring skill, that's all what could be observed in this art craft. This is a butterfly drawn on the wall depicting numerous colors of nature, and all this could happen with paper quilling techniques.

What would you say about these paper quilled flowers or roses? Twisted and rounded coils could be seen all around the flowers. That's what we emphasized on in the beginning that just learning some basic coil making techniques would be just more than sufficient for the beginners.

Wow, I have got no words to express the class and level of this project. This is just like pouring some life to lifeless paper crafts. These beaded flowers and their petals are all created with the paper quilling, and they seem much closer to the original ones.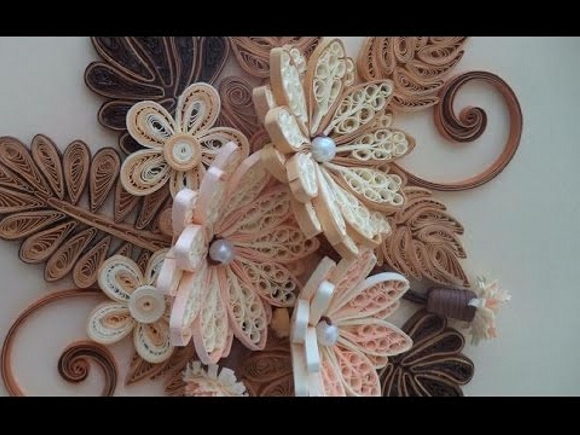 This one could be named as the best demonstration of the exploitation of the colors, because the color scheme that is used in this specific project is too alluring and fascinating to be ignored. Paper coils all inside the butterfly wings are pretty dominant, and that's the essence and extract of this skill.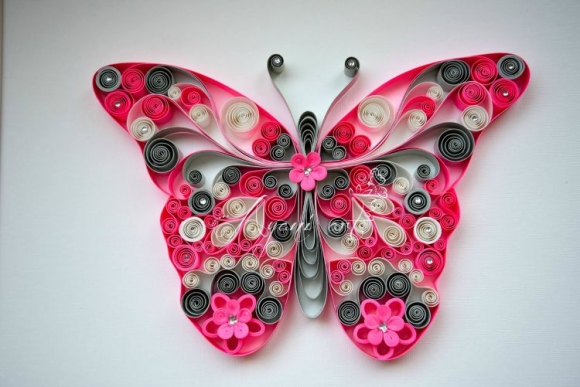 With the every next project we are getting much closer to originality. I mean one who is not well aware with this art might get confused. These flowers could be best used as foliage in many art crafts relating to decoration and garden art craft ideas.

What we actually do in paper quilling, we roll inward, twist and shape different paper patches or stripes that are cut to size in different colors, and we make a beautiful combination of colors, and mainly we focus on giving these patches a certain shape as we can see in all of these paper quilling projects.

As we said earlier that this art has no binding, this can be used anywhere anytime. Just like we did use it here in the wall art idea, we made a sketch of the word jot in very colorful manner, different patches and frills of paper are encircling the alphabets, a different way to express your feelings.

And the final artistic sketch could be used on some cards, or on your room wall, the combination of colors could be altered according to your choice. These paper quilling ideas are just marvelous, they escalate the beauty of the object wherever they are applied.