Ideas to Reuse Fruit Boxes
Fruit boxes are meant to be a power house. My wife is very fond of arranging the things in very organized and arranged manner. She love a kind of order and discipline in every matter. So just keeping in view all that, even the fruits in our house are very well arranged. My wife has brought home a number of wooden fruit boxes that are kept in several parts of the house where she brings the fresh fruits on daily basis and refills them with the fresh ones and discard the ripened or older ones. Lets recycle these fruit boxes.
See in the first project where there is a trio of wooden fruit boxes which are pretty similar in size and shape. They are turned very smartly into a toy train that is also having proper wheels, an engine to drag it and even the bogies. This is a great idea of recycling the old fruit boxes when they are deteriorated and turned into a practical art craft. Now it depends on you how you opt to use it, use it as a center piece or decorative art craft in your living room.
In another demonstration the wooden fruit box is turned into a decent shoe rack cum table. This is also made movable by assembling some fine metallic wheels and very well stained in dark blue color. This is a perfect place for keeping the shoes of entire family. The art is something magical that gives new life to trashed and discarded things by repurposing them into something entirely new that could be used practically for totally different purposes. This is more than just a shoe rack. Not only your room is safe from being messed up with scattered shoes but you can also use it as a table.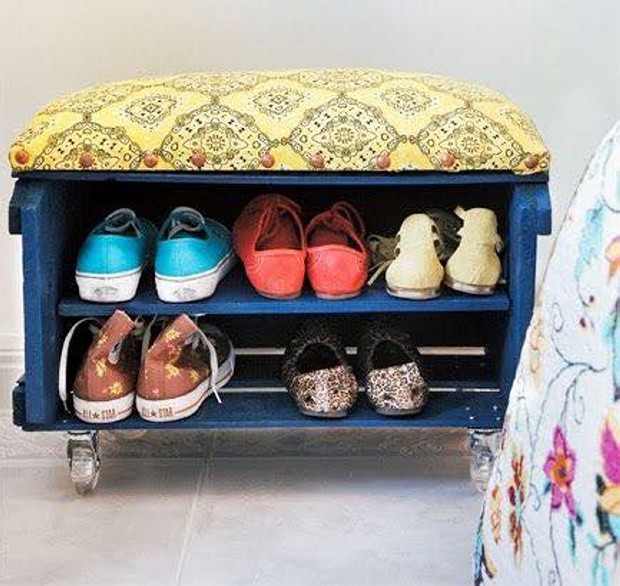 Also look at this brilliant idea. Once again the idle wooden fruit boxes are repurposed into some very well organized shoe racks or counters. This is all about creativity and this is all about innovation. If you are not satisfied with a conventional movable shoe rack, you can still manage to place your shoes in wooden fruit boxes that are installed along the wall, this is also a kind of wall art enhancing the interior beauty of the room where they are placed or installed. Multi shaped and sized fruit boxes are installed in the wall as shoe racks.
If you are interested in making something exceptionally different then look for this option shown here in this project. These drawer like wooden fruit boxes are turned into colorful fancy drawers having a ribbon shaped brooch on their front making them look more likely some jewel boxes. They are painted in light colors, you can place or store many of your tiny accessories into them which you also want to show off. They are probably the most appropriate place for such accessories. Not only they would serve as storage space, but also as some sophisticated decoration pieces as well.
Are you a regular reader? Do you have piles of books on your disposal and you always remain concerned about preserving them and keeping them safe? My wife is that kind of person. She is a real fanatic in the matter of books and reading. She has a mini library of books on almost every topic and subject. She keeps on buying different book shelves to cater the need of keeping her piles of books on them. Here is another great art craft upcycled by fruit boxes to keep the books as a decent and spacious book shelf.
How much you are interested in making wall art? This is definitely my cup of tea. I love making several art crafts, I am always interested in garden art ideas, making accent wall arrangements and also different wall art projects. So why not to use these old fruit boxes into some fine wall art? Here is a great demonstration. The squared and rectangular shaped fruit boxes are installed along the wall horizontally and vertically as well maintaining a decent sequence to make them look sober in symmetry. Place some ceramic or china made center pieces in them to further decorate.
Here is a great movable table with acquired metallic wheels which is also having ample space in the lower portion for placing a lot of your stuff like some daily use books, newspaper etc. you can place a decent planter on the top as a decoration piece. And as the wheels give you the freedom to move it easily, you can place it anywhere in your house where you consider it to be perfect. This fruit box is pretty huge in size, and this is also very well stained according to the rest of furniture to match.
Now ponder on the next project of ours, here a number of same sized fruit boxes are joined and fixed together like a huge wooden shelf. And they are painted in to bright white color. And we have ended up making a beautiful shelf where we can place a number of our room accessories, center pieces and decoration pieces as well. This is a fine example of a wooden shelf that we get crafted in our homes to enhance the beauty of the room interior and also for some storage hacks. But here we have upcycled the same wooden shelf with old fruit boxes.
While in the rest of the projects these fruit boxes are recycled very smartly making several art crafts. Here is a project for the kids which they can use for multi purposes. In another project three alike fruit boxes are installed along the wall making it wall art where some wooden baskets are placed as center pieces. The same wooden fruit boxes are turned into a practical tiny table that is pretty perfect to be placed in the living room, and finally the fruit boxes are once again turned into a decent book shelf which is stained very decently.
Some Inspirations for recycling the wooden fruit boxes: