Mini gardens or miniature gardens are usually designed to resist outside in the sun or rain. So today we are going to have a detailed discussion on mini gardens and their making. What they could be used for? Apparently they are meant to give a green effect which is pretty soothing for your optics. They also enhance the furnishing beauty of your indoor or outdoor spaces. You certainly would have seen some mini gardens made in flower pots. And normally some real plants are used in their making. The plants which have relatively lesser or slower growth. Some plants can grow upto 15 cm in a year time. But the others do not exceed 2 cm, these are the ideal ones for mini garden. These master art pieces are kept for longer periods like 5 to 7 years time, and they do not require very much care, generally only the watering is done on regular basis to keep them alive.
Another option for making mini gardens is broken plant pots. A broken clay flower pot could be given a new life as a landscaped mini garden scene. And you can keep them indoor and outdoor as well.
Here we are going to discuss diverse ideas of making mini garden at your own for your garden or patio. For instance here in the very first project, a cut wooden barrel is used in making the base of the mini garden. This cut in half wooden barrel is a best resource of preserving the plant soil in it, while different small sized green plants are used which certainly have less growth rate and also short in height to cater the needs of a mini garden. Some stones and metallic made objects are also added to give it a natural look.

In the next project, we can witness a huge round clay pot, which is very well equipped with all necessary arrangements. Such fine clay pot is an ideal one when you are planning to place the mini garden indoors, rather in your bedroom or even in the lobby. The plant used in here is a shrub which normally do not grow very tall to suit the need of indoor mini garden. A metallic mini passage or doorway is also made on the stone path along with a sitting bench just beneath a light pole mimicking the real green landscape.

Now coming to the next one, it is a fine combination of some bigger clay pots and some mini planters containing some tiny plants which are pretty short in height matching the need of a mini garden. A refined boundary line is drawn in between the clay layer and the tiny planters. And a curved hut shaped room is also added to copy a real green landscape. It is necessary to add some objects mimicking the real ones in order to make a mini garden as it also plays the role of a center piece or decorative object.

Here is another perfect demonstration of a mini garden apparently having all the constituents of a mini garden. Ground covers are used here to create an astonishingly lush tabletop. Creeping ground covers from a flat firm surface, while sprawling plants spill over the edges. In almost a month time, 4 inch plants split up for planting in a pattern. A fairy is implanted to give it more of a fairy land touch. The blooming tiny white flowers are multiplying its beauty, while a tree on the edge of a corner is fulfilling all the criteria of a real green landscape here.

Nevertheless clay planters, we have not forgotten the pallet wood planters. In this lush green mini garden, all the tiny plants are used to give a refreshing green touch. This multi tiered mini garden is a blend of some mesmerizing green plants and some fine metallic benches to relax and sit on. The pygmy wooden fences are giving a feel of personalization in the mini garden according to your priorities. And the split up tiers of wooden planters  is a unique vintage style of mini garden like no other. This is perfectly a fine addition to your patio or even your indoor space.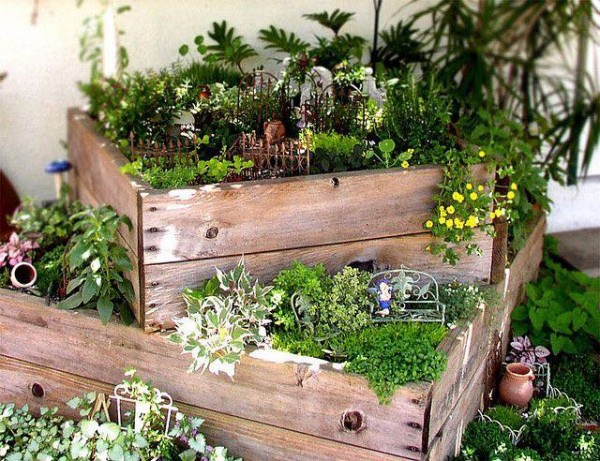 Here comes another perfect fairy land mini garden which is equally luring for your kids as well. This perfectly designed mini garden is a blend of expertise and perfection. A circular giant clay pot is the base of mini garden, a hard pathway is leading to the small hut house which is having all the glory in its stature and perfectly a splendid premises. A wooden fence is dividing the garden in two equal parts, the garden is full of plants, and a girl is enjoying the sunlight right beneath a tree. More like a dream land.

Here is another master art craft, a mini garden that reflects more of a wild living. Once again a big giant clay pot is used as the base of mini garden. Huge rocky stones are also used to give a wild touch, while the deer wandering in the garden are a reflection of nature and its beauty. Some plain grass and flowering plants are used which are certainly tiny in size to match the mini garden. While the colorful flowers are luring and fascinating the scene. This type of mini garden is best to be used in the outdoors.

Last but not the least is probably the finest of all the collection. Real light work is done in the making of this mini garden. Rocky stones, bushy shrubs, tiny planters, and floral plants all are the constituents of this master piece. A hut in the corner is reflecting the inhabitants. And a swing is also installed in the other corner of the garden. While once again the old wooden barrel is used as the base of mini garden. Though the entire garden is messed up with flowers, plants and planters, but still it manages to give a ravishing effect to the viewer.

Some more inspirations of mini gardens given below: