Decoration Crafts with Upcycled Disposable Cups
A disposable or a paper cup is basically made out of paper and then it is often lined up with plastic or wax to prevent liquid from leaking out or soaking through the paper. It is also recycled from the used paper and used worldwide. So we have plans today to recycle these very disposable cups into numerous decoration crafts. Throughout we have recycled many useless things just the way these disposable cups are turned here into the hanging planter buckets. White common disposable cups are filled with clay and then hanged as tiny planters.
Here in this project we can see some very fine disposable cups recycled home decorative crafts. The same paper cups are wrapped up in printed paper with an Edison bulb inside them and then they are hanged with a rope imitating some tiny decorative lighting globes. A good decoration piece when partying.

The next one decoration craft is a very creative one. Here we have used a bunch of disposable glasses that are damn cheap cost wise. We have piled them up one on another and making a tower out of them, we have covered them with a stylish lamp shade.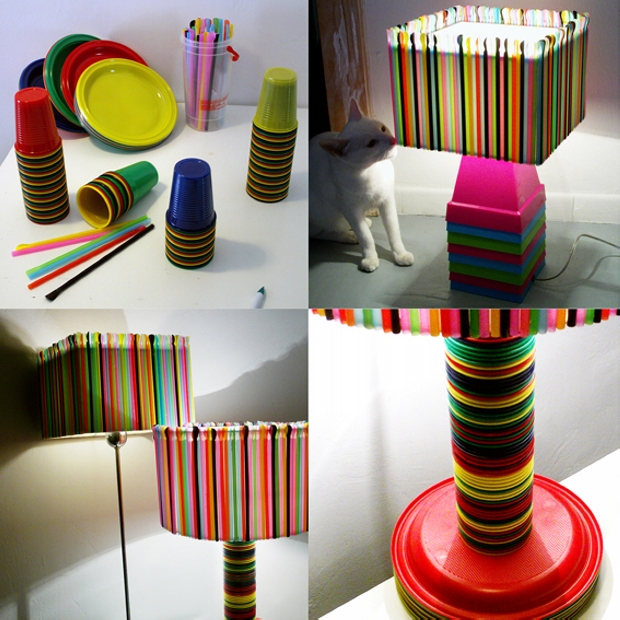 In the next one we see a beautiful caricature of a cartoon character. A disposable cup is painted as jet black covering the whole body, then we have made two eyes beak and a tongue on the front side of the caricature. Then wrapped with a withered leaf.

While in the next project the mere disposable cups are used to be filled in with some grass making them look like organic planters and placed on a table. In the next picture again we see a cute caricature carrying a cap is recycled with the disposable glasses into an attractive art craft.