Pallets Upcycled Planter Ideas
Planters are meant to enhance the beauty of our homes. Planters come in a variety of material but mostly we see mud pots out there which are the most common. Though ceramic planters are also very much in now days. But we have got our own individual style. We are going to introduce here some pallets upcycled planter ideas. They would certainly stand tall in the list of other planters and at the same time they would be pretty cost effective too. So in every perspective they are going to be the best pallet planters so far.
Here we can see a huge set up full of pallet planters. We can say that huge planting pallet areas are turned into planters. Long rectangular shaped planters are joined together making a whole big chain. Plus there is also a couple of high rise pallet planters more like pallet bar planters full of multi colored bunch of flowers. This is the most appropriate set up of pallet planters for some relatively bigger green landscapes. But they can also be placed in your patio as well. There is plenty of planting space in these giant planters, so go on experimenting and planting your favorite plants.

Here in this project again we see some huge pallet planters all joined together looking like one single unit. They are typically made with the rustic wood. Cut to size pallet planks are used in their recycling. In the conventional pots you might fear congested space for some large bushy and fluffy plants, but these big pallet planters are going to set you absolutely free from the fear of lacking space and your plants would grow in the fullest. Place them right on the entrance of your home to reflect your aesthetic taste and sense.

Pallets certainly vary in their sizes and texture. Some of them are quite fresh and almost new, while some of them are damaged and even contaminated with some substances that might harm your skin and cause other blemishes. Here in this project, some of the finest and fresh pallets are used in recycling these squared pallet planters. Despite of being smaller in size, still they have a lot more capacity than the conventional planters. Use them inside your home in the patio or your lawn. Their rustic appearance would compliment a lot to the surroundings. They are easy to make and no additional cost is paid on them.

If you are a real crafter and good in dealing with the wood work, you can literally make the wonders happen. This pallet recycling is not mere a hobby, but it is more of a skill that equips you with a lot of daily use accessories that cost you a lot when you buy them from the market. Here again in this stylish pallet planter, immense skill and mastery is demonstrated. Pallet planks are perfectly cut, shaped and rounded. They are very well smoothened up and then turned into a very sophisticated huge pallet planter.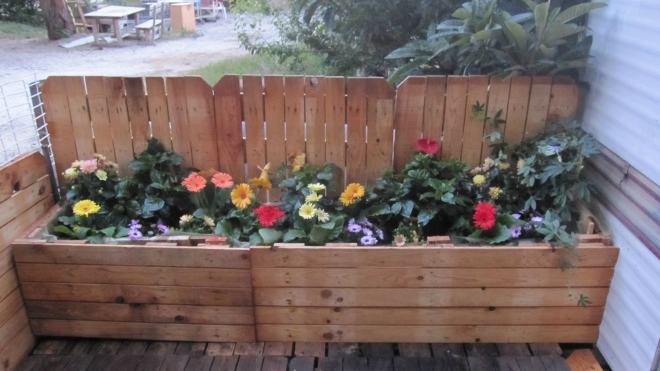 While here in the end we see a simple yet delicate piece of a pallet wooden beauty. Again this biggy is recycled entirely with the wooden pallet. Planks are a little deteriorated but just with the expertise they are very decently shaped and molded. The planter is left unstained as it was destined to be placed outdoor, so its natural rustic color is most appropriate one for outdoor. All of these pallet planters are a great demonstration of pallet recycling. If you are very much into the gardening, these basic inspirations would really prove to be beneficial for you.

More upcycled pallet planter ideas: