Cable Reel Upcycling Projects
Have you ever been across a cable reel? Well, almost every one of us is familiar with the cable reel. This is basically a wooden wheel that is used to wrap giant cables. Cable reel is made with fine quality but low price wood. But as it holds a specific circular shape, this could easily be used in many creative art crafts. Here in this article we would be working on several cable reel projects and we would be making several practical products by recycling the wooden cable reel. Look at this astonishing cable reel table.
In the next we see a very splendid mini bar recycled with the cable reel. Burlap rope is wrapped around the pillar and a small blue light is installed inside the cable reel to create the whole atmosphere. And wine bottles are also placed there to make the whole scenario of a mini bar.

We have recycled countless wooden pallet couches, but here is one made using the wooden cable reel. Can a mere couch be more stylish than this one made with the cable reel? I do not think so. The cable reel couch is over loaded with the style and luxury.

There can not be a better coffee table than a cable reel recycled coffee table as it costs you nothing but one whole cable reel, minor expenses of paint and nothing else. You just do not have to make any modifications and just put in on the ground the way it is.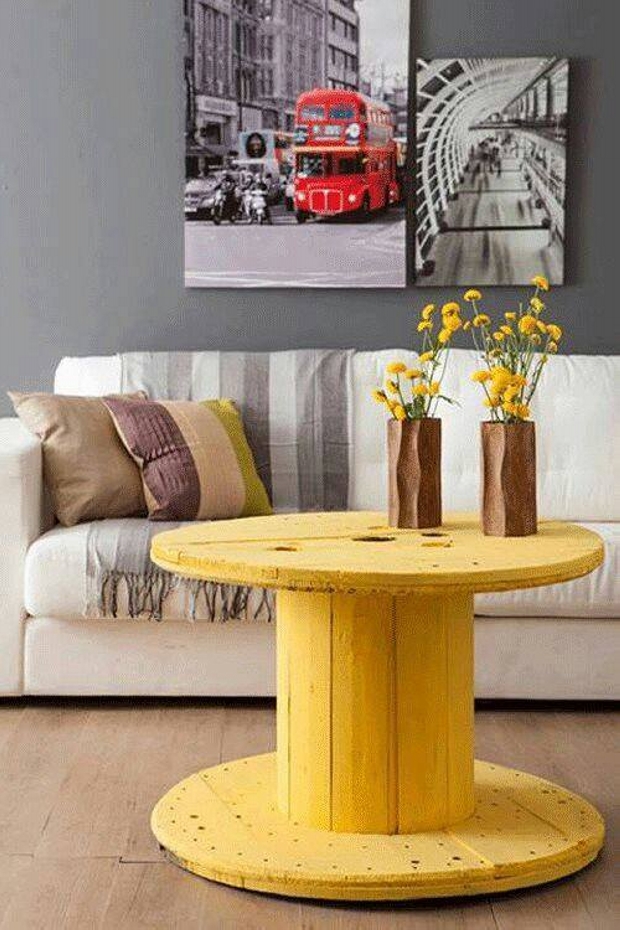 Here is another elegant off white coffee table made using the cable reel. Very fine color shade is chosen keeping in view the rest of home interior. This bright white color is complimenting the rest of the room furniture and interior. This cable reel coffee table is literally luring me…