Pallet table ideas are so amazing for your home decor. We have used pallet wood in countless practical art crafts in our website. But pallet wood is so diverse in its nature that it never lacks to match any new creations or innovations. Pallet table ideas are also very handy and inexpensive that they do not harm your budget. These pallet tables are used on multiple places for multiple purposes. Pallet is seemingly something very ordinary and useless. Almost every one of us have pallets in our backyard but we never think of repurposing or recycling them to give them a new life.
The main key focus of our website has remained on recycling or giving new life to dumped or trashed stuff. We have worked on countless art inspirations including our house hold stuff. Pallet table ideas have remained the most focused inspirations. Where we have used pallet wood in various other practical art crafts, we have also used it in stylish pallet table ideas. The tables made out of pallet wood have their specific style, sometimes the follow vintage style, and sometimes follow industrial touch. We have used these pallet made tables in our drawing room, our lobby and even in open air in our patio.
For instance, we have a practical demonstration of pallet table ideas here in the below project. This is a plain pallet made table which have acquired four metallic wheels on the bottom which make it mobile so that we may move it so damn easily at our desired place. Its upper and bottom both surfaces are made with the pallet wood, while it is designed in such a manner that you can also place a pile of your favorite books inside the space to have them very moment when you need them.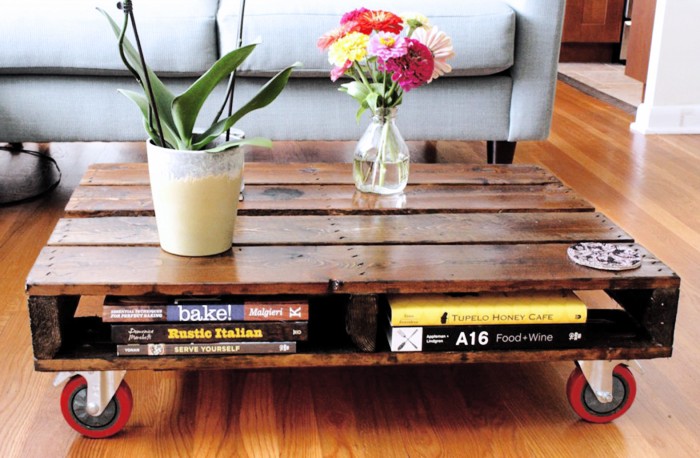 This is another classic example of pallet tables for your garden or patio. This is a huge pallet table to be placed in your garden. You can enjoin it with the pallet made deck or other pallet made furniture items. This table is made by disassembling the common pallet and by fixing them distantly on the upper surface. While the robust squared legs could have been reclaimed by some other trashed furniture item that was no more in use. While it also possess plenty of space in it where you can place a lot of your accessories to grab them immediately when you need them.

Here again we have a stylish coffee table with four metallic reclaimed legs. Its rustic dingy look makes it quite distinguished and a special featured object to be placed in your drawing room or your lobby. It is pretty different from the conventional branded coffee tables. It is not painted and left in its natural woody color to give it a more of a rustic look. While its thin metallic reclaimed legs are adding an industrial kind of touch in it. While it also have decent space for a couple of books and other small accessories.

In this project you can see a decent coffee table. This probably is the best article so far for your outdoor or patio. It has specific  dingy look, it is not specifically painted just to give a rough look. It has four metallic wheels which make it easily mobile, so that you can drag it everywhere on the spot of your need. It has plenty of space on its surface, you can easily place all your accessories on it while sitting and enjoying in your garden. You can drag it in front of you, wherever you are seated.

Here is another stylish pallet made dining table. This is a best art craft for outdoor or your patio. This is best for the reunion of the family when you guys are planning to have some lunch or dinner together out in the open. This multi dimensional dining table is going to serve the entire family in a best manner. It also has plenty of space in it just below the upper surface. The upper surface is made of simple plain pallet while the legs are reclaimed from some other discarded furniture item or just made fresh. The table holds same rustic look.

You really want to have some extra ordinarily great addition to your furniture collection? Are you sick of the conventional furniture items that cost you bunch of dollars? Then here is a unique and quite budget friendly offer for you. All you need is a bunch of pallets you have long dumped in your backyard. This multi tier coffee table is over loaded with style and fashion statement. Its dark brown color is a kind of personalization stating your taste and aesthetic sense. It also has plenty of space on both the tiers to cater your needs in best way.

In another project of vintage dining table which is made of plain pallet wood with reclaimed legs. Though this table is not that spacious like the earlier ones. This could serve you best when you are planning to have a cup of tea or coffee and have some gossip period with your loved ones or the family. Its upper surface is smoothened in order to avoid any friction or scratches. Its reasonable small size make it feasible to place it in any congested room or space. This is also a sort of personalization of your space reflecting your taste and priorities.

While this given below project is an amazing blend of vintage and industrial style as well. Its upper surface is made of old rustic dingy pallet wood. Its surface is smoothened and the vertical ends are nailed with giant steel bolts to add more industrial touch. While the lower tier is made of metal and pallet wood as well. This is a best addition to your drawing or sitting. Its upper surface is spacious enough to carry a planter basket or a stylish candle container. You can also use it a centre or a coffee table. These pallet wood made tables are a great addition to your home interior and furnishing.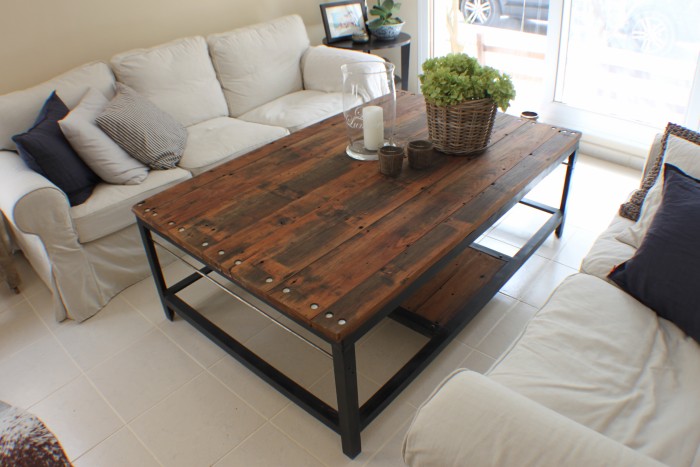 Grab some more interesting pallet table ideas: