Ideas To Reuse The Bottle Caps
I don't think that anyone of you is not familiar with the pet or glass bottles that contain carbonated drinks or some other beverages of your choice. All of us have our own priorities for juices and beverages, but have you ever in your life, thought of recycling those plastic or metallic lids or caps that each bottle has? Isn't it a crazy idea? I mean a common person without any prior experience of recycled goods and skills would just call it insane. But we are going to actually reuse the bottle caps in multiple ideas that you guys would adore.
Chimes will look great wherever you hang them. They are supposed to welcome you with the mesmerizing sounds they make. But you also have to bear pretty robust amount on purchasing a market base chime. This time give it a try by recycling a chime with the bottle caps.

Girls, here is something for you. Every one of you is crazy about looking great and unique. But you cannot carry this image with the usual stuff that every other girl wears. So this time try something crazy that would really make your mark. Try recycling this bracelet by reusing the bottle caps.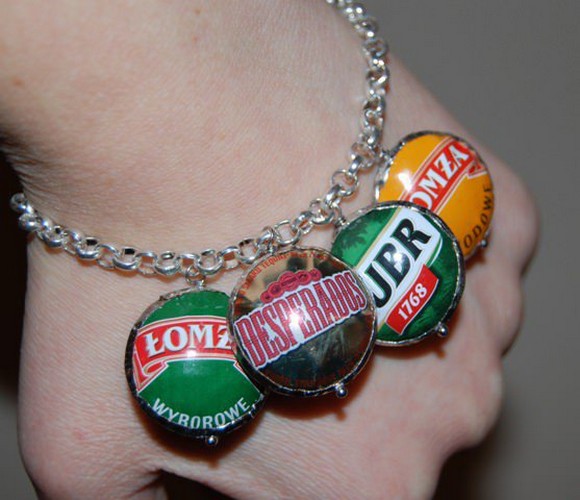 I know you guys are going to call me insane because nobody on planet earth would just dare to imagine that something like a bottle cap recycled table can exist on earth actually. Yeah this is right here man, just look at the symmetry.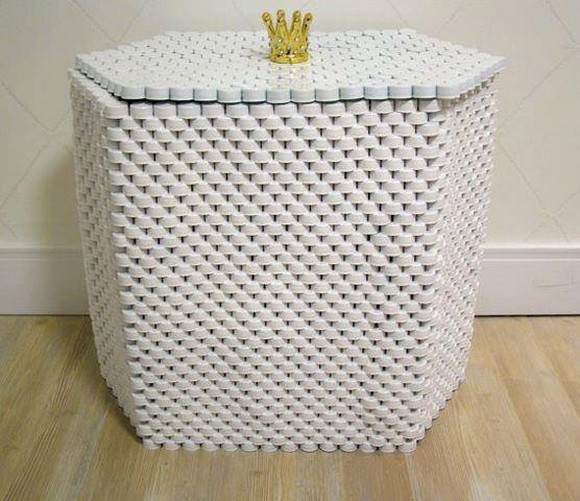 A colorful passage way made in the garden is a perfect garden décor idea. We have tried this with multiple materials like wood pallets, stones, crushed stones and other but this time this has gone a bit too farther. We have the passage way with the reused bottle caps.

I think you guys were really desperate to bring about some change; you want it to make some furniture items using the material other than pallet wood. So it comes right here. We have brought you this pair of lounge chairs made using the bottle caps and a reclaimed frame.

Well, to digest this sort of crazy art crafts you really need to develop a certain taste. But whosoever sees these crazy art crafts I am sure would appreciate them because they are a contradiction to the conventional stuff, and such things are always pleasant and eye catching.

Making different carry catchers with different materials has always been a fun activity. We usually make them to lure the kids but you can also make them for the beautification of your outdoor spaces as here we did in the shape of this gigantic fish. This would attract all the visitors and they would inquire you about the idea.

And finally this exquisite bracelet is made by reusing the bottle cap, some finest jute thread, beads, shells and some other accessories. The front broach is made of plane bottle cap. I think it looks good and a different ornamental craft.