Stunning Ideas to Reuse Used Tyres
The tyres which are made of synthetic rubber have become an important feature of our daily life as the vehicles play a vital role in our life. Vehicles are meant to shorten the distances for us and they literally keep the life going. So today we are going to make a discussion on stunning ideas in which the used tyres would be repurposed and reused as practical art crafts. These stunning ideas are going to include our daily use items. For instance in the very first reusing idea, used tyres are turned into a stylish garden fence here.
In the next idea which is undoubtedly very stunning and appealing, the used tyres are used in covering the wooden steps of a wooden ladder or stair. As we discussed earlier that tyres are made from the synthetic rubber which is a very durable stuff. It deteriorates very slowly and is also very useful in the matter of grip. So here in this idea, old used tyres are fixed with heavy nut bolts on the wooden ladder steps to make the grip more firm and also to give it a new and appealing look too. A very innovative use of used tyres.

The kids are always associated with outdoor swings and activities. They love to play outside which is an important element of their upbringing. So if you have plans to recycle a swing for them outdoor, used tyres are going to be a great option for you. As shown in the picture below, this is a stunning idea of using the old tyres and turning them into a stylish kids swing. This tyre recycled swing is too strong to bear the weight of adults. And this would also be pretty different from conventional swing plans.

We have made countless stylish planters for indoor and outdoor uses as well with wooden pallet and many other materials. But today we are going to work on the stunning idea of reusing the old tyres as planters. These tyres recycled planters are going to be such a master piece. Not only they would be durable enough to counter all the extreme weather changes, but also to make your space look much prettier and attractive. This idea of using the old tyres is really a stunning and impressive one. You can paint the tyres in your favorite colors to make them look much better than their mere black color.

The old tyres just become a piece of trash for us when they have fulfilled their estimated life and we immediately want to get rid of them. But if you have some inclination towards art craft activities, you can turn these used tyres into very smart sitting chairs cum sofas. These old tyre repurposed chairs are going to be so damn stylish that they would immediately grab all the attention. They can tolerate any extreme weather conditions whether rain or sunshine. They would also look extremely stylish lying in the outdoor.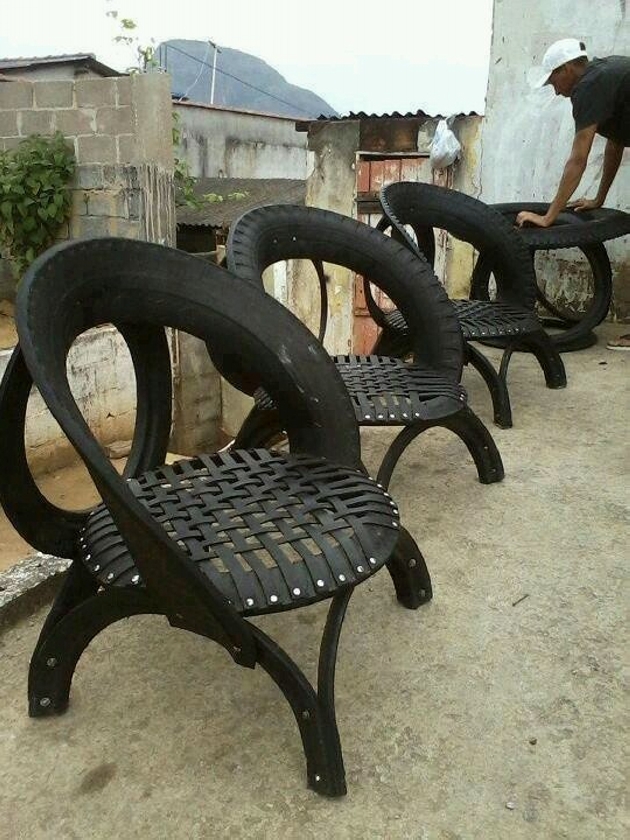 While in the last we are going to witness a very superb piece of art craft where a used tyre is reused a stunning indoor couch. This couch is recycled by covering the entire tyre with a stylish silky ribbon all around the tyre. Probably the most stunning and fascinating tyre reusing idea so far. You can place it right in the middle of your living room or your lobby or where ever you want to. This couch is more like a decoration piece than a practical sitting couch. Enjoy watching a movie or reading a novel while sitting on this.

More ideas for reusing the used tyres: