Decor Ideas with Terrariums
Before we get started with this specific project, let's have a bit of discussion on the terrarium, its basic concepts and the way it works. I feel like many of you have just seen the terrariums distantly, but you guys aren't actually aware of the phenomenon that is applied to this beautiful creation. A terrarium is basically a sealable glass container having certain plant inside it. They are normally kept as decorative and ornamental items. How you use the glass terrarium is also an art that counts a lot. Here we bring some décor ideas with terrarium that would be pretty helping for you guys.
As we said earlier that the terrariums are usually closed glass objects, but this is not necessary as the terrariums can also be open to the atmosphere as well. As here we see a very beautiful tiny round terrarium having a cactus plant inside and some crushed stones.

Now this one is another example of the open glass made terrarium. Actually a glass made tea pot is turned in making a beautiful terrarium. Some tiny plants with little leaves and a bunch of sand is put inside it. This just looks amazing with all this unusual stuff.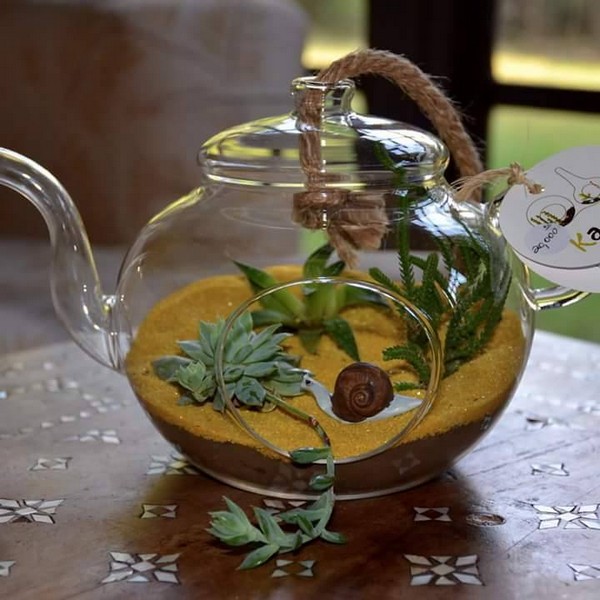 And this one is simply outstanding. This seems like a whole island is compressed inside this tiny round terrarium. The structure seems to be from some fairy land or some imaginary castle. Hanged on the metallic stand that was made with the twisted metallic wire.

And here it feels like we are turning back to the usual stuff. We can see a number of mason jars all turned in beautiful terrariums. There are three different layers of different materials like on the bottom there is sand, the upper layer is made with the fresh soil, and on the top we have used some green stuff for the foliage and being an essential feature of the terrarium.

Wow, this one seems to be filled with all sweet candies that I used to love in my childhood. Plus the glass object is also exceptionally beautiful with all its curvy shapes.

I think the open terrariums are trendier than the closed ones now days. That is why we have focused mostly on this pattern. This beautiful glass container seems like a tear drop, and this is filled with random stuff that all belongs to the wild and nature.

Here a number of terrariums are all hanged with one another on a metallic stand. Supported with the sisal rope they just look so pretty being hanged in a beautiful sequence. We didn't discriminate in using the different material. Infact we didn't bother much about what exactly should be filled inside honestly.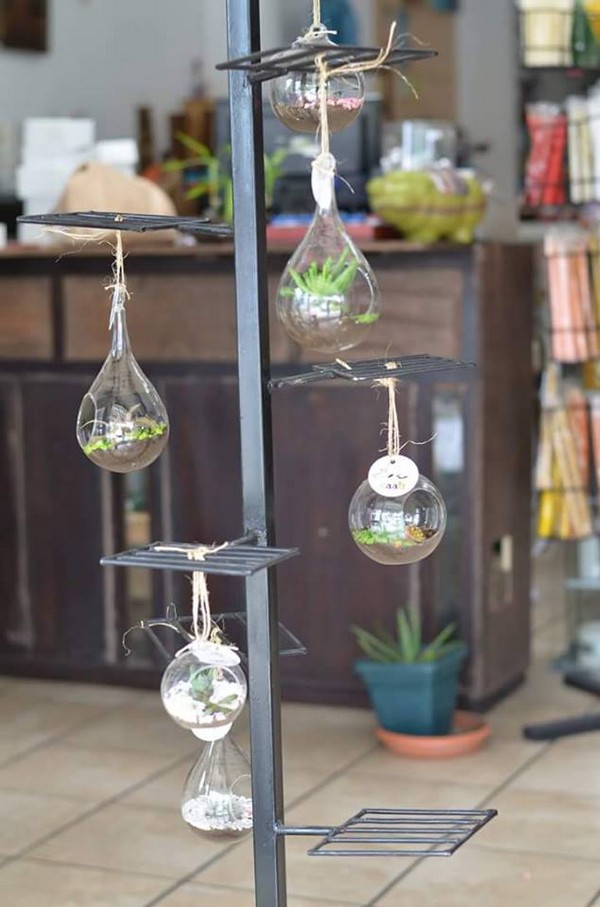 My goodness. This whole range is pretty gorgeous. Some random glass containers having different and attractive shapes are used here. A couple of them look like common glass bowls, one looks like the wine glass and the best thing about them is the stuff that is filled inside them.

This unique shaped terrarium would be a bit hard to find in the market. The shape is just beyond my comprehension. Plus the selection for what should be used inside is also very incredible. Again the same crushed stones , some decayed wooden pieces along with some of the grassy patches are put inside the bottle garden.

This large glass terrarium though isn't so good for the indoor use as the shape is a bit weird to me, but if you like it you can get it inside. This time some fluffier tiny plants are used inside the terrarium.

The glass bottle gardens are not mere a decoration piece, but they have many potent elements which are pretty useful for the plants like some constant supply of water, flow of light from the transparent glass makes their growth very good. Here we used the stained material in the base of the terrarium.

I think some genius has prepared all of these terrarium projects as with every next project they are getting even better and incredibly good. As these terrariums are not that common. Shaped randomly this whole range would add a lot of beauty to the room interior or wherever you intend to hang them.

The guy made all this range really deserves a huge round of applause as he has assured that not at any point we get stuck. The most common accessories are also used here in making the terrarium decoration pieces as here a plain ceramic cup is used as the base.

It takes a lot to develop such an artistic taste. I have seen a number of people who are just so crazy for these living and practical gardens. Even a friend of mine planted his favorite herb inside the terrarium so that was not mere a decoration piece but it also provided him with his favorite herb.

These tiny terrariums look so gorgeous laying on these wooden shelves. Infact they have escalated the beauty of the room interior. We could have gone for some ordinary decoration pieces but the ones that we have used here are just adorable.

These glasses with the ribbons on the front are randomly sized and shaped. We just made sure that the whole range of terrariums make a sequence and symmetry. They can be placed anywhere inside the room and they would look pretty awesome as this stuff is quite different from the routine stuff that we normally use for the decoration.

While using these natural decoration pieces one must make sure that there is proper flow of light and proper ventilation is also ensured to enhance the life of the living plants inside the terrariums. Otherwise they might generate intolerable smell and cause the decay.

The selection of the plants that are going to be used should also be very wise because you can not just go for ordinary stuff in order to maintain the beauty and charm of the terrariums. Mostly cactus or some other fluffy and bushy tiny plants are preferred to be used in them.