Awesome Pallet Recycling Ideas
I think we have a lot of pallet wood recycling addicts here with us, who are always determined to work on some awesome pallet recycling ideas. There are a number of fellows for whom the pallet wood recycling has become an important part of their life. They just always keep experimenting in their free time and always come up with some new exciting pallet recycling plans after having the basic inspiration from our versatile plans. Again here we have a pile of pallet wood recycling ideas waiting for your consideration. I hope all the pallet lovers enjoy them.
Getting started with this colorful restaurant furniture recycled with the wooden pallet, it is always a great idea to make some pallet wooden furniture for your commercial place to have saved a lot of bucks which would ultimately benefit to your whole balance sheet of the business.

And here is a stylish and inspiring wooden table made using the wooden cable reel. This cable reel is considered to be pretty useless after one is done with the cable it is carrying. But if you are smart enough, you can turn this ordinary object into something good like this table.

Wow, here is a whole range of wooden pallet couches with a centre table. The whole furniture plan is recycled using the wooden raw pallets. Though the pallets are selected very carefully being fresh and new in appearance. This is something good for the optic beauty of whole furniture plan.

Look at this beautiful wide and long sofa along with aside or coffee table that has got a glass top. This is probably made to satisfy the people who belong to a certain school of thought, the ones who believe in using some other materials too along with the wooden pallet.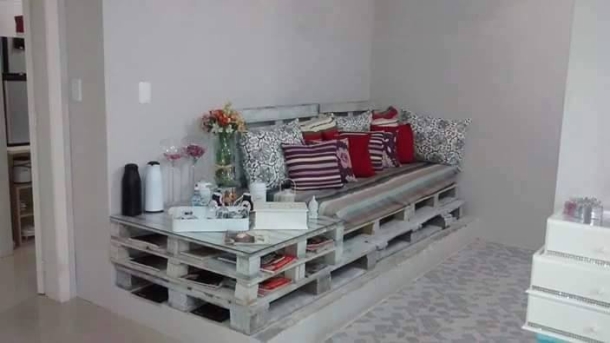 Awwww… do you have kids in your home? If yes then this is certainly your pick, this adorable doll house is just an incentive for your kids. This would be a separate dream land of theirs. They are just going to love it, make them happy at once.

This is some studio where you can clearly observe that the atmosphere is created for pure art activities. These wooden deck boards are set as a stage where one can demonstrate his skill. And surprisingly these decent decks are recycled with the wooden pallets again. Just imagine how creative you can get with pallets.

Plenty of wooden shelves have been recycled in our website in earlier projects. This is another amazing wooden pallet wall shelf, its rustic and fine look is a source of beautification and decoration of your room interior. Plus a great source of storage as well.

This is again some relaxing area of some commercial area, like a resort or some restaurant. We can see a big range of wooden pallet recycled projects here. Wooden pallet day beds, wooden decks, and pallet wood planter as well. A good way of taking care of your capital.

How would you comment about this furniture set? It is roughly made, it is unstained, yet it is pretty enough to cater the accommodation needs of a number of persons at one time. While the coffee table is pretty decent, and its built in wheels are making it more attractive and desirable.

The same cable reel recycled table we discussed earlier is shown here gain, but the new thing is the side benches that we see in the surrounding. Raw wooden pallets are turned into these lively benches which are closely associated with outdoor spaces. The whole set up is made using wooden pallets.

Vertical gardens are becoming much trendy with every passing day. And especially the ones recycled using wooden pallets, because they are damn cost effective, and their special rustic color adds a lot of charm to the vertical gardens. Best made vertical gardens are stained as dark brown.

Pallet wooden wall is another smart way of adding value to your room interior. If you switch to the market based wooden wall, this would cost you beyond your imagination. But you just don't worry, pallets are here again for your rescue, this commendable wooden wall is the brainchild of pallet recycling idea.

And please spare some time from your precious and tight schedule for this adorable wooden pallet bed with headboard. Though the headboard is made in the simplest possible manner, yet the additional lighting work is escalating the beauty and charm of this pallet recycling idea of a bed.

How would you name this wooden object? Some straight wooden pallets that are very well stained are simply placed here. Just that simple? Now it depends on you that in what manner you are going to use them. Use it as a wall shelf, or just a corner table.

Wow, I would give this commendable pallet recycling idea ten out of ten. Its rough look is a great remedy for your roughly decorated home, and each tier of this wooden pallet cabinet is durable enough to carry heavier weights. Put on some crockery or some decoration pieces as you like.

A wooden stool is also an important segment of a well designed furniture package. Such stools are used with dressing table, or also they could be used outdoor for individuals to sit on. And these pallet wood upcycled stylish and colorful stools are a great addition inside your home.

Swings have always been an immense source of attraction for the kids and adults as well equally. Now days people prefer to install some delicate swings inside their premises. So the same wooden pallets are turned into simple home swings here very smartly. Go and enjoy the swings here dudes.

Your precious crockery is something that you always want to display, you want your guests to notice your status and standard through these ceramic master pieces. So this wooden pallet shelf is a great remedy for you, you can display a whole range of crockery on this wooden pallet wall shelf.

These wooden pallets have done so much wonders in our practical life. Whenever we look back for some support financially in the form of some supportive article, we find pallets to be our best companion so far. And this accent wall made using pallet planks is a great demonstration of the fact.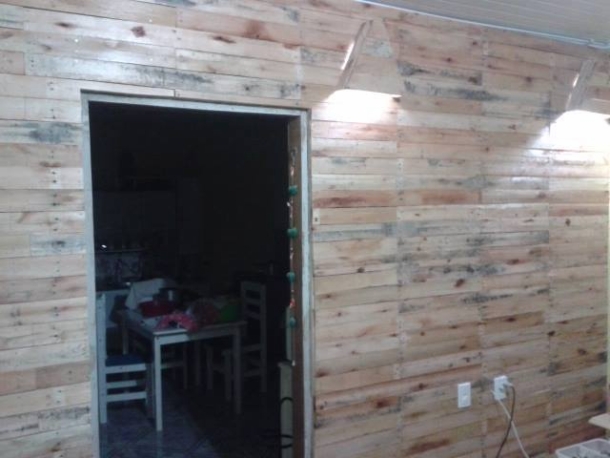 Vertical gardens are never going to be out of demand until there are some gardening fanatics out there. People with lesser land areas always prefer to install such wooden pallet vertical gardens inside their home to have a glimpse of greenery around them. So this one could be your pick if you love greenery

And here is the skill and smartness at its peak. Want to spend some time in your TV lounge? This settee is going to be your mate and best companion while whole duration. This is a complete package of luxury and comfort as well.

Wooden flooring could cost you in thousands of dollars literally, if you are getting it done by some professional. But our genius pallet recycling ideas give you the freedom to live your dream life against minimal bucks, this wooden flooring done with pallet planks is a great incentive for all the pallet lovers out there.

We have plenty of vertical gardens in our range of pallet recycling ideas. As we know that vertical garden is a huge subject, and just by slight modifications you can shape them differently, this rustic and fine vertical garden is one of the best pallet recycling ideas so far.

I always love recycling the wooden pallet coffee tables. I have a large number of pallet upcycled coffee tables inside my home, yet I always feel a strange craving for the coffee tables. I think this is going to be my next scheduled pallet recycling project.

If you are a pallet crafter, and you also have these pallets in bulk, you can use these pallets in numerous pallet recycling ideas irrespective of any obligation. Like this pallet wood made mini door is there to prevent the infants from falling down God forbid. Use of pallets depends on your desire and thoughts.

An ultra luxury bed is something always desirable. And despite of spending a chunk of budget on wooden beds, we still don't get exactly what we want. So make your own wooden pallet bed according to your imagination and you available space as well like this one.

Here is another smart swing recycled using wooden pallets. This is just designed to give you some relaxing and comfortable moments outside tour house. Made using deteriorated pallets, this swing is still a charm for you and the rest of family members. But remember, the chains should pretty strong…

And finally here we see a long wooden pallet table that could be used as major dining table for whole of the family, or you can also use it as a kitchen island. Also make some matching chairs or stools whatever you like. All of these pallet recycling ideas are just too great to deny.