Amazing Spaces with Rustic Doors
When it comes to t interior décor of your house, your priorities and choices may vary person to person. And amazingly every one might have his own definition of décor and beauty. We have focused on the pallet wooden creations throughout this platform but we have also given numerous ideas which include some home interior décor plans with some of the other materials. Today we have come up with a totally new thinking and approach. We are going to present you guys amazing spaces with rustic doors. Don't worry about the apparent outlook of rustic doors but go for their artistic impact.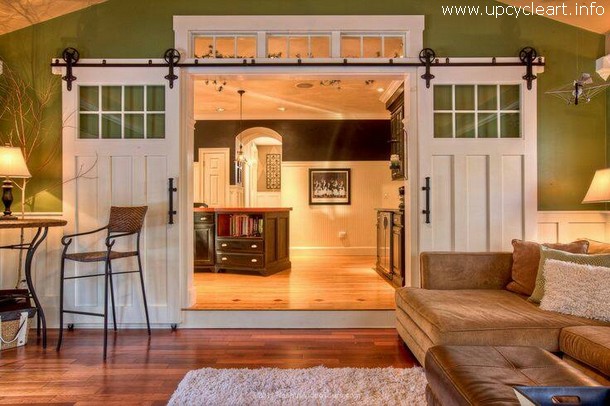 This whole wall cabinet which was dedicated for the crockery and common utensils. But we enclosed the wall shelf with the rustic wooden doors that were made out of raw wooden slabs mostly from the shipping pallets. And this really turned out to be a very smart idea.

Sometimes the rooms are separated with minor wooden separators, but going a step ahead we may recycle this sort of wooden doors to make a partition. This certainly would have a dual impact and above all this would be an artistic beautification of the house that is matchless.

This is another classic example where we have separated the bedroom from the bathroom with a rustically recycled wooden door that was made with the most deteriorated wooden pieces. Seems like the door is plucked from outdoor garden and installed here in the main bed room to create an artistic atmosphere.

Here again we have taken the initiative to capture the entire wall for making a decent wooden pallet wall shelf. But in the end we didn't leave it open, but we closed and covered it again with a smartly designed wooden door that has got the depiction of artistic skills too.

And nevertheless this grand pallet wooden TV console also deserves all the admiration and appreciation as it has got such an impressive depiction of beauty of art and aesthetics. Despite of rustic shape and appearance, this has added great value to the room interior.

These are the pictures taken from a reasonably decorated country side house which has got pretty wide and spacious rooms. Drawing is separated from the hall with the same wooden rustic railing doors. The rustic doors are fixed with moving stiles and railings so that they could easily be opened and closed without friction.

Once if you have developed the artistic taste of the wooden rustic doors, it would make no matter that where exactly you are going to install them whether this is the main bedroom or simply the lobby or lounge. Your definition of room décor would certainly have changed.

This pallet wood TV console again could have been open. But just to twist and bring about some real change we have installed the wooden rustic doors on the front of the gigantic closet. This seems like a true depiction of creativity and artistic trends in the modern age without making much expenses.