How many of you are super excited on hearing the project of pallet upcycled lamp? Well, this certainly isn't something that we are going to upcycle for the first time. We have already recycled a number of wooden pallet lamps before, but this one is going to be totally different. A lamp is need of every house hold. It helps you in two ways, first it provides you with ample light supply, and secondly it is also used as a decoration piece as well. So making this sort of multi purposed products with wooden pallet has always been a great pleasure for experts out here.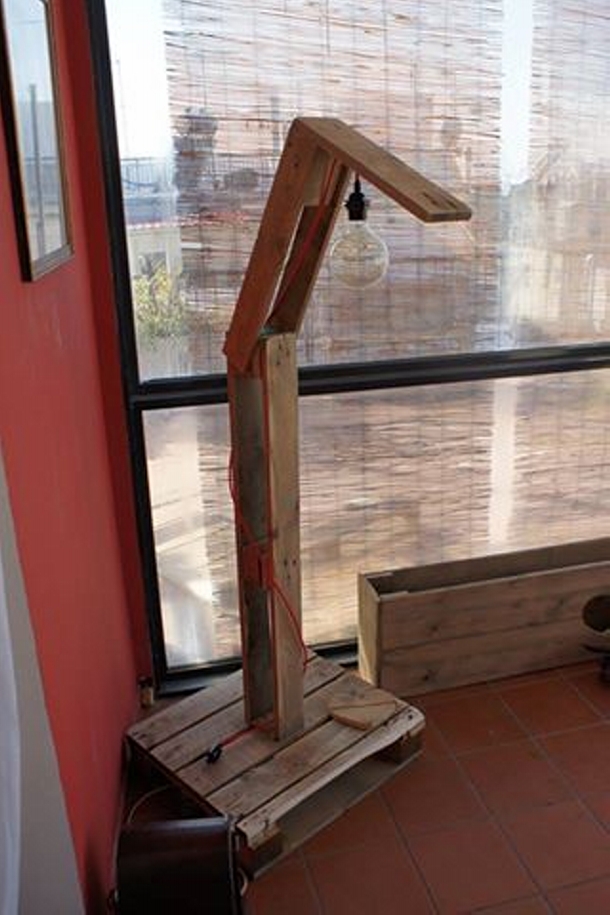 As the time is passing by, the pallet wood recycling is unleashing its all benefits and dimensions. Attracting the masses and at the same time it is serving the demography being economical and cost effective. Many of us are not that strong in the financial matters, we always prefer savings and want to buy the things that are little economical. But same approach could not be followed when we go out there to buy some wooden products because of their sky high prices. But this pallet upcycled lamp is so damn cheap, infact free of cost as the basic material is pallet wood.

Now have a detailed look of this pallet wood lamp. This long erect pole looks like a metallic erection but actually this is a wooden pallet pole cum lamp. Its design is pretty different from the conventional lamps that we frequently come across. The base of this lamp is made using cut to size pallet planks. While the rest of body is also made with long planks joined together. And the curved upper most portion bent downward from the end is designed in a manner that the Edison bulb could be hanged appropriately.