As we all know that shipping pallets are just easily available everywhere in bulk quantity, and we can easily arrange for them, so it is always a pleasurable activity to work on some creative recycling ideas. These wooden pallet recycling ideas have literally transformed our lives, we have switched towards some creative home installations from the old fashioned and stereotype furniture items. That simply means that now we are having more liberty when it comes to the price, size and designs of wooden furniture items. So here again comes a whole range of multiple creative wood pallet creations and ideas that are worth giving a try.
Starting from this rustic vintage table, we would be discussing an entire range of home interior installations. This decorative wood pallet table is purely the outcome of wood pallet recycling and the glass top is added for some extra charm in the product.

Now this one is a bit strange pallet wood creation, apparently a wooden door made using the pallets is turned into an artistic coffee table that still holds the front lock intact on the front view. While the middle glass portion is on the top. A good idea for art loving people.

This coffee table is entirely different from the rest, there is a wooden pallet base below, and on the top we have used debarked wooden bars vertically all joined together and the inner gaps are filled with adhesive glue. And the top is kept plain just like a regular wooden coffee table.

What would you say about this tremendous wooden seating arrangement? This is a stylish wooden pallet coffee table, and for now this is only the tip of iceberg. There's still more to witness, we have also made some cute tiny stools along with the coffee table.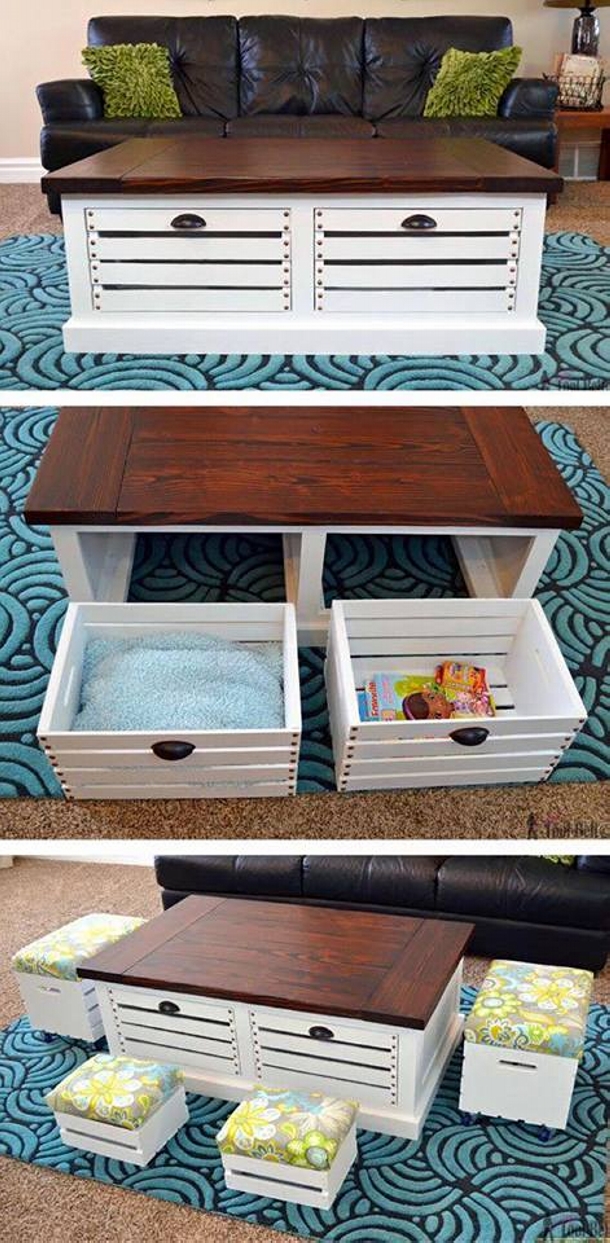 We have just the intention to not let go anything wasted. That's why we have used and recycled this vintage suitcase into a classic side table. Suitcase having a solid top has fulfilled all the credentials of a full fledge coffee or side table, and the reclaimed legs are obtained from a discarded old table.
Wooden barrels are meant to carry certain substances, but this time we just planned to give it a totally new and different dimension. We cut it in half, and simply placed it on the side of a luxury room chair. Something pretty encouraging for such trivial stuffs.

Art has its own language and a different world that is never bound to follow some certain rules or traditions. So these roughly cut yet well sanded debarked wooden slabs are very smartly turned into centre tables. Despite of their broken edges they are adding a lot of charm to the venue.

And lastly, who knew that our smart crafters would turn this ordinary wooden cable reel into such a genius side table that would immediately grab all the attention of the visitors. It has got style, it has got cost effectiveness, and this is far beyond the typical wooden tables.