Recycled Wooden Pallet Ideas
This is the quality of wood pallet that it can be shaped and molded in your desired way. Like you just have to select the design or shape and you can make it all with the same shipping wood pallets. Not only this but wood pallet has also got many other potential qualities that make it an ideal art or skill which provide us with several furniture articles of daily use. We have brought you guys some countless pallet wood ideas and here we come along with some more that are definitely going to make you guys happy and satisfied.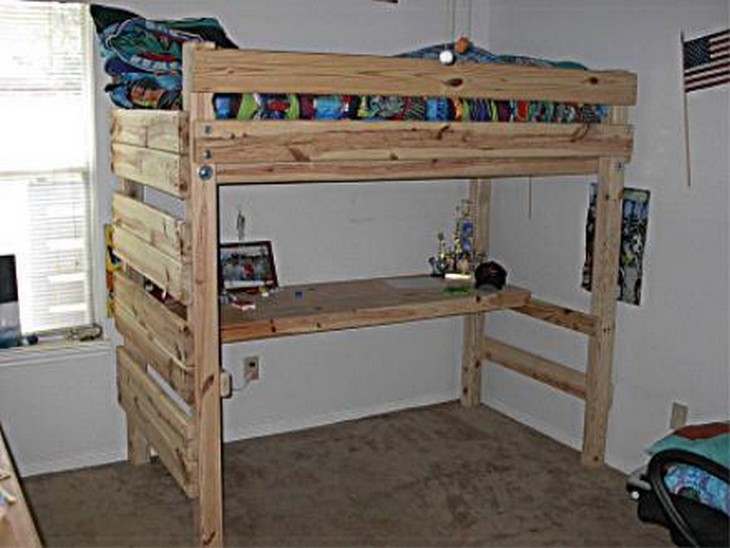 First of all we are introducing here the kids fun house or playhouse. I think this is necessary for every house where there are kids. So I think all of you guys need to have a look on this smart wood pallet creation as this is enough to make your kids more than happy.

Honestly speaking this kids bed idea was borrowed from a branded furniture store that I visited last Sunday. There this wooden article was tagged with a pretty scary price and right at that time I made up my mind that I am going to try it.

I know this wooden pallet table is pretty different from the conventional tables that we usually see around us. Its top is a bit complicated and it has got multi tiers as well. Although the nail scars are pretty clear yet it looks nice on the completion with its strange design and shape.

I really think that this is some cornered portion of some villa where clean bricked walls are pretty clear. Same treatment is given to the wooden furniture lying here as the couch is unstained and the wooden chests have got some very large space for multiple accessories.

Just look at this cute wooden pallet table, actually we were already having this tiny little stool so we just wanted to come up with some matching wooden table so that the set could be completed. And in the end I think the idea really worked out.

And this double layered pallet wooden coffee table is also different from the conventional pallet wood creations. As it is some irregularly high from the ground. And the wheels on the bottom along with the glass top have added a lot of value to its outlook. This is a perfect wooden article that could be placed anywhere in the house.

This ordinary pallet wood repurposed couch is given a perfect shape and finally also equipped with some of the finest cushions. The chains on the side give an impact of the arm rests. Plus the wheels installed on the bottom were reclaimed from an old wooden furniture item.

I just wonder how happy and calm the dudes seem while sitting on the pallet wood repurposed furniture items. They clearly find no difference in the market base furniture and the wood pallet creations. These low to the ground couches have got pretty comfortable shape.

Well, initially we started this wood pallet ucpcyled side table as simple table but later on we thought that this must carry some additional features that would make it more useful so we added this built in space right inside the table where we can place a lot of accessories.

This wooden pallet table is in its roughest condition with some empty space in the middle. This empty space could be used in various ways seeing your priorities like it could be turned into planter as well, and we can also use it for placing some accessories that we would require while sitting here.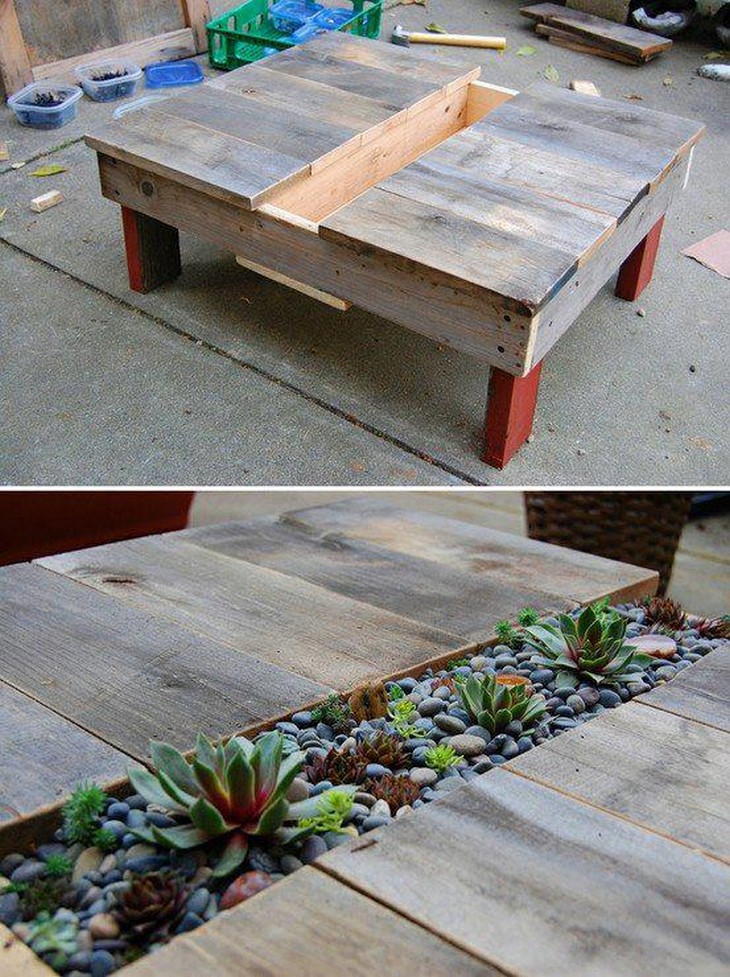 Again this was supposed to be a simple hallway side table but as these drawers are always an incentive for the users and they find it pretty helpful in daily affairs of life where they can insert inside various accessories. So we made it in this way with multiple drawers and having reclaimed legs.

This is a very well managed and designed house maybe planned by some art fanatic who has taken all care of the interior with several colorful ideas. Same is the case with the wood pallet upcycled couch that we have stained as bright white.

Again making this wooden swing wasn't hard at all. This is just like making a pallet wood recycled couch without legs. Rest of the structure is perfectly like a couch. One thing that was important was the chain that is going to carry this heavy weight wood pallet swing and we made a very wise choice.

Wall shelves look really nice in the rooms or wherever they are installed. They just look like being the part of the plain wall. This simple and straight pallet wooden wall is made with the simplest pattern. And obviously the white shade has camouflaged many of its flaws.

And this classic headboard is yelling out loud your taste of art crafts and your fondness of self styled art crafts. As here we have just combined some random pallet wood planks and we drew a beautiful painting of tree branches on it to give it a livelier touch.

How about this crazy slim wooden pallet recycled side table? Keeping in view the congested available space inside the apartment we have bothered to shape and size it accordingly as we couldn't afford much space to be captured so we did a perfect job by making this appropriate wood pallet creation.

Wow, I am driven away by the beauty of this smart and elegant pallet wood repurposed hanging side table. This was basically made as the desktop table and we also added a transparent glass top in this table to give it more official and executive touch. All of these wood pallet ideas that we have presented here are so handy and simple in design and shape. They are so simple that they could be carried even by the beginners too so you guys are urged to give them a try, or at least to one out of them.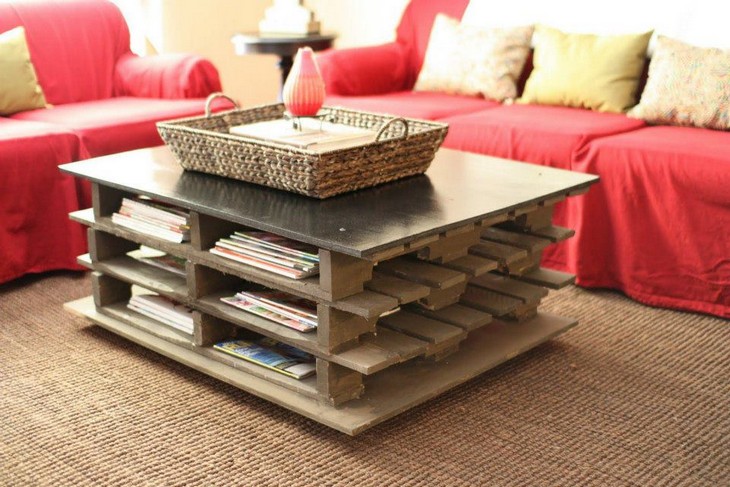 Shared by: Ideas Con Palets Ecomadera